Welcome to the POP AWARDS 2023, the sixth annual Pop Awards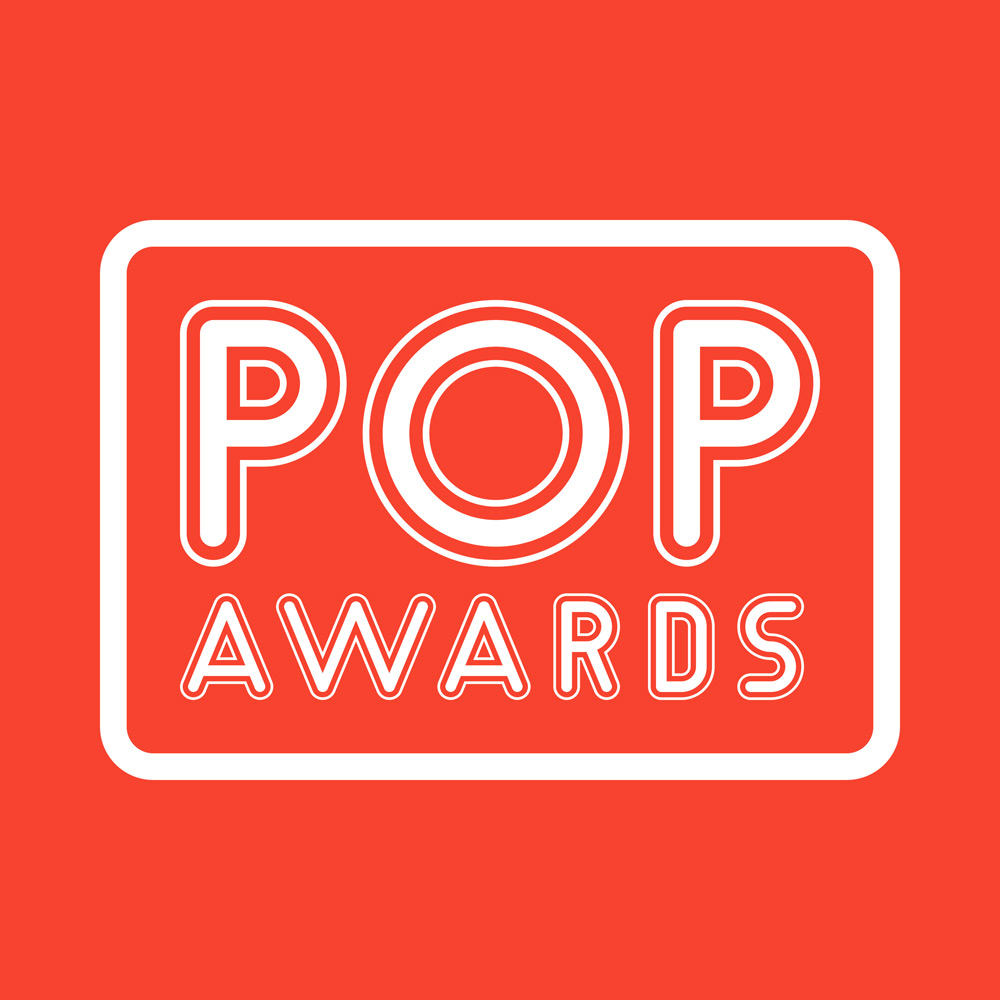 Each new year, while eagerly looking ahead to what the future holds and if our favorite artists will release new records, we also reflect on the mountain of great music released in the past 365 days. At Pop Magazine, we recognize the beautiful musical works published over the last twelve months and we celebrate the artists at the 6th annual Pop Awards! Pop Magazine presents the Pop Awards 2023, returning with ten categories and a total of 50 nominees. The Pop Awards celebrate the best artists and the most excellent albums, songs, and music videos they delivered to music fans in the past year. You can vote for your favorite nominees over the next 50 days, starting today, January 15th. Online voting accounts for 50% of the total. The other 50% will come from our expert panel of music journalists. Check out all of the awesome nominees and select your top picks. Get your vote in by March 5th to support your favorite in each category at accumulating enough votes to being awarded a prestigious Pop Awards trophy when the winners are announced on March 12th, 2023.
→ To cast your vote, go to Pop Awards 2023

Featuring a wide variety of artists across all genres of popular music, the sixth annual Pop Awards highlight the best that 2022 had to offer. The Pop Awards 2023 feature musical stalwarts, generational icons, and new-coming favorites. Artists leading the nomination by appearing in two categories are John Legend, who has now three all-time nominations, plus Harry Styles, J. Ivy, and the Scorpions. Taylor Swift, who won Artist Of The Year at the inaugural Pop Awards in 2018, receives her third nomination overall, and Passenger also adds a third nomination. Adding a second nomination are Jonathan Jeremiah, as well as Adele, who was last year's Artist Of The Year winner. Check out the list of all nominees below and cast your vote!
→ Listen to the Pop Awards 2023 playlist on Spotify

Pop Awards 2023: Artist Of The Year Award
Here are the nominees for the Artist Of The Year Award
Beyonce: After a well-received joint album and world tour with her husband, Jay-Z, which earned them the Pop Award for Artist Of The Year, Beyonce returned with her seventh solo release, "Renaissance". Her album debuted at #1 in the US and topped the charts in many other countries as well, amassed over 1 billion streams on Spotify within just three months, and reached Platinum status.
Harry Styles: Since breaking away from the former boy band One Direction, Harry Styles has become one of the biggest names in the music industry. His third solo album, "Harry's House", was a massive success, allowing him to become the first British act since The Beatles to have four songs concurrently in the top ten of the US Billboard charts.
John Legend: It was a great year for John Legend, who released his seventh solo album, "Legend", which entered the US charts at #59 and received praise for its artistic direction and versatility. He also released a tribute song for the people of Ukraine, appeared on a single with Florian Picasso and Nas, and was featured on DJ Khaled's hit single "God Did".
Meghan Trainor: Returning to the music forefront with her fourth studio album, "Takin' It Back", Meghan Trainor entered the US charts at #16. She received widespread praise for her growth and maturity as an artist and the album provided her first top-ten single on the UK charts in seven years with the hit song "Made You Look".
Taylor Swift: It was a record-setting year for Taylor Swift as her tenth studio album set a new all-time record for single-day streams and became the best-selling album of 2022. "Midnights" – a concept album about nocturnal ruminations – achieved another historic feat, spawning ten top-ten songs on the US Billboard charts in the same week, an achievement no artist has accomplished before.
Previous winners: Adele (2022), Eminem (2021), The Highwomen (2020), The Carters (2019), Taylor Swift (2018)

Pop Awards 2023: Album Of The Year Award
Here are the nominees for the Album Of The Year Award
Hannah Baiardi – "Magic": The third studio album by vocalist, pianist, and composer Hannah Baiardi is one that draws upon her jazz, soul, pop, and world music influences. "Magic" is a ten-track project that is fine-tuned to the core, providing excellent vocals with brilliant musicality in an awesome display of the Michigan artist's eclectic taste.
J. Ivy – "The Poet Who Sat By The Door": On his studio album number four, spoken-word poet J. Ivy explores complex themes such as love and healing. "The Poet Who Sat By The Door" addresses these themes with such intense depth that the beautiful musical tones of the project almost become second fiddle to the weaving artistic display of words throughout the album.
John Legend – "Legend": His passion is on full display over an impressive 24 tracks on his seventh studio album, which is aptly titled "Legend". John Legend has created a double album that represents the evolution of his artistry, featuring his smooth vocals together with contributions from a wealth of talented artists like Rick Ross, Rapsody, Jhene Aiko, Ledisi, and Jasmine Sullivan.
Jonathan Jeremiah – "Horsepower For The Streets": British singer-songwriter Jonathan Jeremiah returned with his beautifully orchestrated fifth studio album which serves as a reflection of the times we live in. "Horsepower For The Streets" addresses the exhaustion of day-to-day living, regret, and the ever-present emotional rollercoaster associated with love and life.
Passenger – "Birds That Flew And Ships That Sailed": The twelfth studio album by the British musician provides ten intimate folk-pop songs. With Passenger's soft-spoken voice and gorgeous instrumentation, "Birds That Flew And Ships That Sailed" invites to cruise through the album while it provides a soothing perspective from the widely traveled singer and songwriter.
Previous winners: Dee Daniels – "The Promise" (2022), Gregory Porter – "All Rise" (2021), Jack Savoretti – "Singing To Strangers" (2020), Tash Sultana – "Flow State" (2019), Charlie Cunningham – "Lines" (2018)

Pop Awards 2023: Song Of The Year Award
Here are the nominees for the Song Of The Year Award
Candace Woodson – "(Trying To Be) Perfect": Draped over dramatic piano and strings, vocal force of nature Candace Woodson bares her soul throughout this single from her new album. "(Trying To Be) Perfect" resembles a classic love song placed within an emotional movie score, and the American singer from Kentucky delivers the song's dramatic appeal perfectly.
Chaka Khan – "Woman Like Me": The iconic diva returned in 2022 with "Woman Like Me", a powerful new single that vigorously addresses any and every form of misogyny. Singing in a lowered vocal range, Chaka Khan puts together an artistic shot at modern-day objectification.
Klaas – "First Girl On The Moon": The German DJ and producer from Cologne has created a dance-pop anthem that exudes an electrifying atmosphere by placing female vocals over popping drums and electronic melodies. With "First Girl On The Moon" Klaas had one mission, delivering a single that's entertaining and fun.
Odesza (featuring Bettye LaVette) – "The Last Goodbye": The lead single and title track from Odesza's fourth album is wide-ranging and theatrical. While drums and strings carry the song's instrumentation, Bettye LaVette's vocals are the perfect complementary attraction to the club-feel beat from the American production duo, creating a fun ride throughout "The Last Goodbye".
Scorpions – "When You Know (Where You Come From)": Released from the German rock band's latest studio album, this single is a power ballad with blazing guitars backed by power chords and thunderous drums. "When You Know (Where You Come From)" is another notch in the belt of the Scorpions' long-lasting career.
Previous winners: Monique DeBose – "Brown Beauty" (2022), Dua Lipa – "Physical" (2021), Nuela Charles – "Got It Bad" (2020), Justin Timberlake (featuring Chris Stapleton) – "Say Something" (2019), Deep Purple – "All I Got Is You" (2018)

Pop Awards 2023: Music Video Of The Year Award
Here are the nominees for the Music Video Of The Year Award
Adele – "Oh My God": During this incredible music video, the celebrated British songstress creates a beautiful black-and-white cinematic theme. The theatrical video with its subtle contextual meanings showcases Adele nonchalantly singing her fan-favorite "Oh My God" with a whirlwind of dancers around her.
Charlie Puth – "Light Switch": In this funny music video with its 80s fitness training and infomercial aesthetics, Charlie Puth stars as a man looking to get his life back on track through the power of working out. The "Light Switch" video highlights the pop singer along fitness personality Billy Blanks in a plot with a surprising twist as he tries to win his ex-girlfriend back.
Harry Styles – "As It Was": In a simplistic concept with a rotating platform, Harry Styles performs a series of interpretive dances alongside his female co-star. After gracefully dancing through this artsy music video for his wistful hit song "As It Was" the clip ends with a freeing leap for joy.
Michael Buble – "Higher": This song is a bit more fast-paced than we are accustomed to from the Canadian crooner and the accompanying music video is matching it perfectly. While his own dance moves are rather restrained, Michael Buble is surrounded by female dancers in bright red performing an electrifying choreography.
Todrick Hall – "Queen": This music video from the former American Idol contestant was shot in Ukraine just days before the country was invaded by Russia. "Queen" comes with all of Todrick Hall's trademark moves and styles, superb choreography, vibrant colors, and symmetrically pleasing visuals matching the song's energy.
Previous winners: Jon Batiste – "I Need You" (2022), Alicia Keys – "Underdog" (2021)

Pop Awards 2023: Icon Of The Year Award
Here are the nominees for the Icon Of The Year Award
Black Thought: This American rapper from Philadelphia is known for his role as the frontman of legendary group The Roots, which has become the house band for The Tonight Show with Jimmy Fallon. Black Thought has long been considered an iconic figurehead in hip-hop and with the release of his 2022 album "Cheat Codes", a collaborative project with producer Danger Mouse, he has only solidified his status as a messenger of true hip-hop culture.
Calum Scott: The British singer-songwriter has become a household name since participating in the televised competition show Britain's Got Talent and his debut album led to mainstream success. After coming out as gay, Calum Scott has emerged as an advocate for mental health and the LGBTQ+ community, which is also reflected in his music with songs like "Boys In The Street" from his sophomore album "Bridges".
J. Ivy: Chicago's multi-talented spoken-word artist, author, and community leader has released four studio albums, including his album of the year contender, "The Poet Who Sat By The Door". In his music, J. Ivy speaks about so many important issues of our time including America's long-running racial injustice and police brutality, and he tackles these topics in the most poetic way.
PJ Morton: A singer, songwriter, producer, and pianist from New Orleans, the Maroon 5 member has created a respectable solo career in addition to his gig as keyboardist of the pop rock band. On his latest album, "Watch The Sun", PJ Morton beautifully melds delicate compositions with positive lyricism and features artists like Stevie Wonder, Nas, and El DeBarge.
Tank And The Bangas: Over the past ten years, this American band has developed into a staple on the music scene, creating an eclectic fusion by merging the funk, soul, hip-hop, rock, and spoken word brands of artistry. In 2022, Tank And The Bangas released their ambitious third studio album, "Red Balloon", and with songs like "Stolen Fruit", the group is at the forefront of culturally relevant songwriting.
Previous winners: Brandi Carlile (2022), Shemekia Copeland (2021)

Pop Awards 2023: Female Artist Of The Year Award
Here are the nominees for the Female Artist Of The Year Award
Aurora: Last year, the Norwegian singer-songwriter and music producer released her third studio album "The Gods We Can Touch", an electropop record that received universal praise. The record debuted atop the Norwegian album charts and became Aurora's first top ten in the UK.
Joss Stone: 2022 was a resurgence for the British veteran songstress who made a comeback with her eighth studio album. "Never Forget My Love" – with the powerful lead single of the same name – is an electrifying soul record and Joss Stone's first new album in seven years.
Mabel: With a mix of pop, dance, and R&B, the British singer's sophomore album, "About Last Night…", sets the right tone for a feel-good moment and a celebration of ballroom culture. The LP debuted at number two on the UK album charts, making it Mabel's highest-charting album so far.
Sigrid: The Norwegian singer-songwriter continued her music hot-streak in 2022, releasing her second studio album "How To Let Go", an expression of personal growth and self-empowerment. The album debuted at number one on the Norwegian charts and number two on the UK charts.
Tove Lo: In 2022, The Swedish dance-pop singer and songwriter released her fifth studio album, "Dirt Femme", which earned praise for celebrating femininity and body positivity. Tove Lo's first independently released album via her own record label comes with a number of hit singles, including "How Long" and "2 Die 4".
Previous winners: Birdy (2022), Katy Perry (2021)

Pop Awards 2023: Male Artist Of The Year Award
Here are the nominees for the Male Artist Of The Year Award
Brett Eldredge: Last year, the country singer-songwriter and record producer released his fifth studio album, "Songs About You". With this record, Brett Eldredge takes you on a journey through the aftermath of a breakup and the feeling of missing someone you loved.
Bryan Adams: With his 2022 album, "So Happy It Hurts", the veteran musician from Canada dives into his inner youth. The feel-good rock songs on Bryan Adams' 14th studio LP – which peaked in the top five on several European album charts – remind us of his 80s heydays.
Charlie Winston: The France-based British singer-songwriter released his fifth studio album, "As I Am", in 2022. The unique album captures a journey of healing and the joy of victory, described by Charlie Winston himself as a way of reminding him who he is now and that letting go doesn't mean giving up.
Gavin James: Last year, the Irish musician released his third studio album, "The Sweetest Part", which debuted at number one in his home country. With his soulful voice, Gavin James projects raw and honest emotions that are difficult to express, yet can be felt and understood through his music.
Kygo: The Norwegian DJ and music producer made the most out of 2022, releasing his fourth studio album, "Thrill Of The Chase". Kygo's album spawned eight singles, including the international hits "Gone Are The Days" featuring James Gillespie, "Love Me Now" featuring Zoe Wees, and "Dancing Feet" featuring DNCE.
Previous winners: Michael Patrick Kelly (2022), Adam Lambert (2021)

Pop Awards 2023: Band/Group Of The Year Award
Here are the nominees for the Band/Group Of The Year Award
Billy Talent: In 2022, the Canadian rock band released their sixth studio album, "Crisis Of Faith", which peaked at number eight in their home country. The album saw Billy Talent make bold political statements with reflections on bad politics, climate change, protests and other issues in today's society.
First Aid Kit: Last year, the Swedish folk duo released their fifth studio album, "Palomino", which debuted at number three on the UK and Swedish album charts simultaneously. The album comes with beautiful instrumentation and vocal harmonies, conveying a feeling of excitement and sunny escapism.
Kissin' Dynamite: This band has been a driving force on the German hard rock and heavy metal scene for years, and 2022 was no different. With the release of their latest studio album, "Not The End Of The Road", Kissin' Dynamite have delivered hard-hitting arena anthems with an 80s rock vibe and modern metal infusion.
Minor Majority: For their latest studio album, "Kiss Off", the Norwegian pop and rock group received plenty of praise. Minor Majority's ability to create brilliant music with beautiful vocal harmonies and vibrant instrumentation has been manifested in this album.
Tears For Fears: The British pop-rock band released their seventh studio album, "The Tipping Point", in 2022, their first new album in 18 years. Tears For Fears made a triumphant return with their critically acclaimed record, debuting at number two on the UK charts and reaching number eight in the US.
Previous winners: Thunder (2022), Bon Jovi (2021)

Pop Awards 2023: Emerging Artist Of The Year Award
Here are the nominees for the Emerging Artist Of The Year Award
Amber Mark: With the release of her debut album, "Three Dimensions Deep", the 29-year-old singer, songwriter, and producer from Tennessee made a mark in music that is difficult to ignore. Amber Mark's critically acclaimed album, which spawned five singles, combines elements of R&B, funk, and pop, all centered around magical themes and metaphors.
Breland: Hailing from New Jersey, the genre-splicing singer-songwriter took 2022 by storm at age 27, releasing his debut album, "Cross Country", with some A-list features. Breland's hybrid country album spawned six singles, including the Gold-certified "Throw It Back" with Keith Urban and "Told You I Could Drink" with Lady A.
Frank Joshua: The London-based singer-songwriter is Britain's best-kept secret, releasing one of the most unique projects of 2022 in form of his debut album, "Sense Life". Frank Joshua received high marks for his quality songwriting on an album that captures an ambience of loneliness and thoughtfulness, with lush instrumentation and 80s vocal vibe.
Mica Millar: For the UK soul singer and songwriter, 2022 was a triumphant year as she released her long-awaited debut album "Heaven Knows", creating the perfect sound marriage between soul, gospel, and jazz. While critics praised the album for its theme of exploring human nature, this project earned Mica Millar the Soul Act of the Year honor from Manchester Jazz Festival.
Zian: The 29-year-old musician from Switzerland released his debut LP, "Burden", in 2022 and reached number two on the Swiss album charts. In his music, Zian questions the complex mysteries of humanity and the burdens we face, swinging across pop ballads and electropop songs, authentically conveyed with his charismatic voice.
Previous winners: Yebba (2022), Katie Pruitt (2021), Caleb Elliott (2020), Tash Sultana (2019), Emily Estefan (2018)

Pop Awards 2023: Lifetime Achievement Award
Here are the nominees for the Lifetime Achievement Award
A-Ha: The synth-pop band from Oslo is considered the most successful musical act to emerge from Norway and has released eleven studio albums, including their Platinum-certified debut album "Hunting High And Low" with the chart-topping hit single "Take On Me". Rising to prominence during the mid-80s, A-Ha have now sold over 100 million records and performed some of the biggest live concerts in the world. Their latest album, "True North", was released in 2022.
Keb' Mo': The 71-year-old veteran musician from Los Angeles is one of the most influential voices in blues music, with an outstanding career spanning over five decades. His widely acclaimed self-titled album of 1994 introduced the world to Keb' Mo' with appreciation for his modern spin on vintage blues. Last year, the five-time Grammy Award winner released his album "Good To Be…", honoring his roots and telling stories of hope and gratitude.
Melba Moore: The 77-year-old actress and five-octave singer from New York City is undeniably one of the most enduring artists of the last 50 years, releasing more than 25 studio and live albums and countless singles. Melba Moore's version of "Lift Every Voice And Sing" was entered into the US Congressional Record as the official Black National Anthem and was added to the US National Recording Registry as an American Aural Treasure. Her 2022 album, "Imagine", is a timeless soul music gem.
Scorpions: The German hard rock band is considered one of the most influential groups in music history with over 5,000 live shows and more than 100 million records sold since their humble beginnings in 1965. Scorpions' rise to fame began in the mid-70s, culminating in the release of their multi-Platinum album "Crazy World" in 1990 with the global mega hit "Wind Of Change" that has become associated with the fall of the Berlin Wall. Last year, the band released their 19th studio album, "Rock Believer".
The Isley Brothers: With one of the longest careers in music, spanning over seven decades, the soul group from Ohio has sold over 18 million records in the US and has 13 of their albums certified Gold, Platinum, or multi-Platinum. The Isley Brothers were honored with a Lifetime Achievement Award at the Grammys and have been inducted into the Rock and Roll Hall of Fame and the Vocal Group Hall of Fame. The band made a bold comeback with their 2022 album, "Make Me Say It Again, Girl".
Previous winners: Abba (2022), Bon Jovi (2021), Willie Nelson (2020), Paul McCartney (2019), TLC (2018)

Written by Antonio Cooper
Antonio is a freelance reporter. His coverage of music festivals and interviews with local celebrities appeared in the Detroit Metro Times, E-Current Magazine, and RichMagDigital. You can find more of Antonio's work on his website: ayesharp.com