Tank And The Bangas – A Masterclass in Fusion Music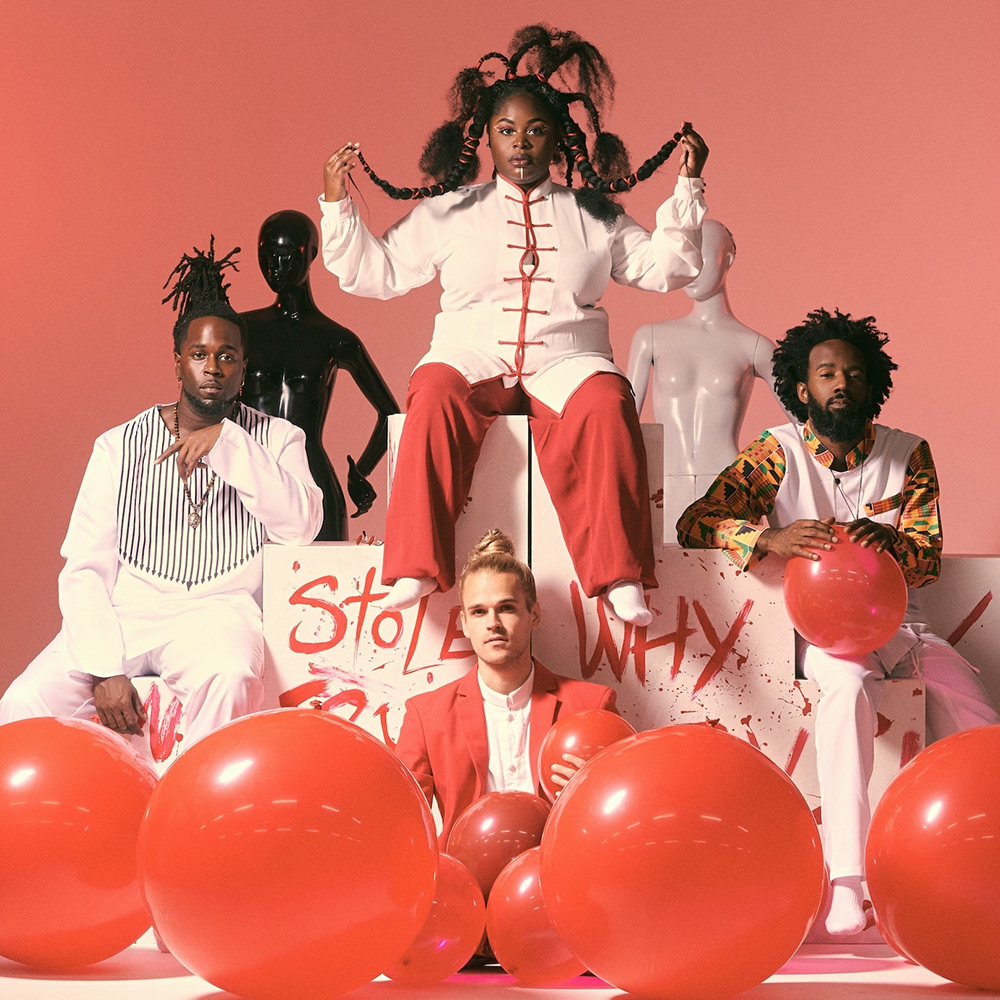 The year was 2011. It was open mic night at the BlackStar cafe in New Orleans, a weekly event dubbed Liberation Lounge. Glasses clinking against each other, musical instruments getting tuned, vocalists doing their warm-ups, and butterflies dancing in the bellies of excited performers. This open mic show was special because on that day a group of musicians came together, birthing a new band. They may not have known it back then but their lives were about to change forever. Tank And The Bangas was born. Fast forward to 2022 and the band's performance at NPR's Tiny Desk Concerts has been viewed almost 13 million times. Their song "Quick" was picked as the winner out of 6000 entries for the NPR contest and it's not hard to see why. The song is a masterpiece, using hard instrumentals and graphic lyrics to tell a tragic story that is all too common to young women in the Black community.
→ Listen to Pop Magazine's playlists on Spotify
Tank And The Bangas are a New Orleans based band with Tarriona "Tank" Ball as the main vocalist, Albert Allenback on flute and saxophone, Joshua Johnson on drums, and Norman Spence on keyboard, bass, and guitar. Their style of music is hard to pin down to one genre because of their uncanny ability to blend multiple genres seamlessly. Their music is an alchemy of jazz, funk, hip-hop, soul, and spoken word.
In 2013, Tank And The Bangas dropped their debut album, "Think Tank". This album was a chance for the band to explore and find their sound. It featured seeds of their current sound with Tank utilizing her silky smooth vocals and switching to her high-pitched rap-like vocals from time to time. On songs like "Rollercoasters" and "Human" we get the classic spoken word-inspired songs that have become one of the staples of their sound today. On "Eggs Over Easy" the band dips their toes into the classic reggae sound.
In 2019, they dropped their second studio album, "Green Balloon". On this album, Tank and Bangas began to grow into themselves a lot more. The album is the best of everything from exploring the trap sound on songs like "Spaceships" and "Dope Girl Magic" to a more melancholic piano-driven tune like "Mr. Lion". They recruited the legendary jazz pianist, Robert Glasper on "Lazy Daze" where Joshua Johnson's laid-back drum beat provides the foundation for a hypnotic cascading chord progression.
After dropping "Green Balloon", Tank And The Bangas got nominated in the Best New Artist category at the Grammy Awards 2020. Sweet success knocked at the door, but despite a growing audience the band stayed true to their fusion sound and thought-provoking lyrical themes. In early 2022, they delivered a slew of new singles, including the song "Black Folk" featuring Alex Isley and Masego, where Tank pulls out her spoken word skills as she poetically describes her love for Black people and Black culture.
This week, Tank And The Bangas dropped their third studio album, "Red Balloon", which addresses America's pressing issues, inspired by the Capitol siege on January 6th. The album is an oxymoronic masterpiece. The juxtaposition of joyful beats, cheerful chord progressions and silky smooth vocal harmonies with heavy issues of racism and injustice that plague America is bound to leave you pleasantly conflicted.
"Stolen Fruit" is a perfect example of this. It's a politically charged song, talking about the struggles of Black people in America over a slightly haunting drum beat and strings in the background, with spiritual vocal harmonies that all come together in a sweet, optimistic melody in the hook. "It's talking about literally waking up in America, and still expecting to do something amazing with your life despite all the odds against you, being Black in America", Tank told NPR.
"Mr. Bluebell" is another of those songs that sound very happy, eclectic and churchy until you hear the lyrics, addressing the siege at the Capitol and the problem of school teachers being underappreciated and underpaid. The song is guaranteed to make you think and move your feet at the same time. "Cafe Du Monde" is a nostalgic tune that pays homage to the cafe in New Orleans where they recount the moments they shared. They are joined by Jamison Ross, Rachel Robinson, and Trombone Shorty on this one. The song is laid-back with jazzy chords and an infectious hook that can transport anyone into Cafe du Monde even if they have never been there.
"Red Balloon" is a masterclass in fusion music and fans around the globe will enjoy the new record. But their live performance is what really defines Tank And The Bangas. It doesn't matter whether they are at NPR's Tiny Desk, The Tonight Show, or their own concert, they always come out with high energy and infectious enthusiasm. With a national and international touring schedule, their stagecraft has been refined over and over again since they first came together at the local open mic show.
Tank And The Bangas have a bright future in the music industry, even with a sound that may not be synonymous with radio or mainstream music. Their versatility, relatability, and sheer musical talent will continue to build them a loyal fan base, who is sticking with them for years to come.

Written by Leslie Addo
Leslie is a writer, guitarist, and music producer from Accra, Ghana, with a Bachelor of Arts degree in Economics, and a very unimpressive track record of making terrible smoothies. You can find him on Instagram @_lesplay, where he is either trying too hard to look cool with his guitar or posting videos of himself making bad smoothies and tasting them with a frown.