Welcome to the POP AWARDS 2022, the fifth annual Pop Awards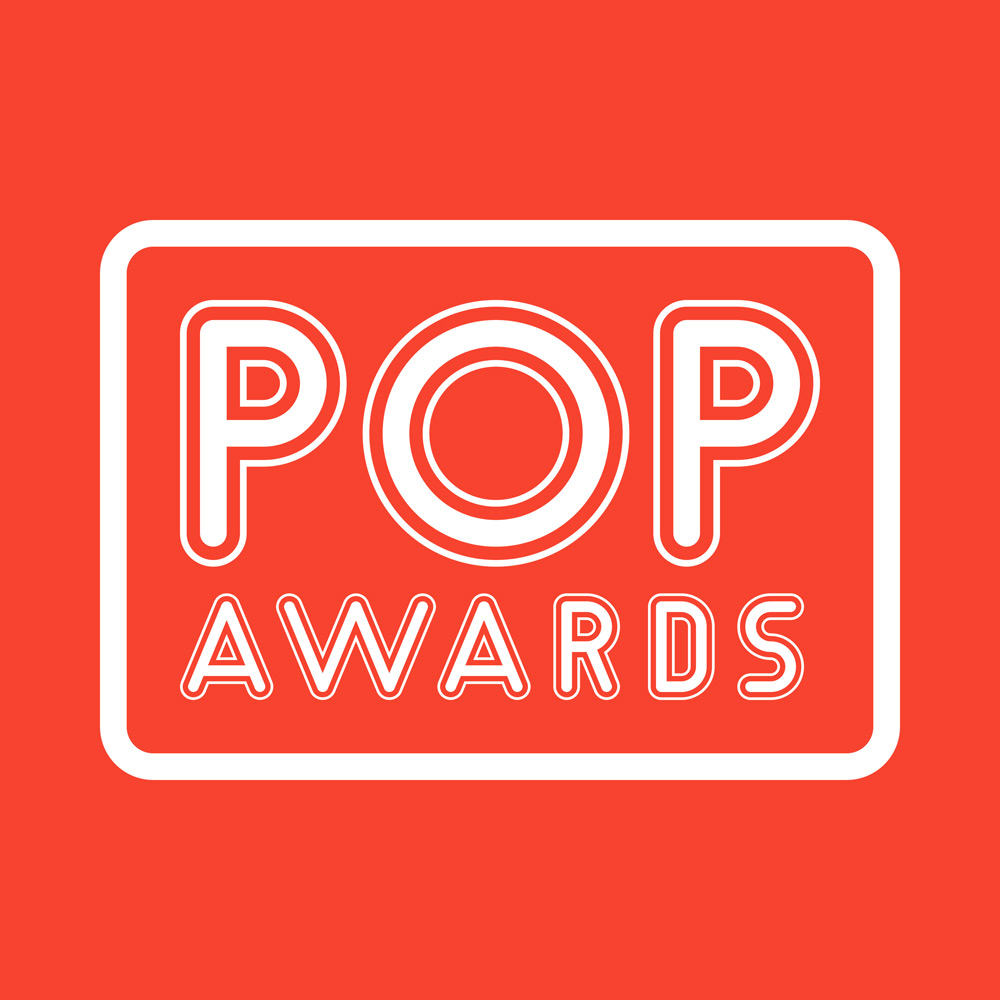 The year is all new and we all wish we could just shake off the problems of two difficult years lying behind us, but sometimes it's still hard to see the light at the end of the tunnel. Yet, there are also moments of grace. The music industry has been blessed with many wonderful talents, and it is time for us to celebrate excellence. Today, the Pop Awards 2022 have arrived! Pop Magazine presents the 5th incarnation of the annual Pop Awards, honoring the best artists, albums, songs, and music videos of the past year. We have 50 awesome nominees in ten categories. You have 50 days to vote for your favorites, from January 16 to March 6. The online voting counts for half of the final score, the other half comes from ballots submitted by the music journalists on our expert panel. Cast your vote now and show support to your favorite artists! Winners of the Pop Awards 2022 will be announced on March 13.
→ To cast your vote, go to Pop Awards 2022

Diversity and talent are two keywords for our incredible nominees. Fresh new faces, established superstars and well-versed veterans of all musical styles are on the shortlist for the 5th annual Pop Awards, celebrating artistic skills above all. Emerging with an amazing three nominations is Monique DeBose, joined by Silk Sonic, Jon Batiste, and Thunder with two nominations each. Returning to the Pop Awards are Mary J. Blige, Ava Max, David Guetta, and Passenger, each adding a second nomination to a first nod in previous years. Check the complete list of nominees below!
→ Listen to the Pop Awards 2022 playlist on Spotify

Pop Awards 2022: Artist Of The Year Award
Here are the nominees for the Artist Of The Year Award
Adele: After a six-year musical hiatus, the British singer and songwriter, who is one of the most successful artists of all time, returned with her fourth studio album, entitled "30". Within just three days of its mid-November release, Adele's new album became the best-selling record of 2021 in the United States and received triple-Platinum certification following a six-week run atop the US charts.
Billie Eilish: The young American pop sensation released her second studio album, "Happier Than Ever", in the summer of 2021, topping the charts in the US and over 20 countries around the world. Billie Eilish also released several top-ten singles from the critically acclaimed LP, as well as a concert film.
Coldplay: The British pop rock band has been a giant on the music scene for many years when they released their ninth studio album, "Music Of The Spheres", in fall of 2021. Coldplay's new project debuted atop the UK album charts and the single "My Universe" became a #1 hit in the United States.
Justin Bieber: It has been a busy year for the Canadian superstar who released his fifth studio album, "Justice", in spring of 2021, followed by an EP and numerous collaborations with other artists, including the charts-topping single "Stay" with Kid Laroi. In August, Justin Bieber broke the all-time Spotify record for most-streamed artist with almost 100 million monthly listeners.
OneRepublic: The American pop rock band has been a staple in the music business for quite some time and their fifth studio album, "Human", was unveiled in 2021, charting within the top ten in several European countries. Leading up to the album release, OneRepublic dropped a number of hit singles.
Previous winners: Eminem (2021), The Highwomen (2020), The Carters (2019), Taylor Swift (2018)

Pop Awards 2022: Album Of The Year Award
Here are the nominees for the Album Of The Year Award
Dee Daniels – "The Promise": Dee Daniels is a singer with soul and her new studio album, "The Promise", is a beautiful gospel record inspired by her deep faith and the enlightening experiences of a fulfilled life. Her soulful voice hits all the right notes to carry a personal message of hope, healing and love.
Josh Hoyer & Soul Colossal – "Natural Born Hustler": Gorgeous and timeless, "Natural Born Hustler" is a unique gem in a time when singers are pushed to conform to the mold. Josh Hoyer & Soul Colossal have stamped their identity on this album with funk, blues, and lots of soul.
Mick Kolassa – "Wasted Youth": Inspired by the devastating challenges Mick Kolassa had to face recently, his latest album, "Wasted Youth", is a celebration of what endures. This veteran blues artist gives us a glimpse of the human experience through his incredible musicianship.
Monique DeBose – "You Are The Sovereign One": The multi-talented entertainer offers us an incredible experience with her new album "You Are The Sovereign One". Halfway between musical therapy and personal journal, Monique DeBose takes us on the most enjoyable transformational experience.
Mozez – "Lights On": Seamlessly blending soul, pop, gospel, and electronic music, Mozez took from every basket to create "Lights On", a hybrid album of uncompromising beauty. The Jamaican singer and producer is not afraid to find new, innovative ways to deliver his message of hope, and his smooth voice can handle the entire range of styles without a hitch.
Previous winners: Gregory Porter – "All Rise" (2021), Jack Savoretti – "Singing To Strangers" (2020), Tash Sultana – "Flow State" (2019), Charlie Cunningham – "Lines" (2018)

Pop Awards 2022: Song Of The Year Award
Here are the nominees for the Song Of The Year Award
Eric Roberson – "Lessons": Eric Roberson's impressive single is as much a love song as reflection on life and gratitude. "Lessons", a soulful song, exquisitely carried by the singer's wonderful voice, delivers an important message in uncertain times: difficulties don't last forever and there will be blue skies after the storm.
JP Cooper – "Holy Water (Gospel)": Soulful lyrics, a catchy beat, a gospel choir, and an electric guitar solo, but this single is more than the sum of its parts. Through his undeniable musical talent, manifested in this amazing gospel version of his song "Holy Water", JP Cooper lets us know that it's alright to trip and fall, as long as we strive to pick ourselves back up.
Mary J. Blige – "Hourglass": Even with a life and a career as full as hers, Mary J. Blige doesn't want to waste a second not living life to the fullest – just listen to her single "Hourglass". Accompanied by a melancholic piano melody, the soul singer's sweet yet powerful voice urges us to seize the day.
Monique DeBose – "Brown Beauty": A child of many worlds, Monique DeBose knows very well the struggles of not fitting in. Amidst the racial and cultural tensions that have come to the front of the social debate in recent years, the singer has penned a real love letter to women of color with her awesome single "Brown Beauty".
Silk Sonic – "Leave The Door Open": With the smooth vocals of Anderson Paak and Bruno Mars, Silk Sonic's debut single, "Leave The Door Open", sounds like a classic love song in the tradition of soul and R&B music. Behind the sweet lyrics, which promise a girl that the door will always be open for her, the singers issue an erotic invitation that many fans would be glad to accept.
Previous winners: Dua Lipa – "Physical" (2021), Nuela Charles – "Got It Bad" (2020), Justin Timberlake (featuring Chris Stapleton) – "Say Something" (2019), Deep Purple – "All I Got Is You" (2018)

Pop Awards 2022: Music Video Of The Year Award
Here are the nominees for the Music Video Of The Year Award
Ava Max – "My Head & My Heart": Ava Max, with her asymmetrical bleach-blond signature haircut, is familiar with visually exciting music videos and eye-catching costumes. The flashy video for her hit song "My Head & My Heart" showcases the EDM star's raunchy dance moves as she is surrounded by other dancers in an underground night club.
Jon Batiste – "I Need You": What you need to create the perfect music video is Jon Batiste, a beautiful and sassy female co-star, a retro dance number, and pictures coming to life. Fresh, sweet and swinging, "I Need You" is well worth watching and the jazzy song is sure to make you want to join this impromptu dance in the photo gallery.
Jungle – "Keep Moving": The British duo's upbeat smash hit "Keep Moving" is like a journey back in time with its disco flavored beat and visuals inspired by the West Side Story. Jungle's awesome one-shot music video will seduce film aficionados and fans of group dance choreography alike.
Little Simz – "Introvert": This eye-popping collage of dance performances, classic art paintings, and archival film footage is a brilliant visual representation of the turmoil described in the lyrics of Little Simz's daring and oh-so-relevant song. In the music video for "Introvert" the British rapper shows us the world through her own eyes: the chaos and the beauty.
Rita Ora, David Guetta & Imanbek (featuring Gunna) – "Big": British singer Rita Ora, French DJ David Guetta, and Kazakh producer Imanbek have teamed up for this banger. The impressive music video for "Big" is a homage to Ora's and Imanbek's heritage, featuring dancers in traditional Albanian costumes in front of brutalist architecture from the Soviet-era.
Previous winners: Alicia Keys – "Underdog" (2021)

Pop Awards 2022: Icon Of The Year Award
Here are the nominees for the Icon Of The Year Award
Brandi Carlile: This American artist is known for her incredible range of musical styles and she knows how to convey an important message in a masterful way – just listen to her song "Sinners, Saints And Fools" off her critically acclaimed seventh solo album, "In These Silent Days". Brandi Carlile is also a passionate advocate of LGBTQ+, women, and children's rights.
Curtis Harding: When this American singer and multi-instrumentalist was young, his mother used to say, "Give me my flowers while I'm still here", inspiring him to share love before time runs out. On his third album, "If Words Were Flowers", Curtis Harding shares his love with the whole world in an amazing mix of soul, blues, gospel, rock, and psychedelia, influenced by his Southern roots.
Jon Batiste: Bandleader and musical director for The Late Show, solo star and collaborator who has performed with the best of the best (Prince, Stevie Wonder, Roy Hargrove, and Mavis Staples). Last year, Jon Batiste has released the album "We Are", his biggest solo project to date which was heavily inspired by recent events like the #BlackLivesMatter protests and serves as a celebration of Black American culture.
Monique DeBose: Singer, songwriter, motivational speaker, transformational coach, and actress with her own stand-up performance – Monique DeBose has so many talents that it's impossible to classify this American artist as one thing or another. Her third album, "You Are The Sovereign One", is not just music, it's musical therapy, tackling issues of racial identity and woman empowerment with honesty.
Thunder: This British rock band was formed over thirty years ago, yet the message of Thunder's 13th studio album, "All The Right Noises", is as timely and topical as it gets. They don't mince words on politically-themed songs like "The Smoking Gun", blaming not only the populist leaders for their false rhetoric, but the nation as a whole for believing the lies and actually electing such incapable candidates into office.
Previous winners: Shemekia Copeland (2021)

Pop Awards 2022: Female Artist Of The Year Award
Here are the nominees for the Female Artist Of The Year Award
Birdy: The young British singer-songwriter has proven over and over again that talent has nothing to do with age, yet her music has matured along with her and Birdy's latest LP, "Young Heart", released after a five-year hiatus, received plenty of praise for its maturity. A heartbreak-themed but completely charming album that peaked at number four on the UK charts.
Demi Lovato: It was a quite a year for the American pop star, dealing with trauma and gender identity and releasing her seventh studio record, "Dancing With The Devil… The Art Of Starting Over". A defining album for Demi Lovato that peaked at number two on the US charts and spawned a number of hit singles.
Kacey Musgraves: In contrast to her last album, which was inspired by the happiness of marriage, the American country pop singer has pulled from the challenges of divorce to give us a new album that sounds like a modern-day Romeo and Juliet. "Star-Crossed", which peaked at number three on the US charts, is Kacey Musgraves at her musical best.
Leela James: Despite a career spanning two decades, Leela James is not done taking risks and her seventh album, "See Me", has been praised as her most experimental yet. The American soul singer uses her music to talk about the struggles most people must face as well as the social and cultural difficulties that permeate the society we live in.
Zara Larsson: Famous since her teens, the Swedish dance pop singer has grown into an outspoken and fearless artist, not afraid to share her opinions and to commit to causes close to her heart. Zara Larsson's third studio album, "Poster Girl", includes plenty of catchy hit singles.
Previous winners: Katy Perry (2021)

Pop Awards 2022: Male Artist Of The Year Award
Here are the nominees for the Male Artist Of The Year Award
Ed Sheeran: Still going with mathematical titles, the British pop star released "=" (Equals), his fifth studio LP which peaked at number one in over 20 countries, including the US and UK charts. For the album's lead single, "Bad Habits", Ed Sheeran received Platinum certification in the United States.
Michael Patrick Kelly: The Germany-based Irish-American pop rock singer and songwriter, who came to fame as part of The Kelly Family, has released his fifth album, "B.O.A.T.S", to critical acclaim. An acronym for Based On A True Story, the record offers some of Michael Patrick Kelly's most ambitious and intimate creations yet and peaked in the top ten on several European album charts.
Passenger: The eleventh studio album from the British singer-songwriter, "Songs For The Drunk And Broken Hearted", is almost autobiographical. Passenger wrote these profound songs following a breakup, creating an album that deals with the struggles of life in a strange world, peaking at number two on the UK charts.
Purple Disco Machine: The German DJ, who produced remixes for some of the biggest stars in the music industry, such as Lady Gaga, Dua Lipa, and Kylie Minogue, has released his impressive sophomore LP, "Exotica". Unabashed in its dance, funk, and disco identity, the album features a number of hit singles that propelled Purple Disco Machine into a prominent place on the global dance music scene.
Sting: After his award-winning reggae collaboration with Shaggy, Sting returned with a new solo release, "The Bridge", which peaked in the top ten on several European album charts. Back to his roots, the British rock star penned a beautiful collection of songs, aiming to cross over the rifts created by social tensions.
Previous winners: Adam Lambert (2021)

Pop Awards 2022: Band/Group Of The Year Award
Here are the nominees for the Band/Group Of The Year Award
Fury In The Slaughterhouse: The German rockers are back with their twelfth studio album, "Now", the band's first release of new material in 15 years, and they pull no punches. Fury In The Slaughterhouse got something to say on their new LP which peaked at number two on the German album charts and features songs like "Sorry" with scathing criticism of their own generation and an apology to the younger ones.
Santana: Who hasn't laughed, cried, danced, or kissed someone to the sound of Carlos Santana's guitar? Santana, his legendary band, released their 26th studio LP, "Blessings And Miracles", mixing elements of modern pop with the group's signature Latin rock on a fresh new album without losing their vibrant identity.
Silk Sonic: A duo of solo stars, Bruno Mars and Anderson Paak, has released their acclaimed debut LP, "An Evening With Silk Sonic" featuring the number one single "Leave The Door Open". The album, which peaked at number two on the US charts, comes with a lot of funk and soul, and some funny lyrics on top – a promising debut that leaves fans hoping for more Silk Sonic releases in the future.
Texas: When this British band around lead singer Sharleen Spiteri started digging for takes of previous recording sessions, they were inspired to come up with brand new material, resulting in the release of "Hi", the tenth studio album by Texas. Hard to classify in its range of musical styles from vintage soul to alt rock including a collaboration with the Wu-Tang Clan, the new record peaked at number three on the UK charts.
Thunder: The line-up of the British rock band has remained unchanged for 25 years and their 13th studio album is a testimony of what a band can do when they have found the right people and the right sound. Thunder's "All The Right Noises" peaked at number three on the UK charts and serves as a master class on social criticism with songs like "St. George's Day" and "The Smoking Gun".
Previous winners: Bon Jovi (2021)

Pop Awards 2022: Emerging Artist Of The Year Award
Here are the nominees for the Emerging Artist Of The Year Award
Celeste: A struggling artist for several years, this American-born British singer-songwriter empowered herself through music and created her debut LP, "Not Your Muse", to express her true self rather than having commercial success in mind – and it shows. Celeste's amazing talent shines through on this very personal album of jazz-flavored retro soul.
Desi Valentine: The UK-born and US-based artist sang backing vocals for powerhouse names such as Gloria Estefan and Elton John before he released his EP "Shades Of Love" and his full-length debut, "Through The Lens". On the album, Desi Valentine gives free rein to his own personal style, a blend of modern pop, blues, and timeless soul.
Lady Blackbird: She has been singing for a long time, but it wasn't until 2021 that the world heard the stunning debut album, "Black Acid Soul", from the American vocalist. Moving from R&B to jazz, Lady Blackbird found her sound in haunting renditions of emblematic 60s tunes, such as Nina Simone's "Blackbird" and Sam Cooke's "Lost And Looking".
The Imaginaries: The individual talents of husband-and-wife duo The Imaginaries blend seamlessly on their self-titled debut album, proving that love and business can mix. Hailing from the US state of Oklahoma, the two folk rock musicians play several instruments, sing, write and produce their own songs, touching on important themes such as struggle and faith.
Yebba: After collaborating with artists such as Ed Sheeran and Mark Ronson, Yebba has released her acclaimed debut album, "Dawn". The newcomer from the US state of Arkansas received a lot of praise for her vocal prowess and her unique style of R&B and pop.
Previous winners: Katie Pruitt (2021), Caleb Elliott (2020), Tash Sultana (2019), Emily Estefan (2018)

Pop Awards 2022: Lifetime Achievement Award
Here are the nominees for the Lifetime Achievement Award
Abba: One of the most successful groups of all time, ABBA has topped the charts worldwide from their Eurovision victory in 1974 until the group broke up in 1982 and even long thereafter, with greatest hits compilations including songs like "Dancing Queen", "Gimme! Gimme! Gimme!", and "Super Trouper". Their music was adapted into a musical, "Mamma Mia!", and two successful movies. The Swedish pop group reunited in 2016 and last year, they returned to the top of the charts with "Voyage", their first album of new material in 40 years.
Diana Ross: Once the lead singer of The Supremes, Diana Ross is a living legend who has been recognized as the most successful female artist in music history. The soul singer from Detroit received the Presidential Medal of Freedom and has been inducted into the Rock and Roll Hall of Fame with The Supremes. Throughout her five-decade-long solo career, she sold more than 100 million records and at age 77, she has released her 23rd studio album, "Thank You".
DMX: During his career of 25 years, the controversial rapper and actor from New York City has enjoyed great commercial success and critical acclaim. DMX was the first artist to debut at number one on the US charts with five albums in a row and he's one of the best-selling hip-hop artists with almost 75 million records worldwide. His posthumous album, "Exodus", was released in 2021, shortly after his death at age 50.
Kenny G: The Grammy-winning smooth jazz saxophonist from Seattle has released ten Platinum and multi-Platinum records, plus the Diamond-certified "Breathless". Throughout his career of five decades, Kenny G sold over 75 million records and is credited with increasing the popularity of the smooth jazz genre. At age 65, he has released his 15th studio album, "New Standards".
Kool & The Gang: Founding members Robert "Kool" Bell and George Brown are the only remaining musicians from the original line-up of the legendary American funk band. The celebrated group has seen great commercial success, particularly in the 70s and 80s, with several Gold and Platinum LPs and the hit single "Celebration". Last year, Kool & The Gang released "Perfect Union", their 22nd studio album.
Previous winners: Bon Jovi (2021), Willie Nelson (2020), Paul McCartney (2019), TLC (2018)

Written by Camille Hourtane
Camille is a bilingual freelance writer with an unending passion for storytelling. She writes pieces in English and in French, with an emphasis on food/travel/society articles and fantasy/gothic/supernatural stories. She likes nothing more than to explore new places, whether in body or in mind.