Welcome to the POP AWARDS 2021, the fourth annual Pop Awards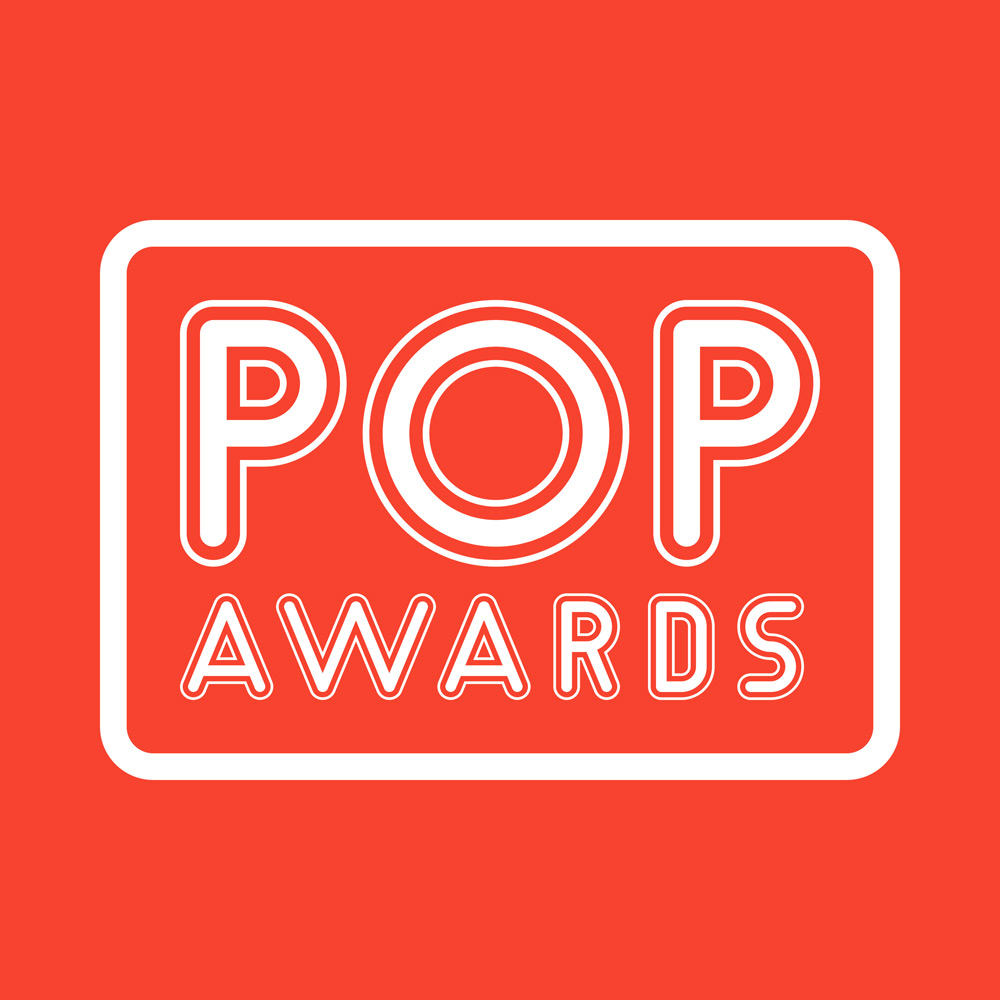 For everyone already struggling to keep their New Year's resolutions, yearning to return to familiar habits, and for everyone craving a degree of normalcy after the challenges of the past twelve months, we can tell you that the Pop Awards are back, launching as usual on the third Sunday of the year. And for the sake of everyone calling for change, the Pop Awards return bigger and better! Pop Magazine presents the Pop Awards 2021 with five additional categories. Now with a total of ten categories, the 4th annual Pop Awards are celebrating the best artists, albums, songs, and music videos of the past year. You can vote for your favorite nominees from today, January 17. Online voting accounts for 50% of the total. The other 50% will come from ballots cast by our expert panel of music journalists. Check out all of the amazing nominees and choose your top picks. Be sure to get your vote in by March 7 to help your number one in each category to make the cut and join the ranks of our highly regarded winners. Voting results of the Pop Awards 2021 will be announced on March 14.
→ To cast your vote, go to Pop Awards 2021

The fourth annual Pop Awards showcase a fantastic range of artists and musical styles. Some of the 50 nominees have been around for decades and some are fresh on the scene. Coming in with two nominations are Alicia Keys, Bon Jovi, Dua Lipa, Gregory Porter, and Jason Mraz, while Eminem collects his third nomination overall and Katy Perry and Taylor Swift add a second one. Check out the full list of nominees below!

→ Listen to the Pop Awards 2021 playlist on Spotify

Pop Awards 2021: Artist Of The Year Award
Here are the nominees for the Artist Of The Year Award
Alicia Keys: A classically trained pianist who has become one of the most influential artists in R&B and beyond. Alicia Keys had a busy 2020 with the release of her seventh studio album, "Alicia", the publishing of her memoir, "More Myself: A Journey", and the recording of a duet with Brandi Carlile to encourage voting in the American presidential election.
Dua Lipa: Still seen as fairly new on the scene, in 2020 the British dance pop singer has become one of the most successful artists worldwide. Dua Lipa's second studio album, "Future Nostalgia", topped the UK charts and comes with four top-ten singles.
Eminem: There's no question why the American rap star is a serious contender for this award following the release of his Hitchcock-inspired surprise album, "Music To Be Murdered By", at the beginning of 2020. The LP debuted at number one on the Billboard charts, which made him the first artist with ten consecutive #1s in the US.
John Legend: He's an American singer, songwriter, producer, actor, and philanthropist – John Legend really can do it all. 2020 gave us the gift of his sixth studio album, "Bigger Love", as well as standout features on songs by Jadakiss, Buju Banton, and Lecrae.
Selena Gomez: This pop star's third solo album, "Rare", was released in early 2020 on the heels of her first number one hit on the American song charts, "Lose You To Love Me", serving as the album's lead single. The LP delivered the next charts-topping success for Selena Gomez by debuting atop the album charts in the US and several other countries.
Previous winners: The Highwomen (2020), The Carters (2019), Taylor Swift (2018)

Pop Awards 2021: Album Of The Year Award
Here are the nominees for the Album Of The Year Award
Bettye LaVette – "Blackbirds": Over the course of her six-decade-long career, this American singer has immersed herself in various genres and 2020 saw her inducted into the Blues Hall of Fame. Bettye LaVette's latest album, "Blackbirds", is a timeless soul music treasure featuring amazing cover renditions.
Gregory Porter – "All Rise": A decade after his debut LP, the American singer and songwriter's highly-praised sixth studio album was released in 2020, charting within the top ten in many European countries. "All Rise" is typical Gregory Porter with a fusion of jazz, soul, and gospel music, overlaid with sincere and thoughtful lyricism.
Jarrod Lawson – "Be The Change": This American soul and jazz singer-songwriter has spared no emotions on his 2020 sophomore album. On "Be The Change", Jarrod Lawson couples the spirit and swing of jazz music with soulful vocals and insightful lyrics into a winning formula.
Jason Mraz – "Look For The Good": A star on the global pop music scene for more than a decade now, this American musician has released his seventh studio album last year. "Look For The Good" comes with the positive lyricism Jason Mraz is known for but he has certainly shifted his sound to include a more vivid reggae vibe.
Jonathan Wilson – "Dixie Blur": The fourth studio album by the American musician and producer was released last spring. Jonathan Wilson's "Dixie Blur" is an excellent fusion of folk and country music on a laid-back psychedelic rock soundscape.
Previous winners: Jack Savoretti – "Singing To Strangers" (2020), Tash Sultana – "Flow State" (2019), Charlie Cunningham – "Lines" (2018)

Pop Awards 2021: Song Of The Year Award
Here are the nominees for the Song Of The Year Award
Butterfly Ali – "Righteous": This energetic single perfectly shows Butterfly Ali's mindset and musical influences like Marvin Gaye and Leon Bridges. "Righteous" is your musical companion if you're looking for a funky track to brighten up your day or even make you dance, but the song also comes with a sharp message directed at judgmental people.
Dua Lipa – "Physical": This hit single was released from her sophomore album, "Future Nostalgia". Taking inspiration from 80s music, Dua Lipa's "Physical" is a powerful retro-pop tune perfect for dancing in a crowded club or currently, in accordance with social distancing rules, in your room with the music video on your computer or TV.
John Ellison – "Wake-Up Call (Black Like Me)": Inspired by the #BlackLivesMatter protests on police brutality following the killings of George Floyd and Breonna Taylor, this single is a standout song among many culturally and politically significant tracks released in 2020. With a catchy backbeat, funk guitar, and sincere, point-blank lyricism, John Ellison's "Wake-Up Call (Black Like Me)" is a strong reminder of the injustice still plaguing the Black community 55 years after the Jim Crow laws.
Paloma Faith – "Better Than This": This single was released from the British pop singer and songwriter's fifth album, "Infinite Things". With its opulent orchestration and powerful vocals, "Better Than This" is Paloma Faith at her best, a unique love song dedicated to people who are there to stay.
The Good News – "Come Together": This unusual group of artists – including Fred Hammond, Kirk Franklin, Karen Clark Sheard, Mary Mary, Lecrae, and more – has released a one-of-a-kind song of faith during the global pandemic. Organized and produced by Rodney "Darkchild" Jerkins, "Come Together" is an inspiring single with a message of hope and solidarity dearly needed given the world's current situation.
Previous winners: Nuela Charles – "Got It Bad" (2020), Justin Timberlake (featuring Chris Stapleton) – "Say Something" (2019), Deep Purple – "All I Got Is You" (2018)

Pop Awards 2021: Music Video Of The Year Award
Here are the nominees for the Music Video Of The Year Award
Alicia Keys – "Underdog": A song she has co-written with Ed Sheeran and co-produced with Johnny McDaid is already set for success. To top it off, add a music video that is visually appealing, showing a highly spirited Alicia Keys encouraging the "Underdog" to rise up.
D Smoke (featuring Jackie Gouche) – "Black Habits 1": This music video by the emerging west coast rapper perfectly complements his song while also transgressing it completely. Watch "Black Habits 1" if you're keen to see D Smoke's personality displayed in one music video.
Iyla (featuring Method Man) – "Cash Rules": The song from the Californian singer's second EP is based on the Wu-Tang Clan hit "C.R.E.A.M." and features the rap group's most prominent member. At first glance, you may be led to believe that the "Cash Rules" music video is about the artist flaunting her cash and jewelry when in fact Iyla is rather demonizing this behavior.
Janelle Monae – "Turntables": A theme song used in the American documentary film "All In: The Fight For Democracy" starring Stacey Abrams. With "Turntables", Janelle Monae has created the perfect anthem for change amidst the tense climate during last year's election campaign and the music video comes with some witty visual metaphors.
Noga Erez (featuring Rousso & Reo Cragun) – "Views": This Israeli artist has seen great success with the release of her remarkably creative music videos. The masterful video for her song "Views" shows Noga Erez and other people climbing a never-ending staircase, symbolizing the fight among artists to accumulate the most views with their music videos.
Previous winners: This is a new category!

Pop Awards 2021: Icon Of The Year Award
Here are the nominees for the Icon Of The Year Award
Jason Mraz: This versatile artist had a large presence within pop music way before the release of his most recent album, "Look For The Good", but the LP has given fans a look into his new musical style with songs like "My Kind" and "You Do You". The reggae-flavored project echoes themes like equality and ecology, which Jason Mraz has been campaigning for as an activist for many years.
Joy Denalane: The German soul music icon has delivered her new album, "Let Yourself Be Loved", via Motown Records. Well-known for her creativity of exploring a variety of styles including hip-hop, R&B, African folk music, and pop, Joy Denalane returned to her roots with her latest LP, perfectly recreating the classic Motown vibe of the music she listened to growing up.
Rachael Sage: This singer-songwriter and multi-instrumentalist is an icon of the indie music scene, a champion within the LGBTQ community, and an outspoken advocate for social justice and environmentalism. Rachael Sage certainly has what the title of her latest album states, an LP that's simply called "Character" and includes songs baring vulnerable themes written during her cancer recovery.
Salaam Remi: Mostly not in the spotlight himself, but he is a world-class producer of hip-hop, soul, and pop music who has worked with the likes of Amy Winehouse, Nas, and the Fugees. In 2020, Salaam Remi released a new album, "Black On Purpose", featuring artists like CeeLo Green, Jennifer Hudson, and Stephen Marley.
Shemekia Copeland: Last year, this blues music icon has released her ninth studio album, "Uncivil War", and she's not holding back. On songs like "Walk Until I Ride", "Give God The Blues", and "She Don't Wear Pink", Shemekia Copeland tackles injustice, bigotry, and homophobia, and she does it with much wit and vigor.
Previous winners: This is a new category!

Pop Awards 2021: Female Artist Of The Year Award
Here are the nominees for the Female Artist Of The Year Award
Ava Max: Following her highly successful debut single, "Sweet But Psycho", the American breakout star has released her debut LP, "Heaven & Hell", in 2020. The album comes with all the dance pop hits that made Ava Max famous including more recent singles "Kings & Queens" and "My Head & My Heart".
Brandy Clark: This American country and folk singer-songwriter's third studio album, "Your Life Is A Record", was released last year. It's a wonderful collection of songs shining a light on Brandy Clark's songwriting and musicianship.
Katy Perry: In 2020, the Californian pop star has released her empowering fifth studio album, "Smile", which includes the hit "Daisies". Katy Perry's non-album single "Never Worn White" was published along with a beautiful music video that revealed her pregnancy at the end.
Norah Jones: This genre-bending pianist and singer-songwriter from New York has released her seventh studio album last year, another gem in her 20-year career. On "Pick Me Up Off The Floor", Norah Jones is processing a fitting theme for difficult times like these, presented in an uplifting jazz record.
Taylor Swift: Since becoming famous through her country and pop fusion, the American superstar has developed her sound and songwriting, which has further flourished in 2020, blossoming into a whole bunch of folky pop songs. It was a big year for Taylor Swift as she released not one but two chartbreaking surprise albums, "Folklore" and "Evermore".
Previous winners: This is a new category!

Pop Awards 2021: Male Artist Of The Year Award
Here are the nominees for the Male Artist Of The Year Award
Adam Lambert: This extravagant American vocalist and Queen collaborator has released his fourth studio album, "Velvet", in 2020. Adam Lambert's latest LP is a successful fusion of pop, rock, funk, and soul music featuring the standout single "Roses".
Gregory Porter: A favorite among jazz and soul music fans for ten years now, the Californian singer-songwriter released his sixth studio album, "All Rise", last summer. Perfectly crafted down to the detail, this new collection of original songs is another masterpiece by Gregory Porter.
Joe Bonamassa: In 2020, the American blues rock guitarist and singer-songwriter released his 14th studio album, "Royal Tea", a nod to his British heroes and a top-ten on the UK charts. Last year, Joe Bonamassa also shared his instrumental project with The Sleep Eazys, "Easy To Buy, Hard To Sell".
John Anderson: This well-established country and folk musician from Florida has released his 21st studio album last spring. "Years", which features the single "Tuesday I'll Be Gone", is John Anderson at his best.
Tim McGraw: This American country music star released his 15th solo studio album, "Here On Earth", in 2020. Complementing a 30-year career, Tim McGraw's new LP is an emotive collection of songs featuring the single "I Called Mama".
Previous winners: This is a new category!

Pop Awards 2021: Band/Group Of The Year Award
Here are the nominees for the Band/Group Of The Year Award
American Aquarium: This American band with frontman BJ Barham places an alternative style on country and rock music. American Aquarium have recently released their eighth studio album, "Lamentations", which is loaded with tough political and personal themes.
Bon Jovi: After decades of success, this internationally celebrated American rock band needs no introduction. Bon Jovi's 15th studio album is entitled "2020", a politically and pandemic-themed record with songs full of love and empathy.
Mighty Oaks: A Berlin-based folk rock trio made up of members from the US, UK, and Italy. Last year, Might Oaks released their third studio album, "All Things Go", which features reflective and uplifting songs including the single "Tell Me What You're Thinking".
The Wailers: One of the most famous reggae bands on the planet, the remaining members of Jamaican hit group Bob Marley & The Wailers and their newer bandmates returned in 2020 with a new studio album. "One World" is The Wailers' first LP in over 25 years, featuring the star-studded single "One World, One Prayer".
The War And Treaty: This American husband and wife duo of Michael Trotter Jr. and Tanya Blount creates a powerful mix of soul, gospel, and folk music. Last year, The War And Treaty have released their amazing sophomore album, "Hearts Town".
Previous winners: This is a new category!

Pop Awards 2021: Emerging Artist Of The Year Award
Here are the nominees for the Emerging Artist Of The Year Award
Daniel Donato: In 2020, this Nashville native released his debut album, "A Young Man's Country", offering a fresh blend of rock and country music. As a skilled guitarist, singer, and songwriter, Daniel Donato is sure to be a hit on the Americana music scene.
Desmond The Songwriter: Here's an emerging artist for all reggae fans out there. Hailing from Kingston, Jamaica, Desmond The Songwriter delivered his debut LP, "Happiness Is Priceless", in 2020, utilizing a mix of reggae and soul to form his own unique sound.
Fretland: Led by Hillary Grace Fretland, this folk band from the northwestern US state of Washington has released their self-titled debut album in 2020. Fretland are already developing into a sought-after group on the indie music scene by perfectly mixing esoteric vocal harmonies with a rock-band-like instrumentation.
Gabby Barrett: This American Idol alumnus has released her debut album, "Goldmine", in 2020, following the success of her multi-Platinum debut single, "I Hope", which hit the top three on the Billboard charts. With her pop-rock and country-rock crossover style, Gabby Barrett certainly has mainstream appeal.
Katie Pruitt: After releasing her debut album, "Expectations", in 2020, this Nashville-based singer-songwriter has received critical acclaim for her music and has seen the initial signs of success. Katie Pruitt is a folk musician who dares to bare her heart in a vulnerable way, singing about her own life, emotions, and the coming-of-age experience as a lesbian in a conservative environment.
Previous winners: Caleb Elliott (2020), Tash Sultana (2019), Emily Estefan (2018)

Pop Awards 2021: Lifetime Achievement Award
Here are the nominees for the Lifetime Achievement Award
Bon Jovi: American rock star Jon Bon Jovi and his band have been a fan favorite for 37 years now. From their self-titled hard rock debut in 1984 to last year's "2020" LP, the band has seen global success and record sales in excess of 100 million units, including one of the best-selling albums of all time, the Diamond-certified "Slippery When Wet".
Brandy: This American R&B singer was propelled into the limelight in the late 90s with her global smash hit "The Boy Is Mine", a duet with Monica scoring a 13-week run atop the US charts. Last year, Brandy returned with her seventh studio album, "B7", adding to a discography that includes the LP "Never Say Never" which sold 17 million copies worldwide.
Busta Rhymes: This American hip-hop heavyweight has been a dominant player in the rap game since the mid-90s with seven Gold and Platinum-selling albums like "Anarchy" and "Genesis". In 2020, Busta Rhymes returned with his tenth studio album, "E.L.E. 2: The Wrath Of God", a sequel to his third LP.
Kylie Minogue: One of the most influential pop stars worldwide and the all-time highest-selling female artist from Australia with over 70 million in global record sales. When Kylie Minogue's 14th studio album, "Disco", debuted at #1 on the UK charts last year, it made her the first artist to top the charts in five consecutive decades.
Ozzy Osbourne: The British heavy metal hero first became famous with the band Black Sabbath, then as a multi-Platinum-selling solo artist. In 2020, Ozzy Osbourne returned with his twelfth studio album, "Ordinary Man", released 40 years after his solo debut, "Blizzard Of Ozz", his bestseller with more than six million copies globally.
Previous winners: Willie Nelson (2020), Paul McCartney (2019), TLC (2018)

→ Listen to the Pop Awards 2021 playlist on Spotify

Written by Jenna Mackle
Jenna is a creative researcher, content writer and music journalist based in London. Having studied Ethnomusicology to a Master's level, she is passionate about music from various parts of the world.