Welcome to the POP AWARDS 2020, the third annual Pop Awards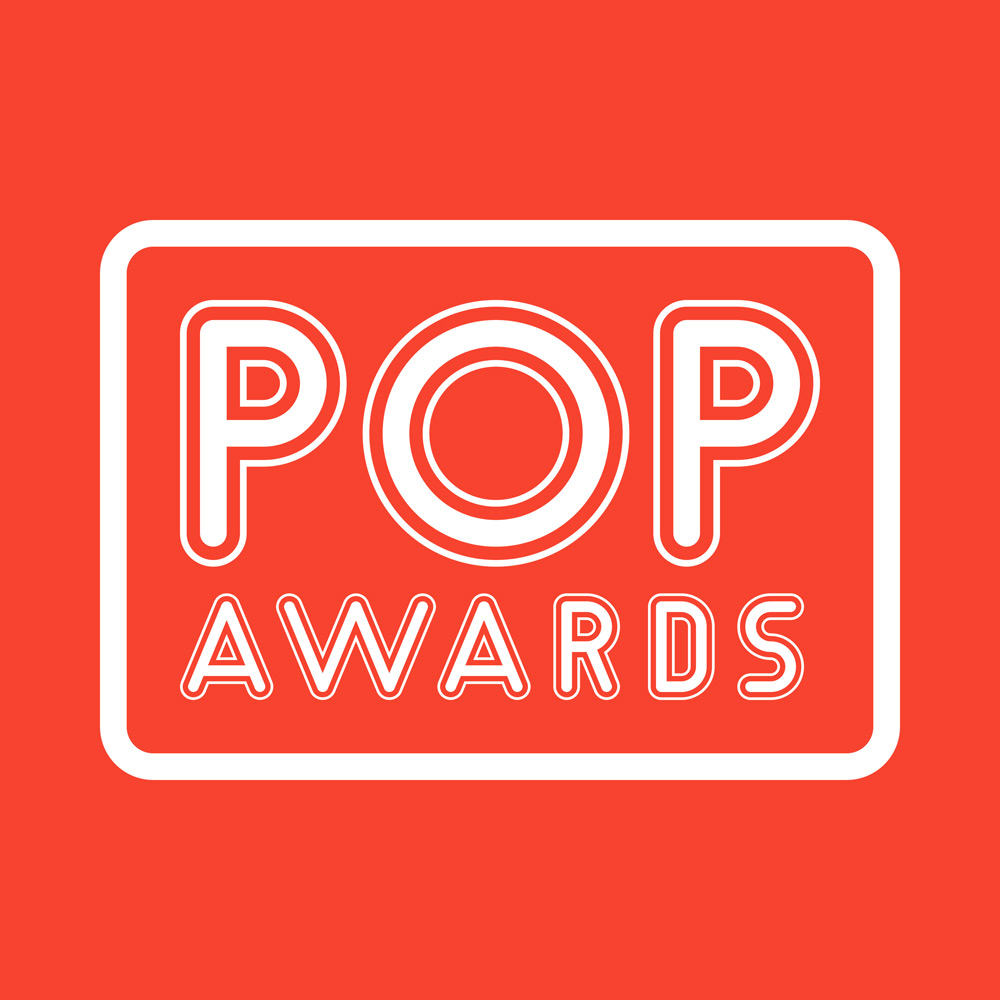 A swirling toast to your wish lists and visions for the New Year, and everything that makes you smile! Pop Magazine kicks off the 2020s by inviting you to the third annual Pop Awards, launched today to honor the best artists, albums, and songs of the past year. Online voting is on from January 19th to March 8th and will account for 50% of the total vote, while the other 50% come from ballots cast by our expert panel. Winners of the Pop Awards 2020 will be announced on March 15th. For music fans, voting at the Pop Awards has become a recurring ritual each year between January and March, so we are happy to be back, eagerly awaiting your vote!
→ To cast your vote, go to pop-awards.com
Year three of the Pop Awards welcomes an eclectic mix of artists, featuring the most talented newcomers along with prominent musicians that have dominated the industry for quite some time, such as Emeli Sande who is standing out with three nods including a nomination for Artist Of The Year. In this first category, the British singer is competing with her fellow countryman James Blunt and Cuban-American superstar Camila Cabello. In the second category, she's pit against two more of her countrymen, pop crooner Jack Savoretti and soul singer Michael Kiwanuka for Album Of The Year. And in the third category, she has to match with American singer Max Jury and Canadian singer Nuela Charles for Song Of The Year. Folk musician Caleb Elliott is contending with pop sensation Haley Johnsen and rock musician James Gillespie in the Emerging Artist Of The Year category. Legendary country star Willie Nelson receives his second nomination after 2018, this time going head to head with disco-queen-turned-gospel-singer Gloria Gaynor and hip-hop guru Common for the Lifetime Achievement Award. The cards are laid out and our amazing nominees are awaiting your vote at the Pop Awards 2020!
→ Listen to the Pop Awards 2020 playlist on Spotify

Pop Awards 2020: Artist Of The Year Award
Here are the nominees for the Artist Of The Year Award
Bruce Springsteen: He's an American singer, songwriter, and instrumentalist who rose to fame in the 1970s. With albums like the Diamond-certified "Born In The U.S.A.", Springsteen has become one of the world's best-selling musicians. He was inducted into the Songwriters Hall of Fame and the Rock and Roll Hall of Fame. In June 2019, he released his 19th studio album, entitled "Western Stars". The majestically-sounding record with its cinematic arrangements and nostalgic tunes was also released as a soundtrack version of Bruce Springsteen's film directing debut which features his live performance of the album.
Camila Cabello: After breaking into the music scene as part of girl group Fifth Harmony, Cuban-born singer and songwriter Camila Cabello went on to build a successful solo career, churning out hit singles like "Havana" off her chart-topping debut album. She released her second studio album, "Romance", in December 2019. The album debuted at #3 on the US charts and reached certified Gold status just one month later. It includes the worldwide smash hit "Señorita", a duet performed by Shawn Mendes and Camila Cabello that topped the charts in over 30 counties and surpassed streaming numbers of one billion.
Emeli Sande: She's a British singer-songwriter who gained massive commercial success in 2012 with her first studio album, "Our Version Of Events", then followed up with her second LP, "Long Live The Angels", in 2016. In September 2019, Sande released her third studio album, "Real Life", to critical acclaim. A top ten album on the UK charts with uplifting songs like the singles "Sparrow" and "Shine", highlighting Emeli Sande's vocal excellence.
James Blunt: He's a British singer-songwriter who is widely known for his 2005 mega hit single "You're Beautiful" that topped the charts in the UK and the US. Fueled by the success of the single, Blunt's debut album, "Back To Bedlam", became one of the all-time best-selling records in the United Kingdom. His sixth studio LP, "Once Upon A Mind", was released in October 2019 and reached #3 on the UK charts. It's an emotionally compelling album, with James Blunt telling stories about his family and how being a pop star has affected their life.
The Highwomen: They are four American musicians at the height of their success as solo artists, joining forces in 2019 to form the new supergroup that's making waves in the country music scene and beyond. The Highwomen are made up of Brandi Carlile, Natalie Hemby, Maren Morris, and Amanda Shires. They released their self-titled debut album in September with songs like "Highwomen", "Don't Call Me", and "Cocktail And A Song". The album was a major success and peaked in the top ten of the US charts.

Pop Awards 2020: Album Of The Year Award
Here are the nominees for the Album Of The Year Award
Durand Jones & The Indications – "American Love Call": The first song on this record, "Morning In America" is a political song that speaks to social issues facing the people of America. Love is a common theme on the band's sophomore album but not only in a pleasant sense. This LP is so unapologetically soulful that, if you were asked to guess the year it was made without knowing it was 2019, you would probably date it to a different decade. It's a great record from front to back with songs like "Court Of Love" and "Listen To Your Heart".
Emeli Sande – "Real Life": This album comes three years after her last full-length release and after a period of challenging experiences in her personal life that she had to go through. Coming out on the other side, Sande made this album as a way to inspire her listeners and fans. "Real Life" features eleven uplifting songs, including "Extraordinary Being" and "Free As A Bird". The album is melodic and comes with epic string arrangements, piano, gospel choir, and Emeli Sande's powerful vocals.
Jack Savoretti – "Singing To Strangers": This is the sixth studio album to come from the London-born singer-songwriter with Italian roots. The album is a very emotional one with romantic ballads and themes of lost love, including the singles "Candlelight" and "What More Can I Do?". On the short title track, Savoretti sings about his life as a musician and the struggle of trying to give his best to people he doesn't know. "Singing To Strangers" debuted at #1 on the UK charts, Jack Savoretti's first chart topper.
Lily & Madeleine – "Canterbury Girls": On this record, Lily and Madeleine pour out their hearts, delivering soulful vocals and honest lyrics. Sonically, their fourth album draws inspiration from vintage folk music with the two sisters harmonizing beautifully on songs like "Analog Love", "Circles", and title track "Canterbury Girls". The album's title refers to Canterbury Park in their hometown of Indianapolis, and with this record, the duo has scored a homerun, musically.
Michael Kiwanuka – "Kiwanuka": The British singer-songwriter and multi-instrumentalist delivers a variety of sounds on his third studio album, from the African-inspired opening track "You Ain't The Problem" to the classic arrangements on "Piano Joint (This Kind Of Love)". The whole record is nostalgic with its old-school instrumentation, including heavy strings and gritty drums at some parts. "Kiwanuka" is a rich, satisfying, and thought-provoking sonic experience from the first track to the last. The album was met with resounding critical acclaim.

Pop Awards 2020: Song Of The Year Award
Here are the nominees for the Song Of The Year Award
Emeli Sande – "You Are Not Alone": With her classic soothing voice over soft piano chords, Sande delivers the goods on this single from her "Real Life" album. Her inspiring lyrics are backed by choral harmonies and soft orchestral strings, creating a sound that fans have come to love her for. "You Are Not Alone" is also a great song because of the nostalgia it induces, evoking memories of some of her earlier songs.
James Morrison (featuring Joss Stone) – "My Love Goes On": On this single from Morrison's album "You're Stronger Than You Know", he's harmonizing beautifully with featured artist Joss Stone. Their electrifying vocals are delivered over a groovy drum beat that is sure to get you moving your body. The instrumentation is done convincingly too, rounding out "My Love Goes On" as a certified hit song for radio and summer festivals alike.
Max Jury – "Modern World": With this single off his album by the same name, the US-born and Paris-based singer has released a striking song about the fears and struggles of being in a relationship with an untrustworthy partner. "Modern World" is speaking of one man's situation but everyone else can relate to these lyrics too. Other elements that stand out are Max Jury's super smooth vocals as well as the funky beat and guitars.
Natasha Bedingfield – "Roller Skate": On this single from the album "Roll With Me", Bedingfield does an awesome job of putting such great vocal harmonies on an addictive Caribbean-inspired beat mixed with a straight pop beat on the hook. The song talks about roller skating but as a metaphor for that childhood freedom that we all crave as human beings. As Natasha Bedingfield said herself, "Roller skating, as a kid, gave me this feeling that I could get outside of the concrete walls and the situation that I was in."
Nuela Charles – "Got It Bad": The Canadian singer, who was born in Kenya, wows listeners with her powerful single. The song has a gospel church vibe with its thick piano chords, hand claps, and tambourines, a perfect fit for Nuela Charles. On "Got It Bad", her crisp and soulful vocals sit gracefully in the midst of the heavy instrumentation as she sings about finding the strength she needs inside of herself.

Pop Awards 2020: Emerging Artist Of The Year Award
Here are the nominees for the Emerging Artist Of The Year Award
Caleb Elliott: The classically-trained musician from Louisiana has released his debut album, "Forever To Fade", in 2019. With songs like "Makes Me Wonder" and "Old Souls", this record is a great display of Caleb Elliott's songwriting skills and his ability to craft infectious melodies. The album's lead single, "Get Me Out Of Here", has racked up over 1 million streams since its release in 2018.
Freya Ridings: She is a talented British singer-songwriter who gained wide recognition with her 2017 single, "Lost Without You", after it was featured on TV. In 2019, Freya Ridings has released her self-titled debut LP which peaked at #3 on the UK charts. The album includes the Greg Kurstin-produced hit single "You Mean The World To Me".
Haley Johnsen: An amazing artist from Oregon who perfectly marries her awesome vocals with her guitar playing to create a great musical experience. After US and European tours and releasing several singles and EPs since 2015, Haley Johnsen has self-published her first full-length album, "Golden Days", in 2019. It's a brilliant record, featuring the singles "Everything Comes Back Again" and "Weekend".
James Gillespie: He is a singer-songwriter and guitarist from the UK who became a viral sensation in 2017 when several tastemakers premiered his first single, "What You Do". In the same year, James Gillespie released a cover of Pink's "Don't Let Me Get Me" which led to the opportunity to perform with the American superstar live on stage. His debut LP, "Safe", was released in 2019, including many excellent songs like the single "Hold Me Down".
Yola: She is a British musician who had her breakout year in 2019. Prior to that, Yola has worked as a backing vocalist with a wide range of artists, fronted her own band, and published her first solo EP in 2016, titled "Orphan Offering". Last year, Yola has released her debut album, "Walk Through Fire", which received a lot of positive reviews and comes with amazing songs like "Rock Me Gently".

Pop Awards 2020: Lifetime Achievement Award
Here are the nominees for the Lifetime Achievement Award
Common: The 47-year-old Chicago rapper is an icon in hip-hop and is widely known as one of the most prolific lyricists of the genre. His groundbreaking music career started in the early 1990s, yielding successful albums including "Like Water For Chocolate" and "Be". The single "Glory", written and performed by Common and John Legend for the film "Selma", won an Oscar, a Golden Globe, and a Grammy. Common has also made his mark in the field of acting and as an author. In 2019, he released his twelfth studio album, "Let Love".
Gloria Gaynor: The 70-year-old singer from Newark rose to fame during the disco era, and has maintained a career which started in 1965. The smash hit "I Will Survive" is Gloria Gaynor's most iconic song. The Grammy-winning single quickly became an anthem of freedom for women and female empowerment, and for the LGBT community. In 1979, it climbed to the top of the US and UK charts and remains to be one of the most popular disco songs. In 2019, Gaynor has released her 18th studio album, a gospel record entitled "Testimony".
Sheryl Crow: The 57-year-old American musician has sold over 50 million albums worldwide and won nine Grammy Awards. During her successful career that spans more than three decades, she's incorporated rock, pop, country, folk, and blues into her music, spawning hits like "All I Wanna Do" and "Soak Up The Sun". Sheryl Crow has contributed to the soundtracks for a number of films, including the theme song for the James Bond movie "Tomorrow Never Dies". In 2019, she released her tenth studio album, "Threads", which was billed as her final LP and features collaborations with some of her favorite artists.
The Brand New Heavies: This acid jazz and funk band from London was formed by Simon Bartholomew and Andrew Levy in 1985. While the duo has been the core of the group since its inception, they have always recorded and performed with different lead vocalists, most notably N'Dea Davenport. She also contributed to one of their most successful albums, the 1994 release "Brother Sister" featuring the hit single "Midnight At The Oasis". Coming full circle in 2019, The Brand New Heavies have invited many of the singers they had previously worked with to contribute to their eleventh studio album, "TBNH".
Willie Nelson: The veteran country musician, who was born in Texas in 1933, has become a household name with the success of his albums "Shotgun Willie", "Red Headed Stranger", and the five-time Platinum-certified "Stardust". Willie Nelson was named one of the 100 Greatest Singers and 100 Greatest Guitarists by Rolling Stone, he won eight Grammys, and has sustained a successful career over six decades. He has not slowed down much in recent years, frequently releasing new material like his chart-topping LP "God's Problem Child", which was nominated for Album Of The Year at the Pop Awards 2018. His most recent album was released in 2019 and is titled "Ride Me Back Home".

→ Listen to the Pop Awards 2020 playlist on Spotify

Written by Leslie Addo
Leslie is a writer, guitarist, and music producer from Accra, Ghana, with a Bachelor of Arts degree in Economics, and a very unimpressive track record of making terrible smoothies. You can find him on Instagram @_lesplay, where he is either trying too hard to look cool with his guitar or posting videos of himself making bad smoothies and tasting them with a frown.