Welcome to the POP AWARDS 2019, the second annual Pop Awards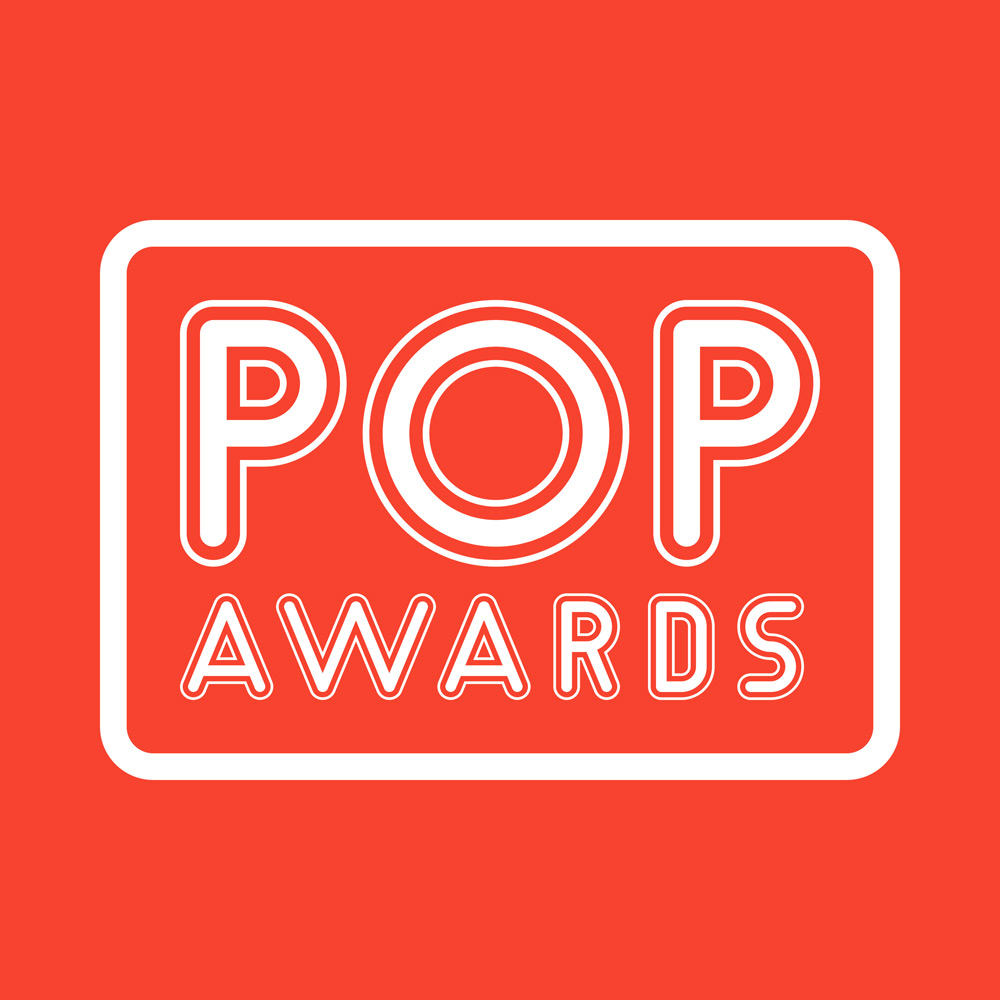 Now that you've toasted the New Year vowing to make or break certain habits, and made it into mid-January grooving to your favorite tunes, here's a resolution you will be happy to keep: voting at the Pop Awards! Today Pop Magazine launches the second annual Pop Awards, honoring the best artists, albums, and songs of the past year. For music fans worldwide this means casting your vote. Online voting takes place between January 20th and March 10th, accounting for 50% of the total vote. The remaining 50% will be cast by our expert panel. Winners of the Pop Awards 2019 will be announced on March 17th. So check out this year's nominees and make sure to vote!
→ To cast your vote, go to pop-awards.com
Year two of the Pop Awards welcomes true musical icons and fresh talent from across the industry. Take for instance hip-hop's first family, The Carters, nominated in the Artist Of The Year category along with R&B-pop-turned-country-pop crooner Justin Timberlake. Or indie rock group Welshly Arms, which is one of the nominees for Album Of The Year. Among nominees for Song Of The Year is the legend herself, Barbra Streisand. Emerging Artist Of The Year nominees include the genre-bending Jorja Smith, and the explosive Tash Sultana, who, along with Justin Timberlake, has received nods in two categories. It doesn't get more musically diverse than the group of world-class entertainers nominated for the Lifetime Achievement Award, with Rock and Roll Hall of Famer Paul McCartney versus the Godfather of G-Funk, Snoop Dogg, versus R&B diva Toni Braxton. So many great artists to choose from before you cast your vote at the Pop Awards 2019!
→ Listen to the Pop Awards 2019 playlist on Spotify

Pop Awards 2019: Artist Of The Year Award
Here are the nominees for the Artist Of The Year Award
Anderson Paak: Before commercial success with his second album, "Malibu", Paak spent many years perfecting his craft as a drummer, songwriter, and lyricist across Southern California. Signing to Dr. Dre's label after appearing on the hip-hop mogul's latest album, 2015's "Compton", Anderson Paak has become one of the most in-demand vocal collaborators in the music industry. Backed by his band, The Free Nationals, he released his third and most ambitious album in 2018, named after his hometown, "Oxnard".
Ariana Grande: Starting her career at the tender age of 13, with roles on Broadway and later on TV, Grande was destined to become a huge pop star. With her sweet four-octave voice, Ariana Grande has fashioned chart-topping success, particularly with her fourth album "Sweetener", released in summer 2018 and debuting at #1 on the US charts. While she calls Whitney Houston and Mariah Carey her biggest influences, she's carved out a lane for herself, and was invited to sing the classic hit "Natural Woman" at the funeral of Aretha Franklin.
Justin Timberlake: With the early 2018 release of his fifth album, "Man Of The Woods", Timberlake returned to his down home roots, creating a collection of Southern and soulful grooves with a sauce that fans weren't used to hearing from him. His album debuted at the top of the US charts and has sold over one million copies worldwide. Justin Timberlake performed at the Super Bowl halftime show in 2018 and embarked on a huge concert tour across North America and Europe.
Lauren Daigle: A contemporary Christian artist with mainstream appeal, Daigle not only topped the Christian album charts, but also reached #3 on the general album charts in the US. Her sophomore album, 2018's "Look Up Child" is her most successful release yet, and the highest-charting Christian album by a woman in 21 years. Lauren Daigle also made her first entry into the mainstream song charts with her single "You Say".
The Carters: Beyonce and Jay-Z, each making up half of a true business-entertainment dynasty, have recently completed their latest co-headlining tour. At the end of their London concert on June 16th, 2018, they announced the surprise release of "Everything Is Love", their collaborative debut album as The Carters. Bey and Jay performed their new catalogue on this epic stadium tour, along with hits from "Lemonade", "4:44", and other notable albums from their individual careers. "Everything Is Love" is the pinnacle in their collection of albums, celebrating Black identity and empowerment.

Pop Awards 2019: Album Of The Year Award
Here are the nominees for the Album Of The Year Award
Nao – "Saturn": Hailing from East London, this avant-soul singer-songwriter released her sophomore album with critical acclaim. On "Saturn" you'll experience Nao's honest and compelling approach to songs written about the hardships of love, and the adventures it brings. There are cinematic moments that uniquely draw listeners into her soundscape in a one-of-a-kind way.
Passenger – "Runaway": The English singer-songwriter's tenth album has Americana flair with the grit of British lyricism. Layers of lap steel guitar, mandolin, and banjo create a musical landscape that is as atmospheric and gorgeously expansive as a drive through the Rocky Mountains. Playing to his American roots, the eclectic folk-rock sound of "Runaway" represents Passenger at his best.
Tash Sultana – "Flow State": Never has the phrase "do it yourself" taken on so much impressive meaning than with the release of this debut album. The Australian singer, songwriter, multi-instrumentalist, and producer is credited as the lone musician on this LP. With an effortless ability to move between all the instruments and musical styles, Sultana's playing on "Flow State" has been called "wizardry" because of the thrillingly creative compositions.
Ty – "A Work Of Heart": Returning with his fifth album, this Afropolitan emcee once again brings an enlightened lyricism laced with jazz, funk, and soul to the mic. Whether tackling social politics, or sharing his profound philosophical thought process, "A Work Of Heart" shares a life-affirming perspective while looking through Ty's everyday lens in repping his Nigerian-British identity.
Welshly Arms – "No Place Is Home": This indie rock band has put their best foot forward with the release of their sophomore LP. "No Place Is Home" includes the glorious hit single "Legendary" and the uplifting "Sanctuary". Welshly Arms cover the gamut, from bluesy to down home gospel vibes, and there's a rock'n'roll driving force throughout the album, which really points to the gritty Midwestern city of Cleveland they represent.

Pop Awards 2019: Song Of The Year Award
Here are the nominees for the Song Of The Year Award
Barbra Streisand – "Lady Liberty": The lyrics of Streisand's patriotic pop ballad zero in on an overarching cry for hope and direction during a time when liberties and humanity feel threatened in the United States. Inspiration for the lyrics of her single of course comes from the Statue of Liberty. "For 124 years now, in triumph and in tragedy, her beacon of light has never dimmed. She represents eternal hope… that's what this song means to me," Streisand writes about "Lady Liberty".
David Guetta & Sia – "Flames": This single features the emotive range of vocals from Australian singer-songwriter Sia, infused by infectious beats from French DJ and EDM producer David Guetta. "Flames" is an earnest and inspirational tune by the hit-making duo. Sia's signature resounding chorus takes over in ways that solidify this song as an anthem, and this may be her best collaborative effort with David Guetta yet.
Jonathan Jeremiah – "Good Day": This single from the British songwriter and soul crooner shows remarkable pop appeal and understated sophistication. "Good Day" is a standout track particularly because of Jeremiah's ability to evoke the hippy spirit of this song. The groove is a nod to a Burt Bacharach-like vintage style and reflects the artist's happiest moments in recent years.
Justin Timberlake (featuring Chris Stapleton) – "Say Something": This upbeat country rock ballad features a soulful yet simply profound message that likely speaks to the many critics Justin Timberlake has faced over the years. Given how well Timberlake's voice blends with featured artist Chris Stapleton's, it's no surprise that "Say Something" quickly became a fan favorite. A top ten hit on the US charts, the single has been downloaded almost half a million times.
Rita Coolidge (featuring Keb' Mo') – "Walking On Water": A veteran like Coolidge shares a lifetime's worth of truth, wisdom, and grace in this single which features blues guitarist and singer Keb' Mo'. After suffering family tragedy and nurturing a returned romance later in life, her song resonates with the basic truth that all we really need is love, which is all around us. With deeply sorrowful yet hopeful lyrics, "Walking On Water" gives a certain type of strength during hard times.

Pop Awards 2019: Emerging Artist Of The Year Award
Here are the nominees for the Emerging Artist Of The Year Award
Greta Van Fleet: This small-town hard rock band from Michigan has gained global success since the release of their first full-length album, "Anthem Of The Peaceful Army", which debuted at #3 on the US charts. The Led Zeppelin-influenced group once impressed Elton John while playing at his Oscar party, and he gave them advice that would lead to the group's overall aesthetic.
Jorja Smith: A chill and mellow songstress from England has risen to stardom with the release of her debut album, "Lost & Found". Her lilt of a singing style is a mashup of neo-soul, reggae, and trippy melodies. Even prior to her first LP, Smith's singles have been streamed hundreds of thousands of times, plus she has toured with Bruno Mars, and is featured on Kendrick Lamar's "Black Panther" soundtrack.
Natasha Barnes: This brilliant British musical theater actress released her debut album, "Real", following the success of her turn as Fanny Brice in West End's "Funny Girl". While her career has revolved around being in character centerstage, it wasn't until she recorded her own album that she felt as if she was truly singing to an audience as herself, Natasha Barnes. Her voice has been called "uniquely expressive", and exudes a charm that can be heard on songs like "Supermodel".
Tash Sultana: Showcasing incredible talent as a one-person band, this gender-fluid Australian singer-songwriter and multi-instrumentalist became an internet sensation after uploading original songs and videos, receiving millions of streams. The self-taught artist sold out concert venues around the world, even before releasing an album. Sultana's debut LP, "Flow State", arrived last year and the collection of psychedelic lo-fi love songs has become an international success.
Tom Grennan: The raspy-voiced British singer-songwriter released his first full-length album, "Lighting Matches", to critical acclaim. Grennan's in-your-face vulnerability makes for excellent songwriting, and his alternative rock songs come with all the right pop elements. His album and the single "Found What I've Been Looking For" charted in several European countries.

Pop Awards 2019: Lifetime Achievement Award
Here are the nominees for the Lifetime Achievement Award
Buddy Guy: This 82-year-old Chicago bluesman and noted vocalist is the guitar legend who inspired the likes of Jimmy Hendrix, Eric Clapton, Keith Richards, and John Mayer. As a master virtuoso, he carries the tradition of deep blues with each unpredictable performance. Once, while in concert at the White House performing for Barack and Michelle Obama, he persuaded the President to sing a few bars of "Sweet Home Chicago". He has been inducted into the Rock and Roll Hall of Fame for his contributions and storied career. In 2018 Buddy Guy released his latest album, "The Blues Is Alive And Well".
Paul McCartney: This two-time inductee into the Rock and Roll Hall of Fame came to prominence as a member of The Beatles in the 60s. He wrote songs like "Yesterday", one of the most covered songs in the history of popular music, and "Hey Jude", the best-selling Beatles single of all time. After the demise of the British Invasion, McCartney released his first solo album that propelled him into a long career of successful records topping the charts in the US and UK. The Guinness Book of World Records has recognized him as the "most honored composer and performer in music". The most recent US #1 album by the 76-year-old Paul McCartney is last year's "Egypt Station".
Snoop Dogg: From his start as a gangsta rapper in the early 90s, solidifying the G-Funk era along with his homie Dr. Dre, Snoop Dogg has ingeniously reinvented himself countless times since releasing his debut album "Doggystyle", which sold over eleven million copies worldwide. But the more he changes, the more he stays the same, whether he's vibing out to reggae or praising the Lord with his latest release, 2018's "Bible Of Love". Snoop Dogg pours his best into each project, which is why the 47-year-old artist stays relevant and ever-evolving.
Toni Braxton: Attracting the attention of Babyface and L.A. Reid in the early 90s led to recording her eponymous debut album that peaked at #1 on the US charts and sold over ten million copies worldwide. Her second album "Secrets", with the smash hit "Un-Break My Heart", was an even bigger success. The 51-year-old Toni Braxton continues to mesmerize the R&B world with a voice that's been called "husky, sultry, elegant, and sexy". In 2018 she returned with a new album, "Sex & Cigarettes".
Tower Of Power: Originating in Oakland, California, in 1968, this funk soul band celebrated 50 years on stage with the release of their latest album, 2018's "Soul Side Of Town". In the 70s, they had a number of songs on the US charts, including the soulful, horn-driven single "You're Still A Young Man" and "So Very Hard To Go". The mighty Tower Of Power band has collaborated with everyone from Otis Redding and Carlos Santana to The Grateful Dead, and they continue to tour with their classics worldwide.

→ Listen to the Pop Awards 2019 playlist on Spotify

Written by Mai Perkins
A Cali girl in a Bed-Stuy world with global bon vivant flair, Mai has several blogs under her belt, including MaiOnTheMove.com and Uberlicious.nyc. Completing an MFA in Creative Writing from Sarah Lawrence College, and an MA in International Affairs from The New School, she reps her beloved alma mater Howard University with great pride and swag. Her first manuscript, "The Walking Nerve-Ending", is now available through IG: @flymai16