Welcome to the POP AWARDS 2018, the first annual Pop Awards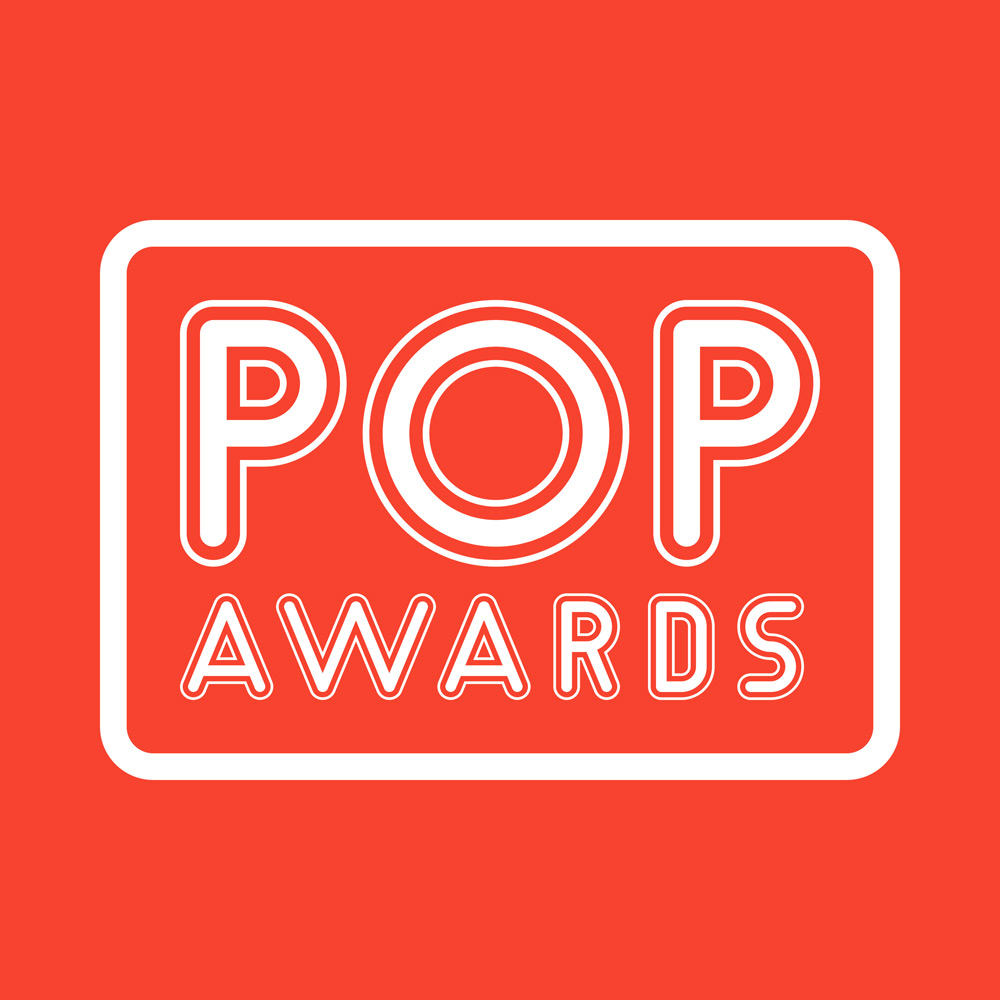 As the century comes of age at 18, and the month of January into full adulthood at 21, we celebrate the birth of the Pop Awards! With the power to melt speakers and enough depth to blow eardrums, Pop Awards 2018 is officially launched today! Presented by Pop Magazine, the first annual Pop Awards honors the best in popular music of the past year, featuring five categories with a shortlist of five nominees in each category. Online voting is on from January 21st to March 11th, accounting for 50% of the total vote, while the vote by an expert panel accounts for the other 50%. Winners are announced on March 18th, 2018. Vote now, or forever hold your peace!
→ To cast your vote, go to pop-awards.com
Kicking off the inaugural Pop Awards are some incredibly talented musicians. The 25 nominees vary in style, scope, and vibe. Some bite, some chew and spit you out, while others sound real friendly. Eminem, Lana Del Rey, and Charlie Cunningham lead the nominations with two nods each. Without a doubt, the Artist Of The Year category will be close, as all the nominees have raised their game, from Jay-Z to Taylor Swift. Willie Nelson can proudly boast over 60 years in the music business, and earns his place in the Album Of The Year category. You can expect the Song Of The Year category to be fiercely fought with each contender, including Pink and Deep Purple, belting it out in the heavyweight ring. And our Emerging Artist Of The Year category overflows with gifted talent, too. The rumble in the musical jungle will inevitably go down to the bell for the Lifetime Achievement Award, with artists like Faith Evans, Mary J. Blige, and Brian McKnight. The gloves are off. It's your turn to vote for these nominees at the Pop Awards 2018!
→ Listen to the Pop Awards 2018 playlist on Spotify

Pop Awards 2018: Artist Of The Year Award
Here are the nominees for the Artist Of The Year Award
Eminem: He is an American rapper, producer, and actor known for being one of the most controversial and best-selling artists of the 2000s. He became an international phenomenon after the release of his single, "My Name Is", and won the Best Rap Album Grammy for three consecutive albums: "The Slim Shady LP", "The Marshall Mathers LP", and "The Eminem Show". He released his ninth studio album, "Revival", in December 2017.
Jay-Z: He is a rapper from Brooklyn and one of the best-selling musicians of all time. He has sold more than 100 million albums worldwide, has received 21 Grammy Awards for his music, and is the first rapper to be inducted into the Songwriters Hall of Fame. Jay-Z released his 13th solo album, "4:44", in summer of 2017 and it was certified platinum in the US.
Kendrick Lamar: He is a rapper from Compton best known for his conscious lyrics and his innovative take on life in Southern California, as well as for his affiliation with rap guru and producer extraordinaire, Dr. Dre. Lamar's first major label recording, "Good Kid, M.A.A.D City", was released to great acclaim, as was his 2015 Grammy-winning album, "To Pimp A Butterfly". Lamar's April 2017 studio effort, "Damn.", went double platinum in the US.
Lana Del Rey: She is an American singer-songwriter, producer, and model. Her music has stylized quality with themes of tragic romance and melancholia. Del Rey often references pop culture, particularly mid-century Americana. Her July 2017 album, "Lust For Life", was released to great critical acclaim.
Taylor Swift: Since her godly rise in country music in 2006, Swift has become a pop music galactico. With a string of top albums and singles, she narrates songs about her personal life, and the global media hangs on every word. Her latest album, "Reputation", topped the charts in over ten countries. The triple platinum LP was America's biggest-selling album of 2017 and the only album to sell over 1 million copies in one week.

Pop Awards 2018: Album Of The Year Award
Here are the nominees for the Album Of The Year Award
Charlie Cunningham – "Lines": The London-based artist presents a debut album of flamenco fire. The dreamy sound floats throughout with standout track "Minimum" highlighting why he has such a strong fan base. The cut "Answers" drips with charm, and the title track's softly sung vocals are the LP's best. The 12-track record will stand the test of time.
Eminem – "Revival": The politically charged album features 19 raw and unflinching tracks that reflect the social injustice savaging America. The album represents Eminem on top form and revengeful, swiping at Donald Trump, who has become the rapper's biggest gripe. Forget Slim Shady, here Eminem stands up for the masses and on standout track "Untouchable" he sides with the Black Lives Matter movement.
Lana Del Rey – "Lust For Life": New emotions burn through the ice of previous Del Rey albums, offering 16 tracks of cinematic tragedy, glamor, nostalgia, and symbolism. The album manages to capture the essence of Del Rey while breathing new life into her persona, creating an album of purposeful pop. "God Bless America – And All The Beautiful Women In It" is the standout cut written in response to the Republicans' attack on women's rights.
Willie Nelson – "God's Problem Child": Willie Nelson offers his wrinkled soul with his first album of new songs in three years. Aged 84, the Sheriff of Country has reached a spiritual upland, and nearly every song on this 13-track record traverses life's tightrope. Sometimes bleak, sometimes funny, but always honest and caustic. The best track, "Butterfly", highlights Nelson's natural musicianship.
Yelawolf – "Trial By Fire": The Alabama rapper dives straight in and twists the kaleidoscope to reveal the beautiful colors which form his world. The 14 genre-splintering tracks tell stories that most other musicians can't. On what is described as his favorite album, Yelawolf raps to a country-rock-blues infusion and invites some heavyweight friends to add substance. The artist is at peak performance on "Shadows" and highlights his storytelling virtuosity on "Sabrina".

Pop Awards 2018: Song Of The Year Award
Here are the nominees for the Song Of The Year Award
Clean Bandit (featuring Zara Larsson) – "Symphony": The cut is by British classical crossover band Clean Bandit, featuring Swedish singer Zara Larsson. The song is a dramatic love ballad and has a prominent use of strings and arrangements of electronic percussion and xylophone synth.
Deep Purple – "All I Got Is You": The pioneers of heavy metal from England strut their stuff while taking a tongue-in-cheek dig at their advanced years. The powerful song is from their album "Infinite" and features the purest Deep Purple vibe of any recent release by the band.
Katy Perry (featuring Skip Marley) – "Chained To The Rhythm": This is the lead single from Perry's fifth studio album, "Witness". It features vocals from Jamaican singer Skip Marley and is a mid-tempo dancehall-disco-swinger. The lyrics flirt with socio-political awareness and the song is Perry's swipe at the Trump administration.
Macklemore (featuring Skylar Grey) – "Glorious": American rapper Macklemore pays tribute to his roots, and singer Skylar Grey joins at shotgun. Taken from the album, "Gemini", the percussion and energizing piano loop allow Macklemore to unravel lyrics that complement Grey's gospel-tinged hook. And the uplifting, anthemic vibe lets the listener know how blessed he feels.
Pink – "What About Us": The lead single from the album "Beautiful Trauma" emphasizes Pink's political contempt. The delicate electric pianos and guitars, swelling strings and choir, showcase her powerful vocals which invite the listener to a revolution. Touching on themes of empowerment, vulnerability, and community, Pink devours her opponents with one swift gulp.

Pop Awards 2018: Emerging Artist Of The Year Award
Here are the nominees for the Emerging Artist Of The Year Award
Alexandra Savior: She is an American singer-songwriter originally from Portland, Oregon. Even before the release of her debut album, "Belladonna Of Sadness", she was fast making a name for herself for eerie melodies and clever lyrics. Savior recorded her album with members of The Last Shadow Puppets and co-wrote their song "Miracle Aligner".
Bedouine: She was born in the Syrian city of Aleppo to Armenian parents, lived in Saudi Arabia as a child and moved to America when her family won a green card, finally settling in Los Angeles. Bedouine's self-titled debut album cleverly drifts between Americana, folk, and soul.
Charlie Cunningham: He is a London-based singer-songwriter who specializes in wide spectral introspection. Usually backed by just an acoustic guitar and plenty of reverb, Cunningham has a sensitive style that complements his impressive writing ability. His playing technique developed from his time spent in Seville and is the backbone of his full-length debut album, "Lines".
Emily Estefan: She is a guitarist, drummer, and singer-songwriter of Cuban-American descent. She is the daughter of Emilio and Gloria Estefan and produced her own debut album "Take Whatever You Want". Her style blends interpretive Jazz with R&B, and she uses her impressive voice to great effect, harmonizing with the instruments and using its raw power to underline scorching lyrics.
Kacy Hill: She is an American model, singer-songwriter, and former backup dancer for Kanye West. Born and raised in Phoenix, Arizona, the emerging singer is carving out her pop niche thanks to her blinding vocals and eye-catching style. Hill's debut album, "Like A Woman", is filled with heartfelt electropop.

Pop Awards 2018: Lifetime Achievement Award
Here are the nominees for the Lifetime Achievement Award
Brian McKnight: The 48-year-old McKnight is one of the world's most iconic and prolific soul singers, with a falsetto to shatter glass. In a career spanning over 25 years, he has enjoyed consistent commercial success as a lyricist, album producer, and collaborator. He is also a multi-instrumentalist and is revered on the piano, guitar, bass guitar, percussion, and trombone. Incredibly, McKnight has been nominated for 16 Grammys but has never won. His biggest hits include "Back At One", "Love Is", and "Love Of My Life". In 2017 he released his 13th studio album, "Genesis".
Faith Evans: The 44-year-old Evans is a platinum-certified R&B artist and actress. With her powerful urban-edged soprano and talent for songwriting and record production, Evans is one of the all-time greats and belongs to the industry's most respected performers. Her name will forever be enshrined with Puff Daddy's Bad Boy Records thanks to hits such as "You Used To Love Me", and "Soon As I Get Home". Evans has collaborated with artists such as Whitney Houston and Barry White. Her biggest hits include "I'll Be Missing You", "Heartbreak Hotel", and "Ain't Nobody". Evans is the widow of The Notorious B.I.G. and in 2017 she released a collaborative album with the late rapper, entitled "The King & I".
Mary J. Blige: The 46-year-old Blige, the Queen of Hip-Hop Soul, has influenced a generation of artists with hits like "Real Love" and "Be Without You". The singer-songwriter, model, and record producer has released 13 studio albums, eight of which went platinum or multi-platinum in the US. Blige has also had a successful acting career, and last year she was nominated for a Golden Globe Award for her turn in period drama "Mudbound". In 2017 she also released the album "Strength Of A Woman".
TLC: The American girl group's original line-up consisted of Tionne "T-Boz" Watkins, Lisa "Left Eye" Lopes, and Rozonda "Chilli" Thomas. Formed in Atlanta in 1990, the group was incredibly successful in the 90s despite numerous fallouts with the law and each other. They earned four number one singles, including "Creep", "Waterfalls", and "No Scrubs". And the group recorded four platinum-certified albums, including "CrazySexyCool", the best-selling album by an American girl group. Lopes was killed in a car accident in 2002. In 2017, a fifth and final TLC album was released by the two remaining members.
Wyclef Jean: The 48-year-old Jean is an Haitian-American musician and rapper, whose group, the Fugees, scored big in the mid-90s with album "The Score". After the group split, he became hip-hop's unofficial conscience and has participated in numerous high-profile charity shows. Jean is also a noted songwriter and producer who has worked with an impressive array of pop, rock, R&B, and hip-hop talent, including Whitney Houston, Santana, and Shakira. His biggest hits include "Killing Me Softly", "We Trying To Stay Alive", and "Gone Till November". In 2017, Jean released his latest album, "Carnival 3: The Fall And Rise Of A Refugee".

→ Listen to the Pop Awards 2018 playlist on Spotify

Written by Tecwyn Hill
Full-blooded journalist turned freelance editor flying in the face of Brexit by quitting the UK for Berlin. If it can be sung, hummed, whistled, played or streamed (disclaimer – legally!) then I'm in: like my stance on the EU. Let's crank up the volume and climb that wonderwall.