Review: Sting – The Bridge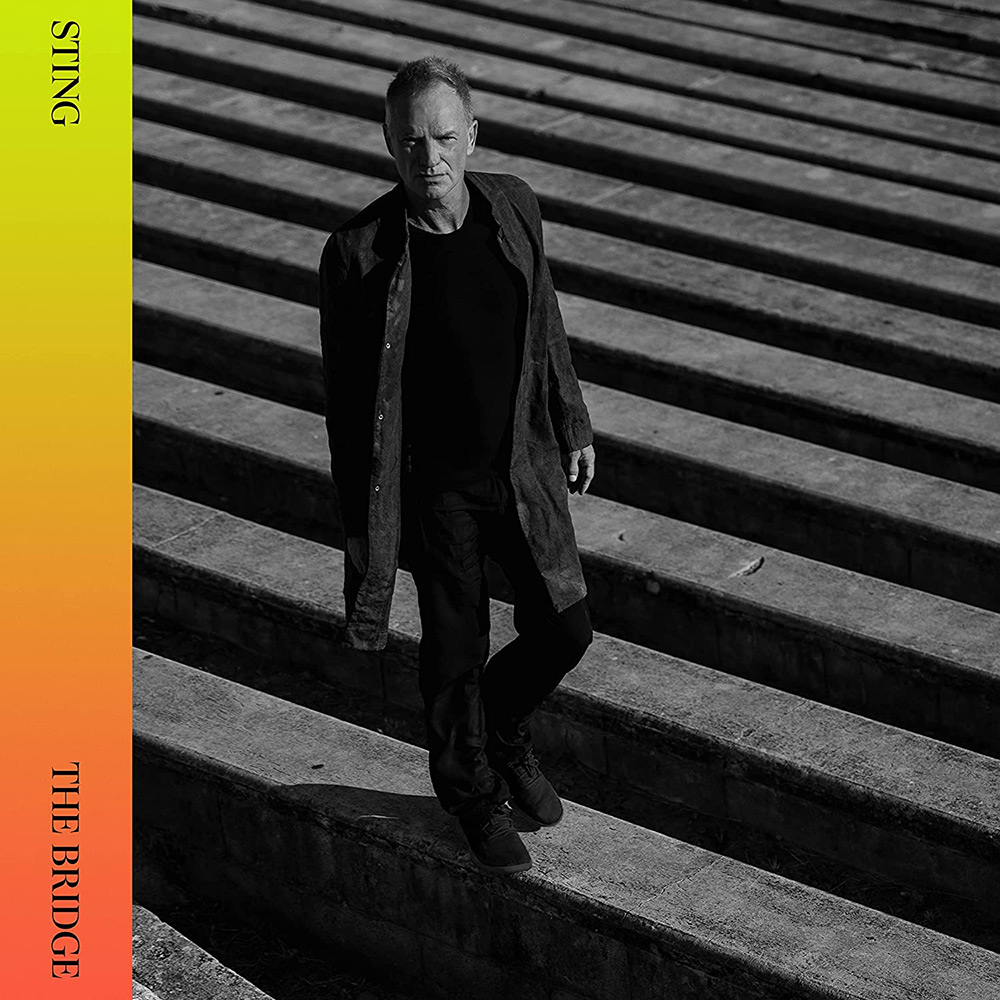 If someone knows what it means to be in between, it's Sting. In between countries, in between genres, in between generations. In a prolific career that spans over five decades, the singer has never been one to accept limitations or bow down to barriers. Already in the 70s and 80s, when he was the lead singer and main songwriter for the successful British band The Police, their musical style blended rock'n'roll, new wave, jazz, and reggae. Their song "Every Breath You Take", written by Sting, is recognized as the most-played song in radio history, and the group was inducted into the Rock and Roll Hall of Fame in 2003.
→ Listen to Pop Magazine's playlists on Spotify
In the course of his brilliant solo career, Sting ventured even further into musical experimentation. Of course, who doesn't know the wonderful songs "Englishman In New York" and "Fields Of Gold"? But Sting did not stay in his comfort zone. In 2006, he released "Songs From The Labyrinth", a personal interpretation of the work of John Dowland, a British Renaissance composer, which earned the singer recognition in the classical world. But he did not stop there. He ventured into Rai, worldbeat, and film soundtracks, received eleven Grammy Awards for his solo career, including Best Reggae Album in collaboration with Shaggy, and was even nominated for three Academy Awards for Best Original Song. So what does an artist like Sting have left to prove? Absolutely nothing. But what does he have to offer? So very much!
The main thing the singer gives us in his new album "The Bridge" is hope. And boy, do we sorely need it! These last couple of years have been tough for many people. Pandemic, recession, and conflicts have pushed a lot of people to withdraw, to feel lonely and isolated. With "The Bridge", Sting wants to extend a hand and help the people bridge the gap between us. In his own words: "These songs are between one place and another, between one state of mind and another, between life and death, between relationships. Between pandemics, and between eras – politically, socially and psychologically, all of us are stuck in the middle of something. We need a bridge."
In the usual style of the versatile singer, the album mixes rock, folk, and pop music, amongst other genres, showing the many facets of Sting's talent, both as a songwriter and as a musician. Title song "The Bridge" is a sweet philosophical ballad musing on life, death, transition, and the human condition. That's the magic of Sting's songs. You thought you were listening to music, and you're back in philosophy class. Or is it the reverse? The lyrics refer to a ghostly bridge that leads… somewhere. Is it to a new life, to the afterlife, to a mystical land, or simply to a new state of mind? The choice is up to us, but very few would be able to resist the temptation to go on this journey. "They say there's a bridge out there, out there in the mist / Some will deny it's there, others will tell you it don't even exist / It's not made of iron or steel nor stone, yet it spans the rising waters". Perhaps it's a call to move on from the darkness and negativity of these past couple of years. Perhaps it's an invitation to reach out to our fellow human beings and to reforge bonds between one another. In any case, the short folk song is almost a spiritual experience, reminding us that life goes on, flowing like a river, and that we are not alone in this great adventure: "Open the gates that we may follow / Open the bridge to all of us / Open the floodgates to the river / Open the bridge that we may cross".
The theme of flowing waters, cleansing, unstoppable, inviting, and giving life, is also the leitmotif of the first song on the album, "Rushing Water", a pop-rock number with a catchy beat and soulful lyrics. When Sting sings of the one "walking towards me from the river" and "God's own daughter", does he mean Eve, Venus, love, or life itself? "This is the sound of rushing water / Flooding through my brain / This is the sound of God's own daughter / Calling out your name". Life floods through our minds and calls out our name, inviting us to experience it despite fear ("This is the sum of all my fears"), anxiety ("I'll see my shrink on an analyst's couch"), and failures ("How many times must he fail?"). This song is a reminder that, so long as there's life within us, we should make the best of it. Stress, pandemic, and conflict can try their best, but they cannot stop life.
The album "The Bridge" is the sum of Sting, his musical ventures, his emotional experiences, his thoughts, his fears, and his hopes. It's a deeply personal creation with a universal reach. Somewhere between music, meditation, private journal, and philosophical questioning, "The Bridge" is an experience for the ear, the brain, and the soul. So let the music flow through you like healing waters and cross the bridge.

Written by Camille Hourtane
Camille is a bilingual freelance writer with an unending passion for storytelling. She writes pieces in English and in French, with an emphasis on food/travel/society articles and fantasy/gothic/supernatural stories. She likes nothing more than to explore new places, whether in body or in mind.

Author's rating for The Bridge


Pop Magazine's official rating for The Bridge


Rating key


MASTERPIECE a must-have


SUPERB for heavy rotation


EXCELLENT a great achievement


VERY GOOD a respectable result


GOOD worth checking out


FAIR an average outcome


WEAK not convincing stuff


BAD an underwhelming effort


VERY BAD quite a waste


FAIL a total failure