Review: Santana – Blessings And Miracles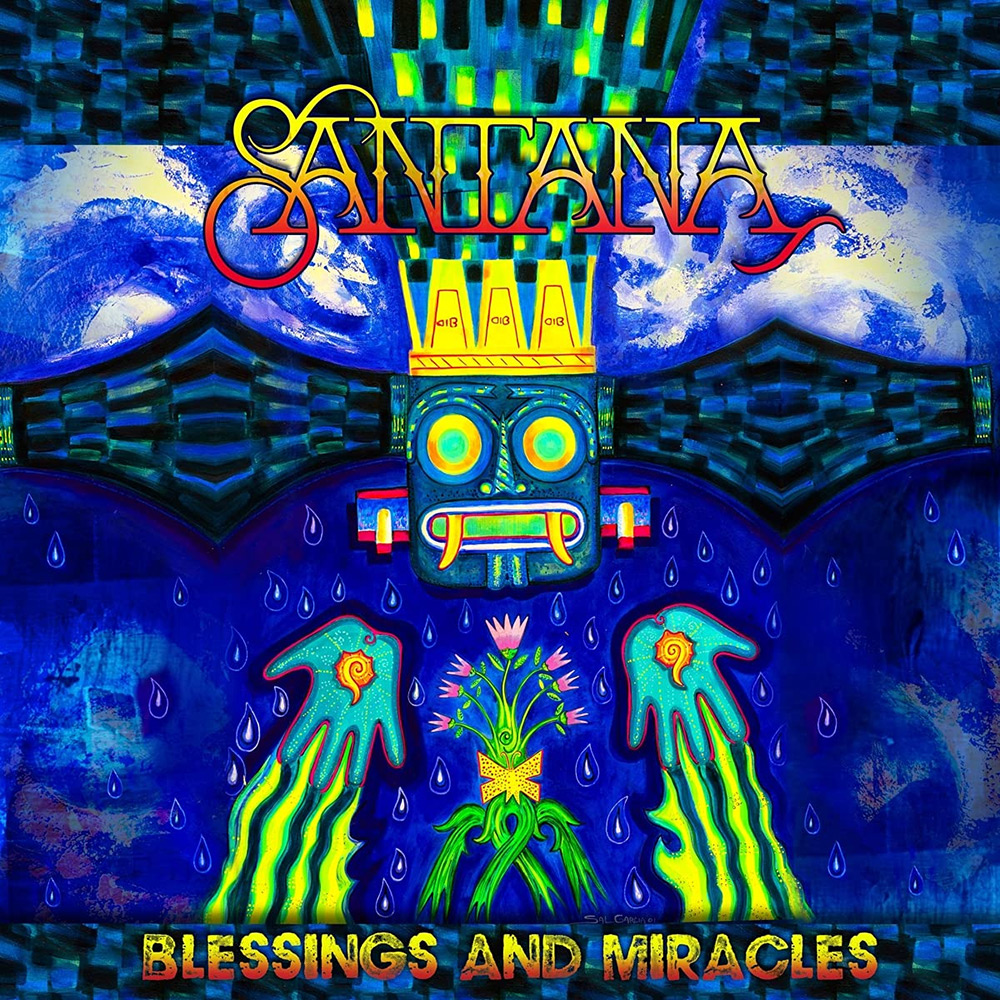 The unique sound of Carlos Santana's guitar is legendary. He is one of these rare musicians who not only play their instrument skillfully but truly make it sing. Throughout his exceptional career, both as a solo artist and as the lead musician of his band, the Mexican-American virtuoso has touched generations of fans with soulful and vibrant music that makes you dance, laugh, cry, and fall in love in a single song. His band, Santana, was founded in 1966 and has been a pioneer of the Latin rock genre. Over five decades and 25 studio albums, they have popularized the genre around the world and have become one of the best-selling bands of all time. They won a record-tying eight Grammy Awards in one night for their Diamond-certified "Supernatural" album, and the band's early line-up has been inducted into the Rock and Roll Hall of Fame. With nothing left to prove, Santana have now released their 26th studio album, entitled "Blessings And Miracles".
→ Listen to Pop Magazine's playlists on Spotify
With a number of star-studded features, Santana have taken upon the mission to capture our ear and our heart once more. Mixing elements of pop to the Latin rock beats, Carlos Santana made this album a family affair. His wife Cindy Blackman Santana on drums, his son Salvador Santana on vocals and keyboard, and his daughter Stella Santana on lead vocals are among the recording artists who worked on "Blessings And Miracles", proving that Santana's music leaps effortlessly across the generational gap.
The single "Move" is a groovy track that lives up to its name, featuring the popping vocals of Matchbox Twenty frontman Rob Thomas along with Carlos Santana's smooth guitar, while the beat is an invitation to clap your hands, tap your feet, and shake your body. The song sounds like a passionate love story: "The way you pull me in close / You got a spell on my soul / Oh, Lord have mercy / I've been hypnotized". But it's also a call to let loose and to reignite your inner fire: "Let me see you move like you're burning the house down / I wanna see you move like you're working it out now/ I'm begging for you, move, now stay like that, you can't go back / 'Cause the feeling makes you move". This song is a must-add to any workout playlist.
The rhythm changes with the soulful "Breathing Underwater". The stunning vocals of Stella Santana, in association with Avi Snow and MVCA, create a wistful atmosphere and take us to a place of longing. The guitar doesn't play for fired-up party-goers anymore, but it cries for a forlorn heart. There is grief, hope, and a whole lot of soul in the lyrics: "I'm breathing underwater / Somewhere far away / The waves are getting calmer / Like they were that day / It was turquoise when I met you / The colors were the same". With a recurring ocean theme, haunting instruments, and repetitive vocals, the track feels like meditating by the sea. It seems that Santana made us hear their siren's song.
Santana changes gears again with "America For Sale". Featuring the guitar of Kirk Hammett, lead guitarist of Metallica, and the vocals of Marc Osegueda, singer for the band Death Angel, this track could be nothing but rock'n'roll. In line with its rock style, the simple lyrics are an indictment of capitalism and greed: "America for sale / Sell it by the pound / America for sale / Nothing is holy ground". However, the highlight of the song is without a doubt the instrumental dialogue between Santana's and Hammett's guitars. When two virtuosos feed off each other, miracles can happen.
Is it possible for a band to keep the music fresh and interesting after such a long career? For Santana, it is mission accomplished. In its beginnings, the band was so innovative that it invented a whole new genre. Decades later, their signature style seamlessly blends into younger music genres. The band knows how to live with its time, how to evolve and discover new horizons. Yet, it manages to retain its distinctive sound, the one so many fans fell in love with decades ago. Taking the best of the old and the new, Santana's music is truly timeless.

Written by Camille Hourtane
Camille is a bilingual freelance writer with an unending passion for storytelling. She writes pieces in English and in French, with an emphasis on food/travel/society articles and fantasy/gothic/supernatural stories. She likes nothing more than to explore new places, whether in body or in mind.

Author's rating for Blessings And Miracles


Pop Magazine's official rating for Blessings And Miracles


Rating key


MASTERPIECE a must-have


SUPERB for heavy rotation


EXCELLENT a great achievement


VERY GOOD a respectable result


GOOD worth checking out


FAIR an average outcome


WEAK not convincing stuff


BAD an underwhelming effort


VERY BAD quite a waste


FAIL a total failure