Interview: The Imaginaries talk about Inspiration, Success, Recording and Playing Live again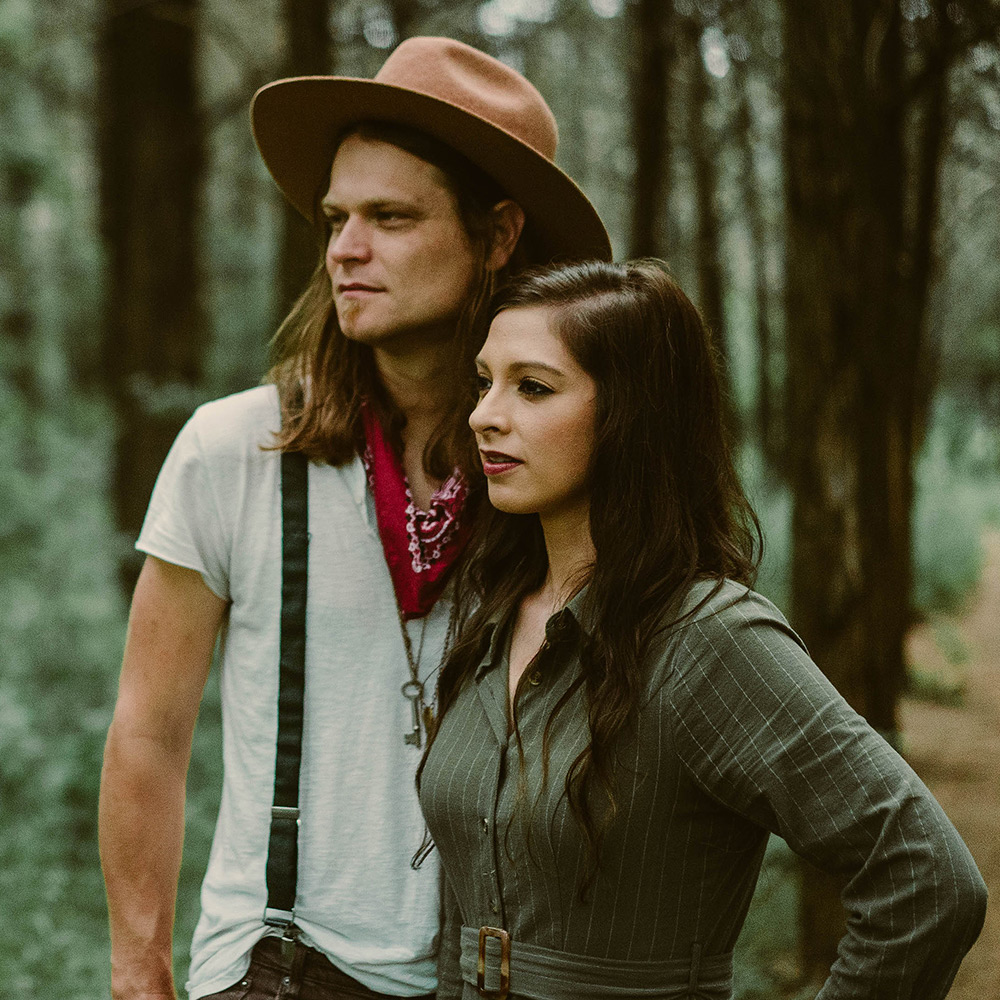 The multi-talented husband-and-wife duo of Shane Henry and Maggie McClure, together known as The Imaginaries, has published their self-titled debut album in March. The folk rock LP was recorded alongside other great musicians in Muscle Shoals, Alabama, and covers themes such as love, faith, and struggle. The first two songs on the record, "Revival" and "Walking On A Wire," were released as singles, accompanied by amazing music videos that were shot in the duo's home state of Oklahoma. These songs set a beautiful tone for the rest of the ten-track album. Shane and Maggie are incredible vocalists and musicians, whether as solo artists or as a duo. Shane rips the guitar while Maggie graces the piano and keyboard. Their harmonies are so natural sounding and their melodies are excitingly dynamic throughout The Imaginaries' entire album.
→ Listen to Pop Magazine's playlists on Spotify

Sean Pino: Your album was recorded with live tracking to get a sound that's more authentic. How many takes did this require and did either of you have previous experience recording in this manner?
Shane Henry: We did around 5-7 takes per song with everyone tracking at the same time. We've both always wanted to record this way but never had the opportunity to do so until this project. It was a very smooth process due to the musicians being so skilled and experienced. There was always something magical about the first few takes – and those were often the takes we went with – because the song was so fresh at that point and we were all deeply listening to each other.
Sean Pino: "There Will Come A Day" resonates with listeners as a song about persevering in the midst of trials. Can you expand upon the inspiration for writing this song? I cannot help but think that the lyric, "It's all in our heads, see the light", was influenced by your faith, like many other lyrics on the record.
Maggie McClure: Many of our songs are inspired by encountering and overcoming obstacles. "There Will Come A Day" came from a place of knowing that in the future, things wouldn't be so hard. When we wrote this, we were reminding ourselves that we were going through a refining process, that it may be difficult and painful now, but we will be stronger and wiser in the end. That line "It's all in our heads, see the light" was definitely influenced by our faith, as many of our songs are. Although things may seem like they don't make sense sometimes, we are grateful to know deep down that God is looking out for us and everything will ultimately be okay and work out as it was always meant to.
Sean Pino: "Walking On A Wire" is one of the most popular tracks on the album. The song tells an enthralling story of a tightrope walk above crashing waves, symbolizing the struggle to make ends meet through music. The most powerful lyric in this song is the repetition of "We can make it, make it to the other side". Having seen the success of your album, do you feel that you have, indeed, made it?
Maggie McClure: We are so proud of the album and its success so far. We want to extend a heartfelt thank you to everyone who has supported it and us so far in whatever way they have, whether it was contributing to our Kickstarter campaign, supporting our live stream shows during Covid, streaming the album, buying physical merchandise through our website, etc. I think we'll always feel like there's more to do and accomplish. That's just part of the human spirit. "Making it" to us at this point means to be doing what we love (music), sharing it with each other and the world, making a positive impact, and being able to make ends meet. It's a constant pursuit and we are thankful to be where we are today and for all that lies ahead.
Sean Pino: Artists and fans alike are happy that live concerts are possible again. The Imaginaries are playing at Edmond's Heard on Hurd street festival in June. Can fans also expect a tour for the debut album anytime soon?
Shane Henry: We are so excited that live shows are coming back! We're looking forward to our full band headlining show this Saturday at Edmond's Heard on Hurd. We do have some shows that we'll be announcing soon and are booking more dates in the meantime. We're actively looking to get on a tour opening for a larger act in 2021/2022 but regardless we will definitely be playing shows and touring to support the release of the debut album.
Sean Pino: What's next for you? Any solo projects in the making or a sophomore album from The Imaginaries?
Maggie McClure: We just wrapped production on a feature film called "A Cowgirl's Song" starring Cheryl Ladd, Savannah Lee May, and Darci Lynne Farmer in Oklahoma. This is a very exciting project for us as we are co-producers, co-starring in it, and doing all the music for it. We expect it to be released sometime in 2022. In the meantime we plan to get back into the studio to record/release some new music – both, solo projects and new music from The Imaginaries. Stay tuned for sure!

Interview conducted by Sean Joseph Pino for Pop Magazine
Sean is a writer of poetry, prose, and essays from Los Angeles, California. As a current medical student, his fascination with the human condition inspires much of his work. He loves pressing into the emotions and cognitions that unite us. His poetry and novels can be found on the following website: seanjpinowrites.wordpress.com
Photo by Reagan Elkins