Review: Passenger – Songs For The Drunk And Broken Hearted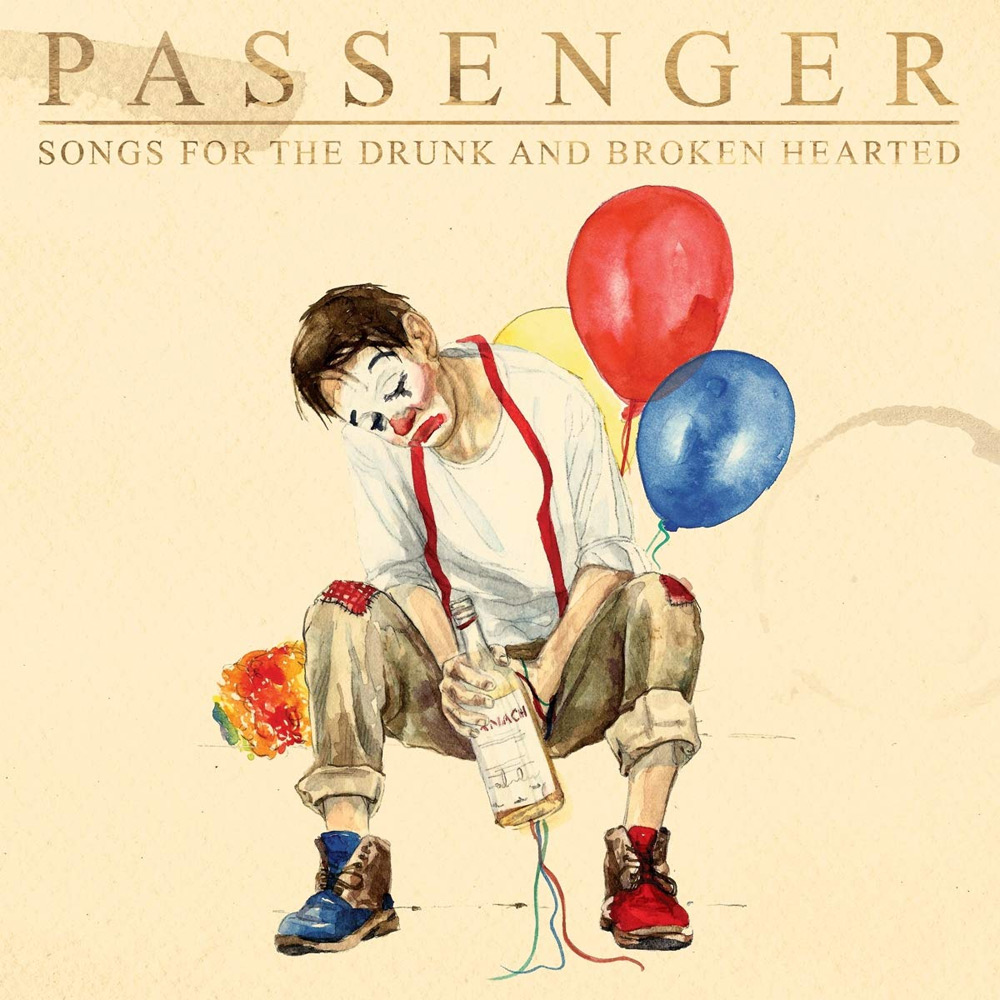 Passenger's eleventh full-length studio album, "Songs For The Drunk And Broken Hearted", is one of the first records released in 2021. A perfectly timed and perfectly fitting album to come to terms with the discomforting sensations many of us have experienced over the last year. Filled with engaging melodies, soft vocals, and personal moments, this ten-track collection explores the artist's melancholy side. In this album, we find similarities to his previous LP, "Runaway", which was nominated for the Album Of The Year Award at the Pop Awards 2019. But unlike "Runaway", with themes focused on an outwards journey across the United States, his new album goes on an inwards journey, asking what it means to face ourselves alone and what we find when we do.
→ Listen to our playlists on Spotify
Following the tune of Passenger's previous releases, the new album holds onto his carefree spirit despite the heavier theme. With lyrics such as "All I have is how I feel today, no matter what I'm taught and how I'm told" in the song "Tip Of My Tongue" he's showing that he writes the rules of his own life, just like how he still busks even as a successful artist. Several times I have seen him myself with his guitar in the streets of Edinburgh, and this attitude is a major reason why we engage with his music! One could argue that perhaps there is not enough range of variation in this album. Songs here could easily slip into any of his past albums. On the other hand, if it's a winning formula, why change it? Passenger certainly has his own style. Whatever his music may lack in diversity, he makes up for in vulnerability and empathy.
The song "The Way That I Love You" is an instant favorite, with an intimacy that makes you feel as though you are sitting alone in a room with Passenger, who is singing the song directly to you. The lyrics are not this consistent the entire way through the album though. In "A Song For The Drunk And Broken Hearted" he sings "Summer always fades too soon, like the laughter of a clown" which seems to be a particularly clumsy comparison. While such missteps happen a few times, this does not reflect the overall quality of the album.
At its core, this album is a mix of realism and optimism, a fitting composition for the time we live in. The central message is one of love, loss of love, love for others, and love for oneself. This album takes us on a journey. Starting with the sadness of "Sword From The Stone", leading through the whirlwind of "Sandstorm", and closing with the hopeful "London In The Spring". By ending the album with a lighter tone, one of possibility and a beautiful future, Passenger makes the point that however hard things are, and however he felt at the beginning of the journey ("I tried but I just can't pull the sword from the stone"), life provides us with the will to go on ("I've got love to give, I've got my whole life to live").
"Songs For The Drunk And Broken Hearted" carries us along this journey effortlessly and Passenger certainly knows what he's doing in beautifully orchestrating this. It is for this reason that the album is an easy and smooth collection that will happily stay on repeat, giving us calmness and enjoyment during a time when that seems to be exactly what we need.

Written by Olivia Kashti
Olivia is a writer and yoga teacher based in Haifa.

Author's rating for Songs For The Drunk And Broken Hearted


Pop Magazine's official rating for Songs For The Drunk And Broken Hearted


Rating key


MASTERPIECE a must-have


SUPERB for heavy rotation


EXCELLENT a great achievement


VERY GOOD a respectable result


GOOD worth checking out


FAIR an average outcome


WEAK not convincing stuff


BAD an underwhelming effort


VERY BAD quite a waste


FAIL a total failure