Review: Joe Bonamassa – Royal Tea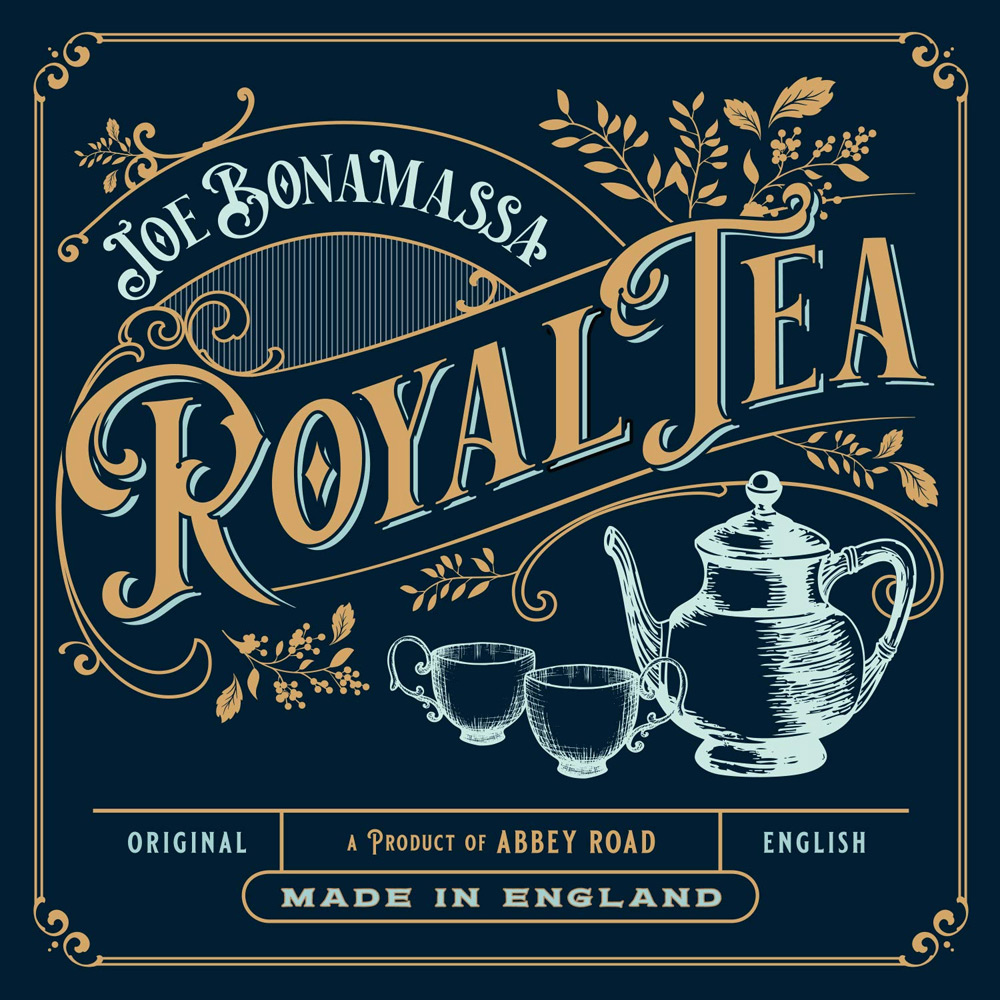 If you're a die-hard fan, you'd already be familiar with Joe Bonamassa's urge to take risks and explore new territories, but the blues rock maestro is back with yet another surprise for his fans and all the music lovers. Joe Bonamassa comes forward with a new album, "Royal Tea", to pay tribute to his British heroes: Led Zeppelin, John Mayall & The Bluesbreakers, Jeff Beck, Eric Clapton, and Cream, whose influences shaped him to be the virtuoso he is today. To draw inspiration for his new album, Bonamassa flew to London, and set up in the legendary Abbey Road Studios. The ten originals of the album were all written and recorded in the historical studio. Joe Bonamassa did a good job, if not great, to imitate the sound and approach of his British blues heroes – if that was the intent.
→ Listen to our playlists on Spotify
Aside from Joe Bonamassa, his regular touring band also flew all the way to London to record the album, including Anton Fig (drums), Reese Wynans (keyboard), and Michael Rhodes (bass), along with the long-term production pal Kevin Shirley. To take it even further, Bonamassa brought in former Whitesnake guitarist Bernie Marsden, the pianist Jools Holland, and ex-Cream lyricist Pete Brown to co-write with him.
For me, the most outstanding feature of "Royal Tea" is that it doesn't fixate on tempos or tones. The extra-long opening track "When One Door Opens" is filled with astounding tempo changes. The finest composition of Bonamassa ever. Beginning with orchestral instruments, it evolves into a slow and momentous melody until Anton Fig's deafening drums burst in with a "Beck's Bolero"-style riff and heavy rock riff. Bonamassa's almost whispering voice in the song is backed with subtle female vocals.
The hard stomp title track "Royal Tea", a pun on the word "royalty", is apparently influenced by the media coverage of Prince Harry and Meghan Markle's royal exit. With Mahalia Barnes and Jade MacRae as the backing vocalists, and just enough guitar from Bonamassa, this song is catchy and has definitely the listeners reaching out for the replay and volume buttons.
This is immediately followed by a heart-wrenching ballad, "Why Does It Take So Long To Say Goodbye", where Bonamassa, in his powerful voice, tells the tale of breakups and the melancholy that follows. The ballad does not only have strong lyrics, but is also intelligently composed with a slow-building bridge section.
"Lookout Man!" is the heaviest track on the album, and probably in Bonamassa's career as well. It's disappointing the lyrics aren't as powerful. The next number, "High Class Girl" is a more low-down blues song. Using the wah-wah pedal unreservedly in the fast-paced "I Didn't Think She Would Do It", Bonamassa once again varies the mood of the record and lands in new territory. Towards the end of the album, he breaks out of the fine British style with the slower and dusky "Beyond The Silence", the upbeat, old-fashioned rock and roll track "Lonely Boy", and the partly acoustic ballad "Savannah".
The recording of "Royal Tea" was a bucket-list thing for Joe Bonamassa. He nods to his British blues heroes in his own style, with subtle touches in the compositions. Together with his team, Joe Bonamassa created a record that has surprising tempo changes at every turn, and takes the listeners back to the time when Jazz clubs were popular.

Written by Waleed Qaisrani
Waleed is a content creator, music lover, and Aerospace engineer. He loves to write and tell amazing stories to people through his work. He loves to discover any form of art whether it is in the form of music, photography or storytelling. As a photographer and traveler, he loves to explore new places all the time while listening to music in this journey of life.

Author's rating for Royal Tea


Pop Magazine's official rating for Royal Tea


Rating key


MASTERPIECE a must-have


SUPERB for heavy rotation


EXCELLENT a great achievement


VERY GOOD a respectable result


GOOD worth checking out


FAIR an average outcome


WEAK not convincing stuff


BAD an underwhelming effort


VERY BAD quite a waste


FAIL a total failure