Review: Alicia Keys – Alicia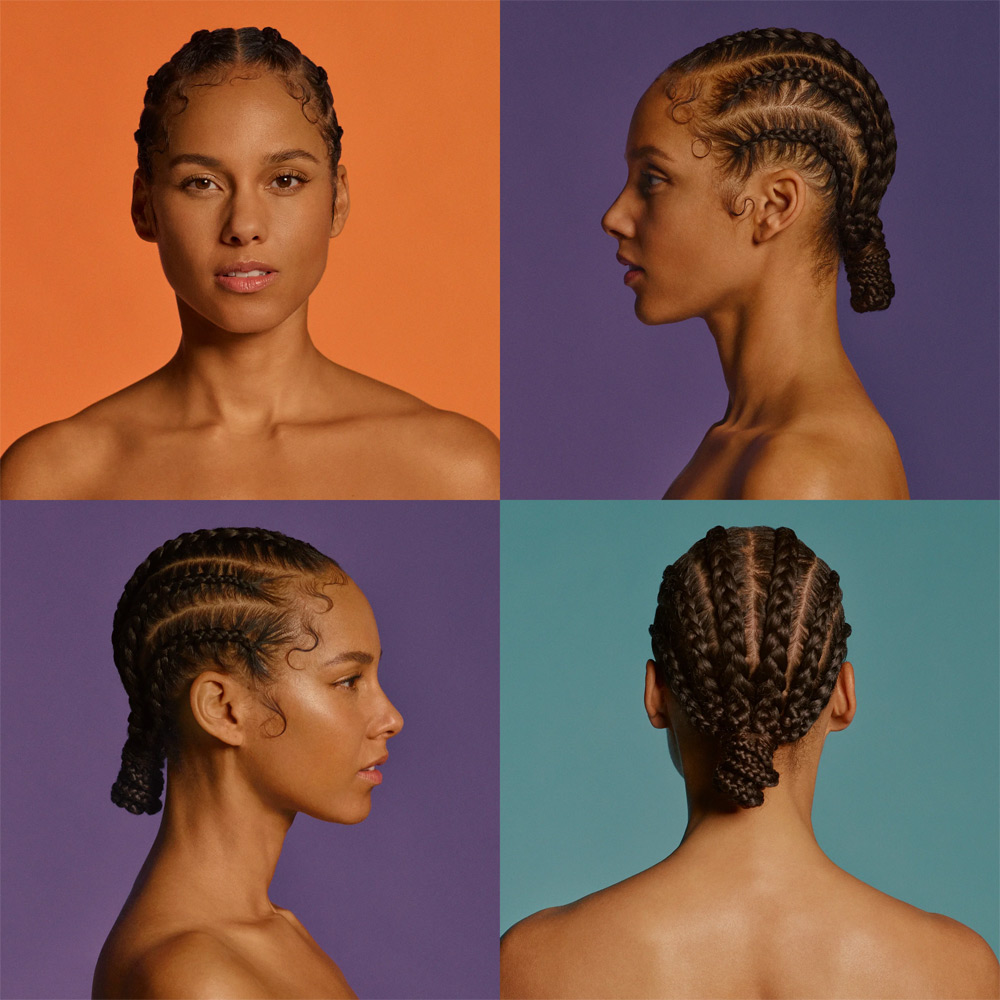 With the release of her seventh album, Alicia Keys shows that she still has her feet firmly on the ground and her heart in the right place. Delayed by almost half a year due to the pandemic, this eclectic mix of musical style and passion was definitely worth the wait. Simply titled "Alicia", this album has been deemed by Alicia Keys herself to be the most personal of her records yet. With lyrics full of love, emotion, and empathy, her songs will certainly resonate with fans, sending out vibes of hope, strength, and a positivity that will hopefully see us through the last few months of 2020.
→ Listen to our playlists on Spotify
Opening with a strong orchestral and almost theatrical sound, Keys' signature style and voice arrives juxtaposed with lyrical rap, playing with rhythm and tempo as she rolls out some seemingly personal and direct questions, "What if I wasn't Alicia? Would it please ya? / How would I feed cha?" Moving swiftly to a 70s throwback vibe, second track "Time Machine" is one of the album's more upbeat songs with an extremely catchy chorus and strong electric beat.
"Alicia" is a fascinating record in that there is no clear genre. In fact, Keys herself has stated it is "genre-less, you only need to follow your heart". And somehow the combination of stylistic choices works. With this in mind, the album was made with input from skilled producers including her husband Swizz Beatz, as well as Ryan Tedder, Mark Ronson, Tricky Stewart, and The Dream. It also includes some great collaborations with artists like Sampha, Miguel, and Khalid. The cool reggae beats of "Wasted Energy" are complimented by the unique sound of Tanzanian artist Diamond Platnumz.
The uplifting single "Underdog" – her biggest hit since "Girl On Fire" in 2012 – is a clear trailblazer. It was co-written with English superstar Ed Sheeran and his Irish peer Foy Vance. This feel-good song is all about those small moments that make us human, paying tribute to the underdog fighting to make it in an incredibly difficult world. Guaranteed to leave you with the feeling of inspiration and gratitude, Keys sings, "They said I would never make it / But I was built to break the mold / The only dream that I've been chasing is my own / So I sing a song for the hustlers trading at the bus stop / Single mothers waiting on a check to come / Young teachers, student doctors / Sons on the frontline knowing they don't get to run / This goes out to the underdog".
Continuing with a clear social and political awareness, Keys also addresses police brutality in the United States and the Black Lives Matter movement as she sings the powerful ballad "Perfect Way To Die". The incredible combination of her voice and her skills as a pianist, coupled with such emotional lyrics is simultaneously beautiful and heartbreaking as she sings through the pain and hurt expressed in her words.
Other notable tracks include the warm sounds of gospel, folk, and soul on "Gramercy Park" and "Jill Scott", a tribute to the soul music icon who appears on the song herself. Finishing on a strong note, "Good Job" leaves us with signature Alicia Keys acoustic piano and gorgeous vocals. Released in April and dedicated to those on the frontline against the virus, with lyrics that sound incredibly heartfelt and personal, she sings, "You're doing a good job / Don't get too down / The world needs you now / Know that you matter".
Deserving of the title "Alicia", this album embodies everything that is Alicia Keys, an incredible musician who can approach music from any style or direction, pouring her heart and soul into her art and not being afraid to stand up for what she believes in.

Written by Sophie Neale
Sophie Neale is a writer, content creator, tour guide, and historian based in Berlin. She's a professional storyteller, whether she's sharing stories of Berlin's rich history or writing for a new project. With a passion for all things musical, she loves to discover new music, and as an avid foodie, she likes to find the best food in Berlin.

Author's rating for Alicia


Pop Magazine's official rating for Alicia


Rating key


MASTERPIECE a must-have


SUPERB for heavy rotation


EXCELLENT a great achievement


VERY GOOD a respectable result


GOOD worth checking out


FAIR an average outcome


WEAK not convincing stuff


BAD an underwhelming effort


VERY BAD quite a waste


FAIL a total failure