Review: Pretenders – Hate For Sale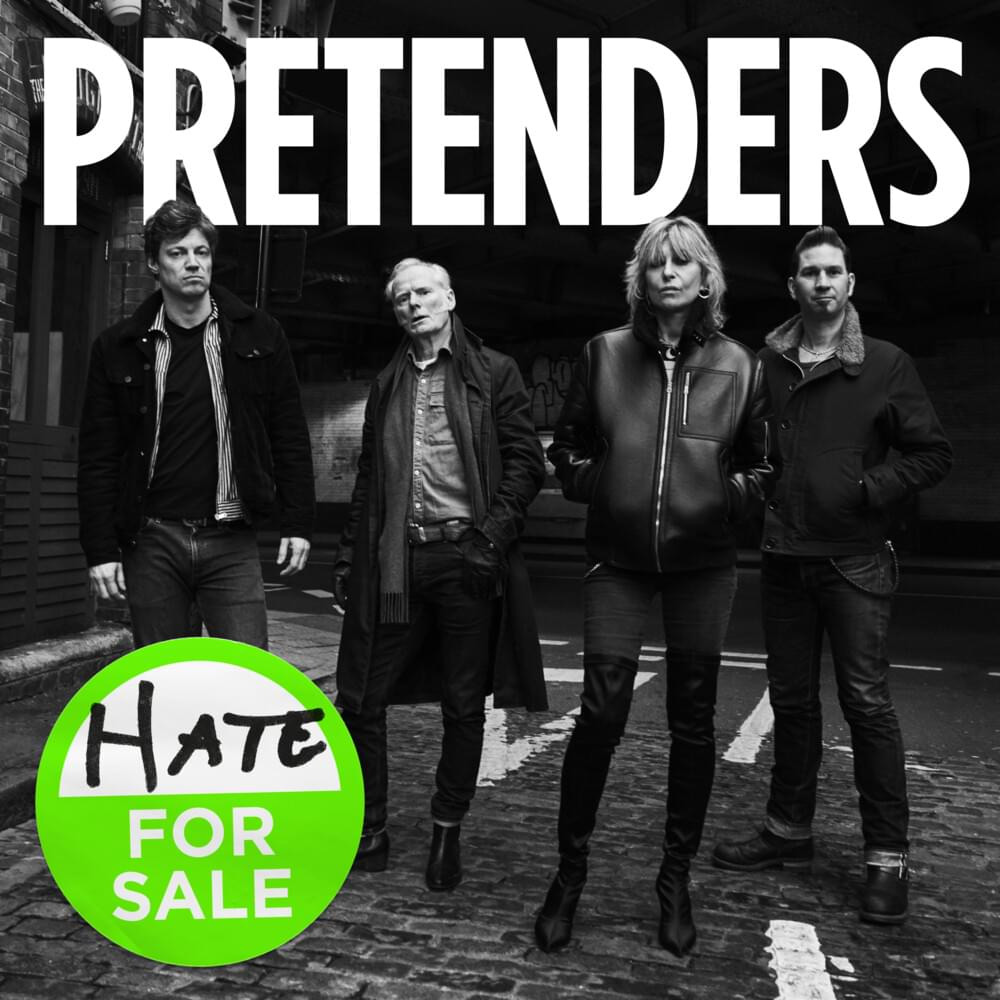 Poise yourself for a serendipitous journey back to the time when things were much less complicated than they are in 2020. A journey to when unrestrained hair hedged by colored headbands with matching striped thigh-high socks were all the rave. That, and the thrill of rocking out to the sound of an electric guitar in a huge crowd in uncoordinated, yet wonderfully liberating moves. This is the feel of the legendary rock group the Pretenders' latest album, "Hate For Sale". After ten albums and more than four decades in the industry, it is a safe guess that it must be increasingly difficult to stay relevant and produce fresh-sounding music. Yet, "Hate For Sale" with its untamed mix of instruments and wild vocal approach, is every bit genuine, unmistakable and unforgettable.
→ Listen to our playlists on Spotify
The album is predominantly the writing product of frontwoman Chrissie Hynde and guitarist James Walbourne. The ten-track set list makes for a rich, authentic punk rock experience. It succeeds in taking the listener back but also keeping an air of musical evolution here in the present with a sense of glory and pride.
The first preview of the album came with the March release of "The Buzz", a familiar tale of longing for love and the symbolic addictive tendencies that come with it sprawled over an easy melody. Easy too are the sultry sounds of Hynde's voice on standout track, "You Can't Hurt A Fool" and the more up-tempo, "Maybe Love Is In NYC" which features a pronounced guitar accompaniment and charismatic rhythms.
While these lovesick inclusions are definitely a treat, rock rebels are also offered songs like the boisterous title track right off the bat, a tribute to the band's grassroots beginnings and Hynde's exposure to the London underground punk rock scene in the early 70s. The drumming of Martin Chambers also pays off in his stirring efforts on "I Did Not Know When To Stop" which is poignantly supplemented by the brilliant infusion of a harmonica.
Rebellion doesn't stop there but continues through on the emotional, desperate sounds of "Turf Accountant Daddy" and Hynde's dust-kicking vocals on "Junkie Walk" which resembles her raw, raspy approach to punk in the 80s. Masterfully bringing the record to a close are the penultimate track "Didn't Want To Be This Lonely" with its effervescent pop rock melody and vocal arrangement, and last track, "Crying in Public", which is every bit emotive and intimate as Hynde's voice adds to the elegant delivery of a piano-driven, melancholic tune.
While previous albums by the Pretenders suffered from missteps in production and an unevolved sound, the band's passion for music, anchored by Chrissie Hynde, is successfully brought to life on "Hate For Sale". This album is a symbol of rebirth and refocus, not an attempt to recover the glory days, though the best elements of that era are open to be re-experienced time and again.

Written by Jae B.
Jae is a travel enthusiast and avid volunteer. She enjoys nature, museums, live music, and the chemistry of cooking. Though she was born on the lush island that brought the world Bob Marley and plenty of other reggae stars, her taste in music is exceptionally eclectic. Jae's ultimate playlist features Aerosmith, Frank Sinatra, Sevana, Lisa Ono, Donnie McClurkin, Etta James, and Louis Armstrong.

Author's rating for Hate For Sale


Pop Magazine's official rating for Hate For Sale


Rating key


MASTERPIECE a must-have


SUPERB for heavy rotation


EXCELLENT a great achievement


VERY GOOD a respectable result


GOOD worth checking out


FAIR an average outcome


WEAK not convincing stuff


BAD an underwhelming effort


VERY BAD quite a waste


FAIL a total failure