Interview: Rachael Sage on Survival, Gratitude and Artistic Positivity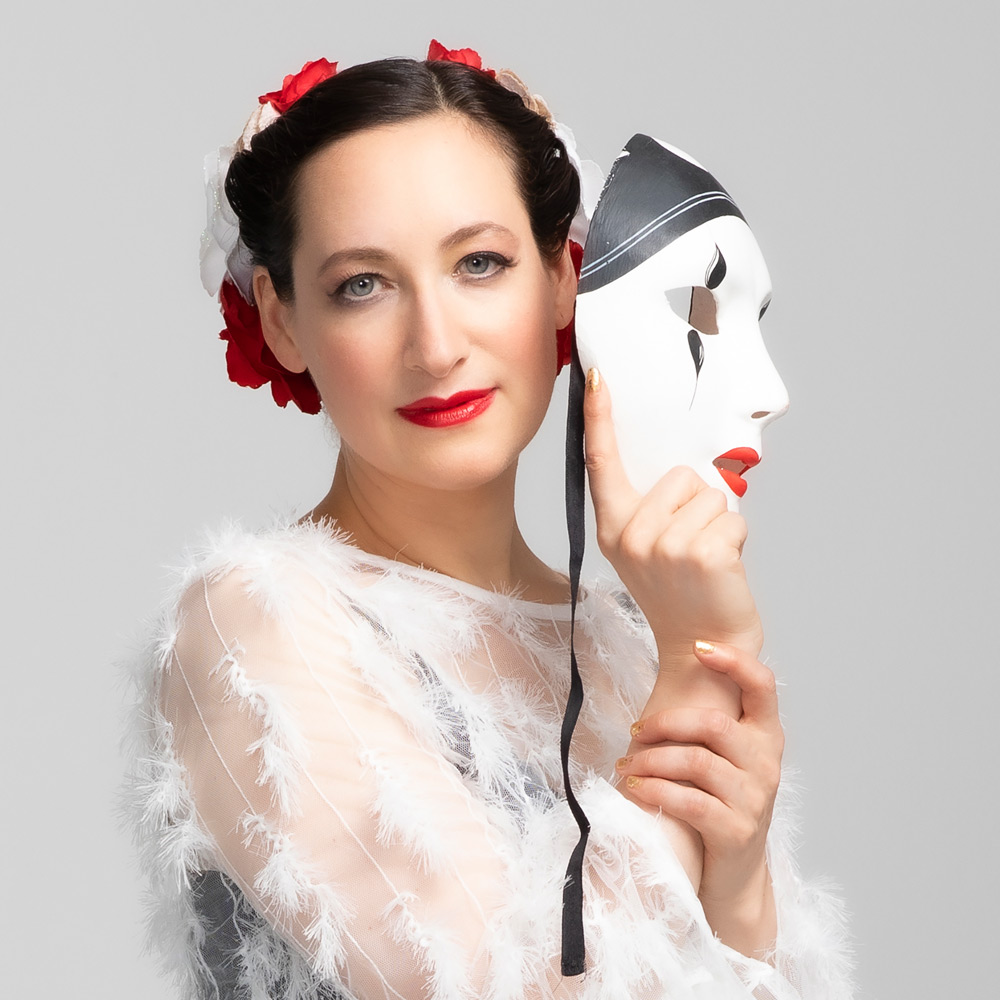 For twenty-five years, Rachael Sage has immersed herself in almost every expression of art, including drama, ballet, music, the visual arts, and poetry. As a multi-talented creative mind, Sage has often found strength, rest and relief in her imagination and her desire to create. Never was this respite and volition more pronounced than when she was diagnosed with cancer in 2018. Born out of this revelation was the production of Rachael's 14th studio album, "Character", a gratitude-filled tribute to the lessons and triumph of survivorship, offering an inviting, introspective musical experience. On her journey to recovery, Sage describes learning about the importance of self-care, positivity and the healing science of making art. As it does throughout her album, Rachael Sage's love for music beams through her poised and purposed performance in her newly-released figure-skating-themed video for "Blue Sky Days", gifting her audience insight into her character as they encounter and discover their own.
→ Listen to our playlists on Spotify
Jae B: How would you describe your latest album, "Character", and what do you hope for listeners to take away from this record?
Rachael Sage: My new album "Character" is the first album of new material I worked on since my 2018 cancer diagnosis. Going into this process of creating music as a survivor, I was necessarily focused on gratitude from every angle, and on deconstructing the concept of what comprises human character, both positive and negative. I explore themes including mindfulness, forgiveness, vulnerability, resilience, authenticity, integrity, as well as issues surrounding codependence. Inevitably these themes also cross into socio-political realms, especially with the title track.
What I hope listeners take away is that for as much as we don't have the ability to control everything in this life, we absolutely have control foremost over how we treat ourselves, and others. During my health crisis I witnessed the kind of mental and physical fortitude that can't help but inspire perspective. I also had to face the very real fact that as a person in a leadership position – running a company as well as various other creative projects – that there was much room for improvement for how I can personally balance my life, create boundaries and respect my own life choices.
Cancer has a way of very quickly highlighting what is toxic versus what is healthy and positive in one's life, but no one should ever have to wait until that kind of life crisis to start doing the important work of consciously curating the energy in one's life, as much as possible. I think in many ways Covid-19 has inevitably pressed each of us to search inward to define what is most precious, and hopefully that kind of inventory-taking can be a silver lining now, and in the days ahead.
Jae B: Which song from the album was the most difficult for you to write and why?
Rachael Sage: "Bravery's On Fire", which speaks to the idea of finding strength in vulnerability, was definitely the most challenging song for me to compose for this album. I wrote it when I was doing my best to navigate my way out of the misperception that because I am naturally a leader type, and someone who's typically very much in control of my life and my business, that I somehow was any better-equipped to handle the overwhelm of cancer treatment than anyone else might be.
It was difficult to write, because I was in a very unhealthy, codependent relationship when I was diagnosed, and for a variety of reasons I am now better able to understand, I was faced with the dual problem of taking care of myself but also constantly consoling and comforting this other person through my illness, and it ultimately became too much. That song was my white flag expressing that I was "not ok", and after I wrote it I felt a huge weight lifted that enabled me to let go of a lot of emotional anxiety, and finally turn the focus entirely to taking care of myself, at a time when self-care was literally vital to my recovery.
Jae B: How has your cancer recovery journey influenced how you interpret and seek to make music today?
Rachael Sage: I think being a cancer survivor has given me a lot more perspective on why I do what I do. I always knew I loved making music and that in effect, touring and recording were my "religion". The elements of adventure, of genuine spiritual connection with audiences, of cultural education and simply the opportunity to look at things from other points of view were a lot of what comprised my desire to have the career I have developed. But having now gone through cancer and faced the reality that mortality is no longer abstract versus something I have some say in – by virtue of how kindly I treat myself and take care of my own health – I think I have more appreciation for the minutia of what goes into actually playing and singing, and feeling soul-connected to the work.
I understand myself more and have spent more time forgiving myself for past mistakes and cheerleading for my best efforts… so I don't get as hung up over wrong notes, whether I'm playing them or someone else is. I am more about the vibe and the feeling behind the performance, and more attuned to positive versus negative energies and how they impact performance. I suppose I only want to surround myself with positive, open and loving creative individuals. Life is too short not to make sure the process is at least as satisfying as the result!
Jae B: During the lockdown period of this pandemic, you launched "Stay In With Sage", a weekly Facebook Livestream session, seeking to benefit a number of charities. What prompted you to do this?
Rachael Sage: My favorite thing to do is perform live, it's part of my DNA at this point… it's who I am and how my craft evolves. I knew within days of lockdown that if I didn't establish some kind of regular routine where I was bound to "show up" not only for me but for my listeners, that beautiful, magical thread of connection with my audience that is so precious to me, might be lost. The idea to have the streams benefit local NYC charities was also pretty immediate. I love NYC so much, and seeing the brave people on the frontlines who are helping to protect and provide essential services for other New Yorkers has been humbling and inspiring. I love my hometown, and music is always a great way to rally more people behind a positive cause.
Jae B: You recently tweeted that when you can't sleep or when you're at a loss for words, you make art. What is this process like for you?
Rachael Sage: Making art is one of the most relaxing and healing things I can ever do for myself. I should really do it more! I have a pretty stressful schedule, even in these times of isolation, just helping run my label MPress Records and interacting with all our other artists and label staff who are constantly running questions by me and making sure I weigh in on any/all aspects of our various projects. Sometimes it begins to feel like the pressures of fielding so many requests for my time and energy become unmanageable while I'm also trying to create new work, ongoing. It absolutely affects my sleep, which can become frustrating as we all know how important sleep is for good health. As a cancer survivor I am especially aware of this. But when I pick up a paintbrush and start to create something new from my imagination, in a purely subconscious way, I find that it's literally impossible to hold on to stress. Painting is like my mental yoga! You can see examples of my artwork on my website (rachaelsage.com/artwork). It's something that gives me a lot of joy, and I always feel better and more balanced, after I make art.
Jae B: You've recently released a figure-skating-themed music video for your single "Blue Sky Days". What was the inspiration behind this concept?
Rachael Sage: I have always loved figure-skating, and had dreams of doing a skating collaboration for many years. My college friend's daughter showed up one day on Facebook performing with her adorable young figure-skating troupe. They were all fabulous, but Morgan – our video étoile – jumped out to me, and her smile was absolutely infectious. I was already thinking about skating for the video because it was a song I wrote about the freedom that comes from practicing gratitude, even in the midst of chaos. The imagery was inspired by the Headspace meditation app, which talks about the blue sky always being behind the clouds, and never moving – even if sometimes it's entirely obscured. Morgan's sheer love for what she does and her ability to lose herself in it completely caught my attention, and within a matter of days we were planning and then shooting the clip for "Blue Sky Days". It was a dream come true, and a truly wonderful creative experience!

Interview conducted by Jae B.
Jae is a travel enthusiast and avid volunteer. She enjoys nature, museums, live music, and the chemistry of cooking. Though she was born on the lush island that brought the world Bob Marley and plenty of other reggae stars, her taste in music is exceptionally eclectic. Jae's ultimate playlist features Aerosmith, Frank Sinatra, Sevana, Lisa Ono, Donnie McClurkin, Etta James, and Louis Armstrong.