Review: Mighty Oaks – All Things Go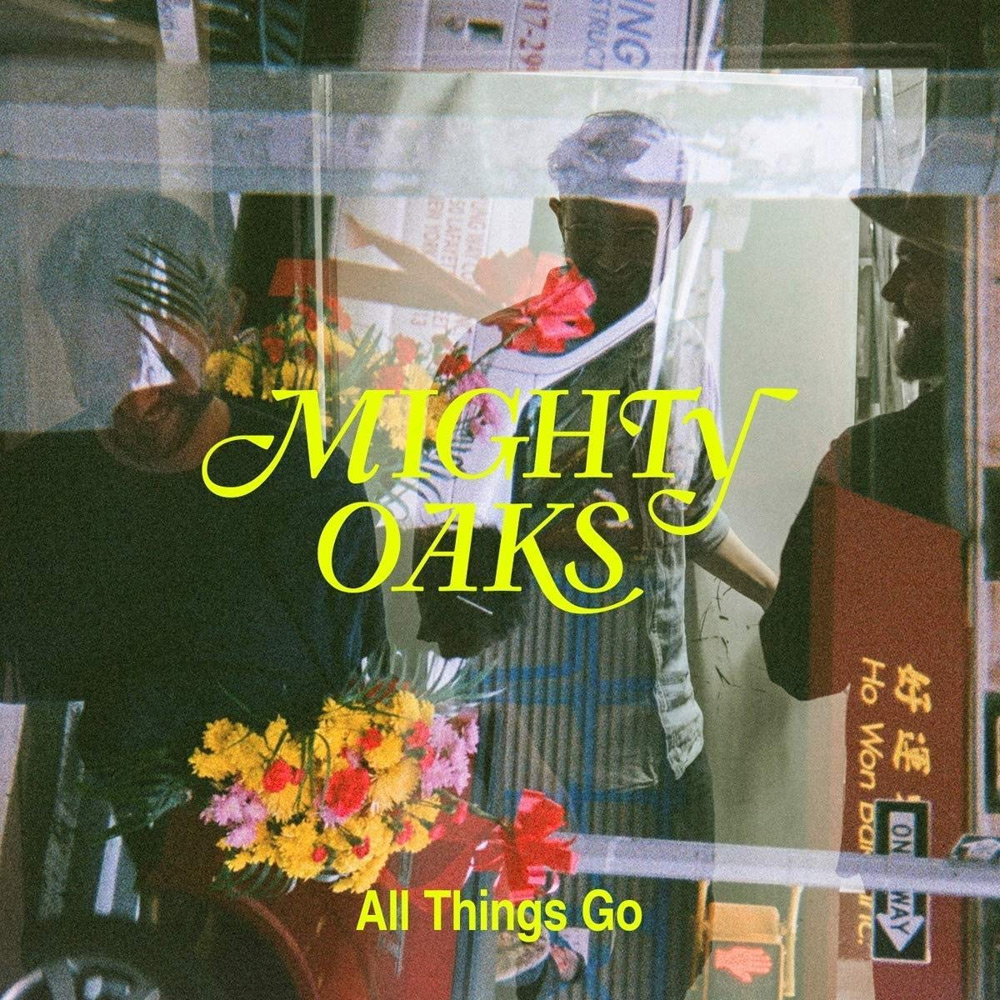 What do an American, a Brit, and an Italian have in common? Ian Hooper, Craig Saunders, and Claudio Donzelli are all based in Berlin. Each one plays several instruments and together they deliver their unmistakable three-part harmonies that swell, sizzle, and soothe over a multifarious selection of tunes. In early 2010, they formed the folk rock trio that is Mighty Oaks, and a decade later they stand strong with the release of their third full-length album, "All Things Go". It is not always easy to stand in view of the past and sift through all the emotions that got you to the moment you are in, here and now. Yet, Mighty Oaks succeed in taking the listener on a journey that is honest and necessary – one that ushers you from a hindering preoccupation with the past and an unhealthy anxiety about tomorrow to the cooling shade of today.
→ Listen to our playlists on Spotify
"All Things Go" embraces diverse sounds, from familiar folk melodies that the band is traditionally known for to an evolved pop and electronic infusion that compliments their vocals just as nicely. While listening, you don't get the sense that the band is trying to deviate from their original style which got them noticed in the first place. Rather, you see the development of what makes them authentically who they are as a band.
The title track "All Things Go" is a nostalgic blossom of emotions that takes us through the hellos and goodbyes that define our lives and ultimately make us who we are. It reminds us of our own journey from a time when the things we had somehow became the things we lost or had to leave behind. The mastery of the lyrics does not leave the listener consumed with the past. Instead, it reassures us that we can move forward and experience the newness sailing in on the horizon.
The tug of past relationships and those that are hoped for sprout freely in "I Need You Now" and "Tell Me What You're Thinking". A relatable sense of longing and desperation to know what someone else thinks and feels swells up inside as lead singer Ian Hooper's voice climbs every crescendo. Melodies settle as emotions deepen in "Lost Again" and "Aileen" where we come face to face to feeling lost and losing those we love. "Fly To You" takes us closer to the ones we hold dear while "Light The World On Fire" keeps us ready and propels us to effect change around us in any way we can.
"Kids" brings the album to full bloom and paints the vivid, poignant picture of our world today. It is not the end you envision at the beginning of the album but once there, you think, it couldn't have ended in a more fitting way. The individuality of the earlier tracks fades as the growth we experienced now prepares us to examine and understand what exists outside of ourselves. It is as if they are willing us to continue the music through thought and action even after the guitar strings have stilled and the harmonies are heard no more.
The album is inviting and offers much more than one hears on the first listen. The writing, arrangement, and sound quality of the tracks show that the roots of Mighty Oaks run deep and are sure to take deeper hold as they continue to make music that is beautifully simplistic yet undeniably profound in its own unique way.

Written by Jae B.
Jae is a travel enthusiast and avid volunteer. She enjoys nature, museums, live music, and the chemistry of cooking. Though she was born on the lush island that brought the world Bob Marley and plenty of other reggae stars, her taste in music is exceptionally eclectic. Jae's ultimate playlist features Aerosmith, Frank Sinatra, Sevana, Lisa Ono, Donnie McClurkin, Etta James, and Louis Armstrong.

Author's rating for All Things Go


Pop Magazine's official rating for All Things Go


Rating key


MASTERPIECE a must-have


SUPERB for heavy rotation


EXCELLENT a great achievement


VERY GOOD a respectable result


GOOD worth checking out


FAIR an average outcome


WEAK not convincing stuff


BAD an underwhelming effort


VERY BAD quite a waste


FAIL a total failure