Review: Willie Nelson – Ride Me Back Home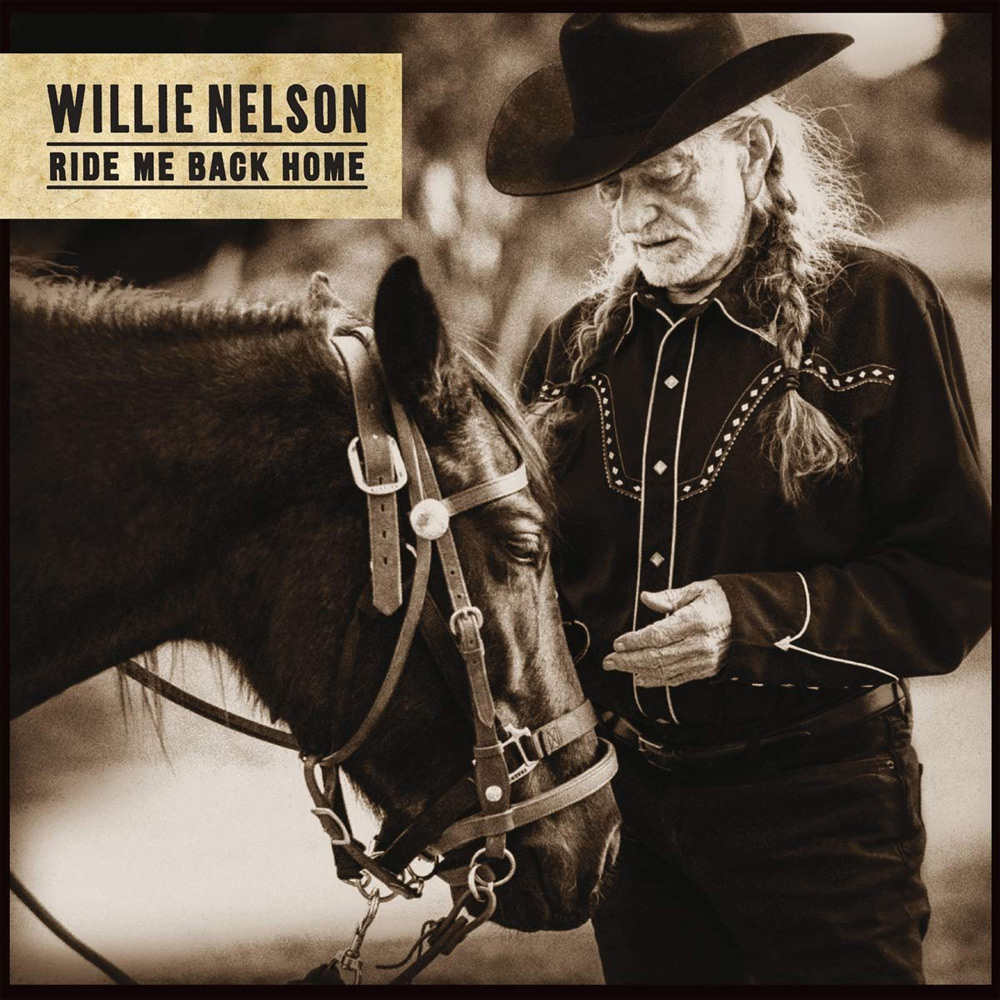 On his latest studio album, "Ride Me Back Home", Willie Nelson's subject matter is what you might expect from a man of eighty-six: he celebrates his music, laments and accepts that he's aging, and reminisces about his life. Although Nelson's gentle vibrato is unmistakable, and his twangy production is familiar, he doesn't seem to be the main character of the album. Instead, "Ride Me Back Home" feels like an earnest yet humorous conversation – full of laughter, love, and longing – with the true protagonist: time.
The album's title track, "Ride Me Back Home", written by Nelson and his friend Sonny Throckmorton, sounds like a sunset with its dipping steel guitar and sinking harmonica. Nelson describes a heroic horse past its use, singing, "You pulled the sleds and you pulled the wagons / You gave 'em somewhere to hide / Now they don't need you and there's no one to feed you". Nelson's tender delivery and the sentimental steel guitar memorialize the aging horse, which seems like an uneasy metaphor for Nelson's own fears of aging.
Nelson confronts these themes more directly on the honky-tonk number, "Come On Time", on which he jeers "Come on time, I've beat you before", before accepting that time is "winning the race". The song displays Nelson's playfulness while also indicating, beneath the humor, a very real human fear. On "One More Song To Write", Nelson is more earnest, singing over a bumping bass and dancing guitar with pragmatism: "I got one more song to write / And I've got one more bridge to burn / I've got one more endless night". Nelson, singing these lyrics co-written by Buddy Cannon, eschews nostalgia by suggesting that his remaining life will hold what life always seems to hold: plans and dreams, petty frustrations and disagreements, worries and restlessness.
Nelson also comments on the passage of time by covering his own music. "Stay Away From Lonely Places", a song he originally released in 1972, takes on a new meaning half a century later. When Nelson softly rasps over the jazzy piano, "Stay away from lonely places / It takes time to learn to live alone", he no longer sounds like a man positing a possibility, but a man who's tested the advice over nearly five decades and found it to be true. Nelson's experience leads to similarly wise advice on "Nobody's Listening", a slow-humming, mournful song about people seeming uninterested in those who are suffering. Nelson sings, "In these days of change and mass communication / Seems like no one's plugged into the sounds of desperation / And they say the future's just an extension of the past /And history has knack of comin' back".
On "Ride Me Back Home", though, Nelson is at his best when he's intimate and personal. Although he performed his cover of Guy Clark's "My Favorite Picture Of You" on Late Night With Jimmy Fallon with a rough, conversational delivery, the studio version is soft with sentiment. Over a romantic guitar and a lonesome harmonica, Nelson sings, "My favorite picture of you / Is the one where you're staring / Straight into the lens / It's just a Polaroid shot". It's a moving cover, vulnerable and delicate, and finds resonance not only as a romantic ballad, but also as a poignant eulogy for Nelson's friend, Guy Clark, who passed away in 2016.
Nelson deals with painful nostalgia on the album's final track, "Maybe I Should've Been Listening", on which he gruffly sings over a wavy steel guitar and a windy harmonica, "Here you are, back on my mind, where you stay quite a lot / Bringing back all the old memories I thought I'd forgot". In an aged voice, Nelson stays tender and soft, unflinching as he articulates his pain. And even this final act of reminiscence on "Ride Me Back Home" seems just as much about a lost love as it is a wary ode to time, and the solitary man it has made out of Nelson. It's a deeply felt song, and reminds the listener that Willie Nelson isn't simply making music just to make music, but because he still has something meaningful to say.

Written by Josiah Nelson
Josiah holds a Bachelor of Arts degree in English. When he's not reading, writing, or biting his nails, he's working at his local library, where he shelves books and works up the courage to shush patrons. He currently lives on the Canadian prairies. To see more of his writing, check out twitter.com/josiahhnelson

Author's rating for Ride Me Back Home


Pop Magazine's official rating for Ride Me Back Home


Rating key


MASTERPIECE a must-have


SUPERB for heavy rotation


EXCELLENT a great achievement


VERY GOOD a respectable result


GOOD worth checking out


FAIR an average outcome


WEAK not convincing stuff


BAD an underwhelming effort


VERY BAD quite a waste


FAIL a total failure