Review: Marina – Love + Fear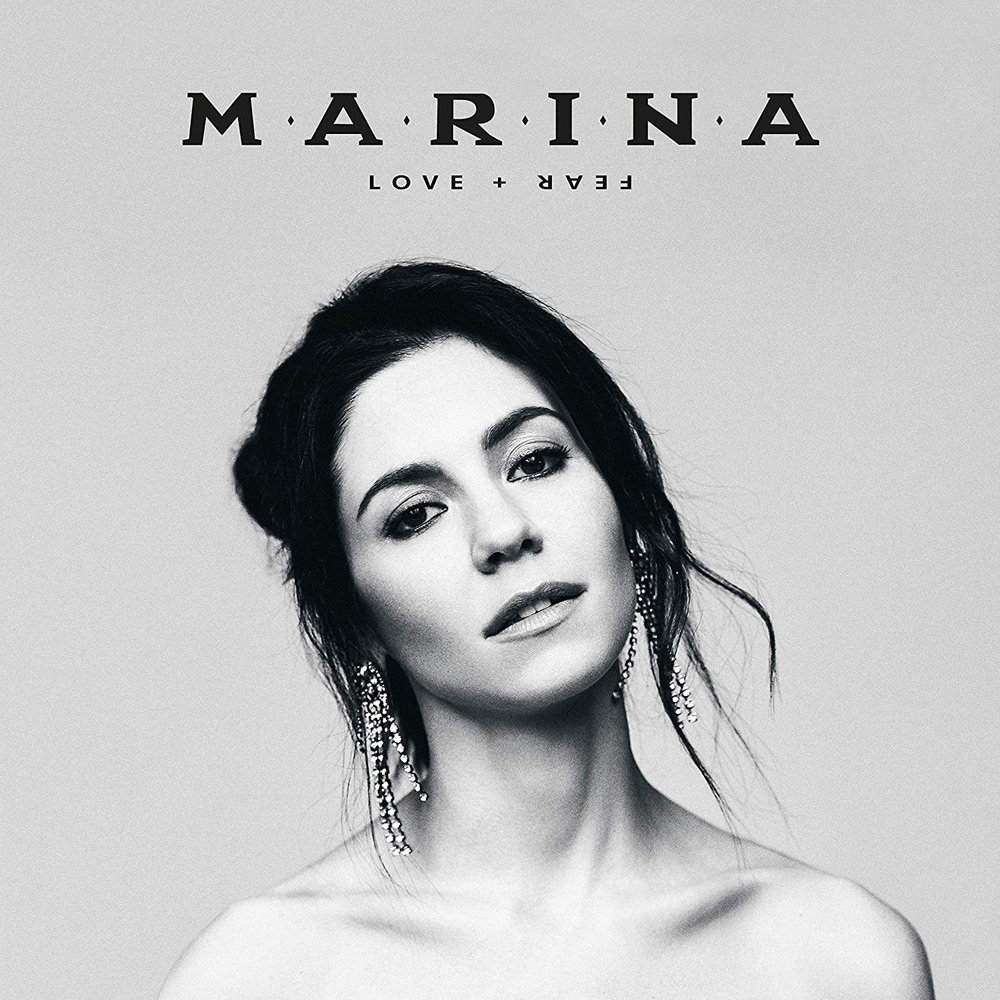 Four years after releasing "Froot", an album with synth-pop hits as idiosyncratic as the album's name, Marina published an album trailer for her new double album, "Love + Fear", which formally announced and delineated the album's theme and aesthetic. As the trailer foretold, the British singer and songwriter's latest album is about balance – between the global and the personal, the urban and the natural, and the supposedly weak and strong. Although the 16 tracks of spacious, cinematic synth-pop borders on the repetitive, her cumulative attempt to demonstrate that love really does conquer fear is, cliched as it is, noble, heartening, and fun.
On "Love + Fear", Marina explores the psychologist Elisabeth Kubler-Ross' contention that a person has two primary emotions – love and fear – from which all other feelings stem. Love, for Marina, seems to mean connection – both, with the natural world and other people. On the bombastically smooth "Handmade Heaven", Marina enviously rhapsodizes about wildlife and its intuitive ability to find its place: "I envy the birds high up in the trees / They live out their lives so purposefully". When Marina herself finds her handmade heaven in the chorus, which is sonically depicted with deep, droning bass and meticulously catchy synths, nature facilitates her discovery. Similarly, the acoustic, subtly auto-tuned "Orange Trees" uses the fruit as a metaphor for a natural summer away from the city. She coolly sings, "I can see the flowers and the greenery / I take a breath of air, I feel free".
Love, Marina suggests, isn't a solitary emotion. Instead, she repeatedly describes love's ability to create unity and connection on a global scale. The album's standout track, "End Of The Earth", which has robotic, LCD Soundsystem synths alongside atmospheric, softly buzzing synths, sounds like a slow trip to space. Marina's voice ascends into the stars as she sings, "We're all living in the same universe / Where the stars collide as the planets turn". The song feels like Marina's zooming out – like she's concerning herself with the state of the earth. On "To Be Human", a cinematic piano ballad elevated by symphonic synths, she zooms back in and offers a loving travelogue. She lists places from Kyoto to Athens to Angola, and rather than fetishizing or emphasizing our differences, she concludes, "All the people living in / Living in the world today / We're united by our love / We're united by our pain".
While Marina unflinchingly describes and depicts love on a global scale in the first half of the album, the latter half details her personal struggles, doubts, and fears. She sings, "I need to believe in love / Why is what you give never enough?" on "Believe In Love". The track has a warm bass, but an icy cold piano that sounds like falling rain, which artfully captures her theoretical understanding of love alongside her difficulty in actually experiencing it. Marina is similarly vulnerable on "Too Afraid", singing over snappy drums, a mournful guitar, and bobbing synths, "Why, well why can't I change / I wanna move on but I'm just too afraid". Like most of the second half of the album, Marina describes her own personal fears, but in so doing, she offers herself, and her experiences, to the world.
This point seems most obvious on the album's final track, "Soft To Be Strong", a melancholic, piano-driven ode to kindness. In layered vocals she sings, "And I guess I've known it all along / The truth is you have to be soft to be strong". In so singing, Marina ties the two halves of the album together: that finding your place is about finding yourself, that from personal experience can come universal insight, and that being vulnerable about one's fears isn't a sign of weakness, but of strength, and ultimately, fear's greatest antidote: love. While Marina's insights about love and fear aren't necessarily revelatory or novel, her artful, personal depiction of the two concepts is nuanced, convincing, and worthy.

Written by Josiah Nelson
Josiah holds a Bachelor of Arts degree in English. When he's not reading, writing, or biting his nails, he's working at his local library, where he shelves books and works up the courage to shush patrons. He currently lives on the Canadian prairies. To see more of his writing, check out twitter.com/josiahhnelson

Author's rating for Love + Fear


Pop Magazine's official rating for Love + Fear


Rating key


MASTERPIECE a must-have


SUPERB for heavy rotation


EXCELLENT a great achievement


VERY GOOD a respectable result


GOOD worth checking out


FAIR an average outcome


WEAK not convincing stuff


BAD an underwhelming effort


VERY BAD quite a waste


FAIL a total failure