Review: Hozier – Wasteland, Baby!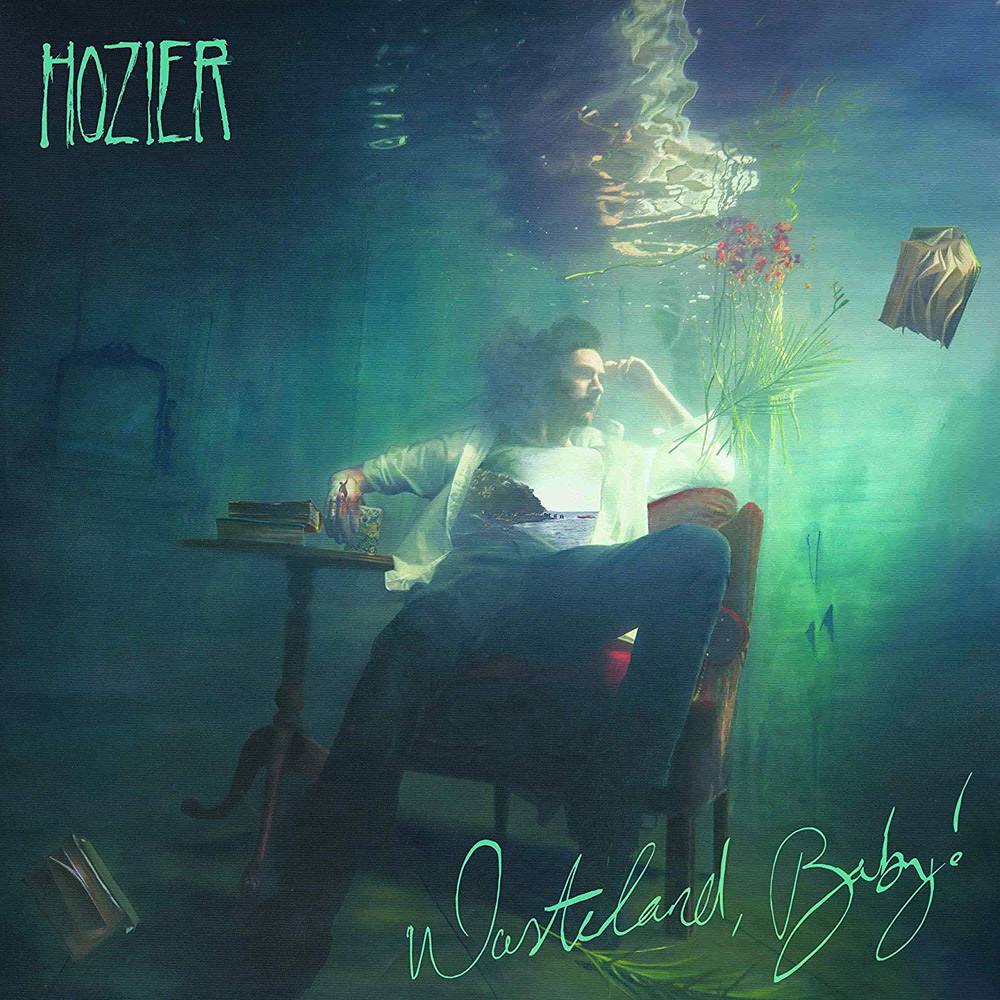 In 2014, Hozier released his self-titled first album, which, like his standout single "Take Me To Church", effectively blended soul with folk into something that felt, broadly, like indie rock. On his second album, "Wasteland, Baby!", Hozier plays with similar elements, but takes a more exploratory approach. The album features an array of sounds, from soul-rock bangers, to fingerpicking ballads, to grizzly soul. Thematically, it's just as exploratory. On "Wasteland, Baby!", he reckons with and theorizes about the contradictions that come with living in a world so politically turbulent it feels, at times, apocalyptic. Despite the seeming nihilism inherent in such a reckoning, Hozier's suggestions are disarmingly tender and hopeful. "Wasteland, Baby!" presents itself as a love letter to countercultural music, to a dying earth, and to human connection itself.
"Wasteland, Baby!" locates itself within the history of soul music on the album's first track, "Nina Cried Power", a glorious soul number that features the legendary soul singer Mavis Staples. Hozier and Staples sing enthusiastically over wavy organs, super-snappy drums, and a thick, groovy bass line about soul's greats: "Nina cried power / Billie cried power / Mavis cried power … Curtis cried power / Patti cried power / Nina cried power". Staples, who sings with ferocity and lovely gruffness, compels beyond words when she croons, "Power has been cried by those stronger than me / Straight into the face that tells you to / Rattle your chains if you love being free". While the track exists only because of political frustration, it still finds hope, particularly by celebrating soul music, and its legacy as a method of protest.
Hozier explores and celebrates music and culture on a more personal level on "Almost (Sweet Music)", a jazzy guitar-driven track that weaves allusions to soul greats with a personal love story, singing, "The numbered lovers of Duke Ellington / Do I owe each kiss to lip and cheek as soft as Chet can sing?" Similarly, on "Movement", Hozier slyly croons over a brooding piano, "When you move, I move / You're S. Polunin leapin' / Or Fred Astaire in sequence".
These moments of celebration and admiration are welcome, because, as Hozier persistently reminds, our current moment feels – politically, environmentally, and socially – borderline apocalyptic. On the sweetly sonorous "No Plan", Hozier sings about the world's end over breezy guitars and thumping drums: "There's no plan, there's no kingdom to come". Later he casually references the astrophysicist Katie Mack, singing, "There's no plan, there's no hand on the rein / As Mack explained, there will be darkness again". Somehow, Hozier doesn't respond to this revelation with despair, but with classically existentialist acceptance. "Sit in and watch the sunlight fade / Honey, enjoy, it's gettin' late", he suggests.
Fuzzy guitars and a haunting organ introduce "Be", a track full of affirming vitriol. In the chorus, Hozier sings the following encouragement: "Be as you've always been / Be like the love that discovered the sin / That freed the first man, would do so again". In the second verse, he cleverly and convincingly flips this "Be" language to criticize the States' president: "When the man who gives the order / Is born next time 'round on the boat sent back / When the bodies starvin' at the border". Hozier's critique is compelling because it's grounded in empathy: might Trump re-think his policies if he knew he might be reincarnated as a refused refugee? Even if the insight would be lost on Trump, the listener is grateful for Hozier's angry empathy that attempts to artfully and actively protest the West's political climate – rather than curl up into cozy, hip nihilism.
"Wasteland, Baby!" also escapes nihilism by featuring heart-twisting ballads of sincere, unapologetic love and longing, which seem to comprise the emotional core of the album. "Would That I", a resonant, fingerpicking love song that crashes to explosive life at the chorus, smartly juxtaposes wood and fire imagery. He finds his old love, represented by wood, consumed and replaced by his new fiery love. He concludes, "Though I've handled the wood, I still worship the flame / Long as amber of ember glows / All the wood that I'd loved is long ago".
On the melancholic ballad, "Shrike", Hozier describes his regret for failing to communicate his love when he was still with his beloved. He sings, in a voice that betrays his Irish roots, "I couldn't utter my love when it counted / Ah, but I'm singing like a bird 'bout it now / And I couldn't whisper when you needed it shouted / Ah, but I'm singing like a bird 'bout it now". As longing and soft violins play in the third verse, Hozier continues, "I fled to the city with so much discounted / Ah, but I'm flying like a bird to you now".
On the album's final track, "Wasteland, Baby!", Hozier's themes – of celebration, of apocalyptic and interpersonal love – converge. In a voice so wavy it sounds like it was recorded underwater, Hozier sings, "All the fear and the fire of the end of the world / Happens each time a boy falls in love with a girl". The song pulses forward, led by a sweet fingerpicking melody and swirling, dotting synths, suggesting that Hozier really is unfazed by the hypothetical apocalypse he's been alluding to the whole album. On the chorus, he calmly sings, "Wasteland, baby / I'm in love, I'm in love with you". It seems that the wasteland isn't his only love, though. He sings, "And that day that we watch the death of the sun / That the cloud and the cold and those jeans you have on / And you gaze unafraid as they sob from the city ruins". In the face of the apocalypse, which serves as a salient metaphor for divisive, confusing, hateful times, Hozier's posture is one of love. After the final chord is picked and his voice fades out, Hozier has one final thing to say. He whispers – to his producer, to his audience, to the world – "That's it".

Written by Josiah Nelson
Josiah holds a Bachelor of Arts degree in English. When he's not reading, writing, or biting his nails, he's working at his local library, where he shelves books and works up the courage to shush patrons. He currently lives on the Canadian prairies. To see more of his writing, check out twitter.com/josiahhnelson

Author's rating for Wasteland, Baby!


Pop Magazine's official rating for Wasteland, Baby!


Rating key


MASTERPIECE a must-have


SUPERB for heavy rotation


EXCELLENT a great achievement


VERY GOOD a respectable result


GOOD worth checking out


FAIR an average outcome


WEAK not convincing stuff


BAD an underwhelming effort


VERY BAD quite a waste


FAIL a total failure