Review: Lily & Madeleine – Canterbury Girls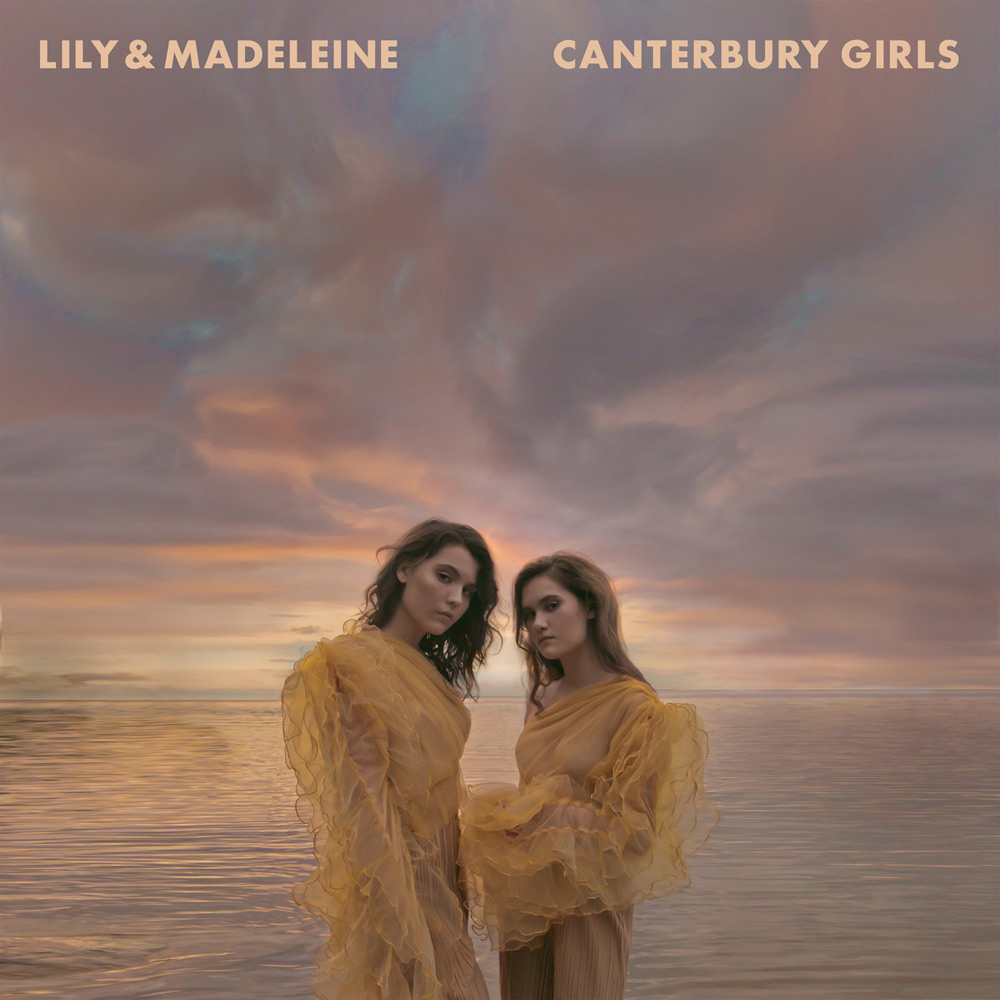 The album artwork for Lily & Madeleine's fourth album, "Canterbury Girls", captures the Jurkiewicz sisters posing before a purple and gray swirling sky. Fairlight Hubbard's photograph is dreamy and modern, but also brooding: the conspiratorial looks of Lily & Madeleine suggests a bond so insular and strong that they almost can't help but view the world with cautious skepticism. And skepticism makes sense. The lyrics detail their frustration with unhealthy relationships, bad boyfriends, and their own harmful impulses. If the album's artwork suggests an emotionally complex album, that's because it is. The dark tone of the lyrics is complemented by dreamy pianos, raindrop synths, and melancholic guitars, thanks to co-producers Daniel Tashian and Ian Fitchuk. "Canterbury Girls" is a beautifully balanced album: Lily & Madeleine ask tough questions – about the world, about modern love, about themselves – but their mere delivery is graceful, vulnerable, and ultimately empowering.
Part of the beautiful balance that the album strikes results from Lily & Madeleine's lyrics, which often provide physical metaphors, juxtaposed against dreamy, ethereal production. On "Bruises", the first song Lily wrote for the album, she and Madeleine sing over a subdued piano and a heart-beating kick drum about post-tour life: "Covered in bruises, moving like an alien." At first, the bruises allude to the physical toll of a tour, of being literally bruised from moving tour gear. It also serves as a metaphor for an elitist, self-deluded boyfriend who bruises Lily because he's unwilling to let her go: "I didn't wanna be the only one who gets ya / But now you're holding me, telling me I'm no better".
The guilt that comes with letting someone go is further explored on the album's opening track, "Self Care". Lily wrote the first verse for Madeleine, in an attempt to give her courage to leave her unhappy relationship. In a clever intertextual twist, Madeleine sings this first verse by herself – "I feel ashamed / When you say my name / Like there's something I can do" – while the second verse, written by Madeleine, is sung in harmony with her sister. The title becomes paradoxical: Madeleine displayed self-care by breaking up with her boyfriend, but she's encouraged by her sister to do this. The song is dreamy in a 50s way, with soft pianos and shimmering synths, which emphasizes the melancholy of the inevitable breakup: "Every kiss is perfect / But why does it feel like goodbye?"
If "Self Care" provides an affirming, if heartbreaking vision of breakup, "Circles" serves as its nightmare opposite. The track is moody and slow, repeating the same four chords, and would be right at home playing in a 60s roadside diner. This repetition represents, Madeleine explained, feeling stuck in a relationship: "I'm running in circles / Still convinced every day is a chance to change". And while initially the track seems to merely echo the challenge of moving on from bad boyfriends, it transitions into something far more self-critical. While the chorus begins as, "I'm tangled in a dance with the man I hate", in the outro it becomes, "I'm tangled in a dance with a girl I hate". The implication is compelling: although breaking up is difficult, hating yourself for staying is far worse. This sort of insight reframes and redeems the album's more depressing songs – they're sad, sure, but they're ultimately preventing further sadness and self-hatred. In this way, they're actually affirming and empowering.
I should mention that not all of "Canterbury Girls" feels moody or sad. The album features moments of totally unselfconscious happiness. It's hard not to feel motivated listening to the rolling piano, the thudding drums, and the beautifully melded voices on "Just Do It", co-written by Shannon LaBrie. "Can't Help The Way I Feel", a retro-pop banger with handclaps, a peppy piano, and shimmering synths, sounds like summer in a song.
The album's title track, "Canterbury Girls", perfectly blends a moody tone with an affirming concept of the self. The acoustic guitars are dreamy but brooding and Madeleine's voice in the first verse sounds intimate, yet conspiratorial. Lily and Madeleine relate their journey outside Los Angeles to get a view of the city at night: "Run around the town for hours / Past the edge of the day / Took the back way up the hillside / Ignored the signs that said 'Keep out'". When the chorus comes, the synths expand, a piano calmly thrums on, and Lily and Madeleine harmonize perfectly – so perfectly that in a live version of "Canterbury Girls" performed for Paste Magazine, the band's touring drummer, Pompy, who's ostensibly heard the song countless times, can't help but smile in awe and admiration. The lyrics are just as dreamy: "Dancing moonlight muses all this time / I know there's a limit but I don't feel it, not tonight". Considering that the track's title was taken from a nearby childhood park, which Lily associated with idyllic, formative memories, "Canterbury Girls" feels like a self-mythologizing ode to their former selves. While this perhaps sounds overly ambitious, their vulnerability and wondrous harmonies help them pull it off.
The closing track, "Go", features a heartrending piano and soft-breeze synths – it's contemplative and nostalgic. The lyrics reveal a breakup motivated by Lily being emotionally inaccessible, in part because she's so focused on music: "I know I'm to blame, I tried to play your game / But my shoulders down my arms fell loose." Together, Lily and Madeleine softly sing, "I said I wouldn't leave so easy / But I know you wanna see me go, go, go." The self-criticism is heartbreaking, and while the twinkling closing pianos should feel sentimental, they really don't – it just feels honest. It's a wonderful closer with a clear sense of finality, which paradoxically only encourages the listener to play the album again. The sisters sing "go, go, go", but that's the last thing I feel like doing.

Written by Josiah Nelson
Josiah holds a Bachelor of Arts degree in English. When he's not reading, writing, or biting his nails, he's working at his local library, where he shelves books and works up the courage to shush patrons. He currently lives on the Canadian prairies. To see more of his writing, check out twitter.com/josiahhnelson

Author's rating for Canterbury Girls


Pop Magazine's official rating for Canterbury Girls


Rating key


MASTERPIECE a must-have


SUPERB for heavy rotation


EXCELLENT a great achievement


VERY GOOD a respectable result


GOOD worth checking out


FAIR an average outcome


WEAK not convincing stuff


BAD an underwhelming effort


VERY BAD quite a waste


FAIL a total failure