Review: Honey Larochelle – 11:11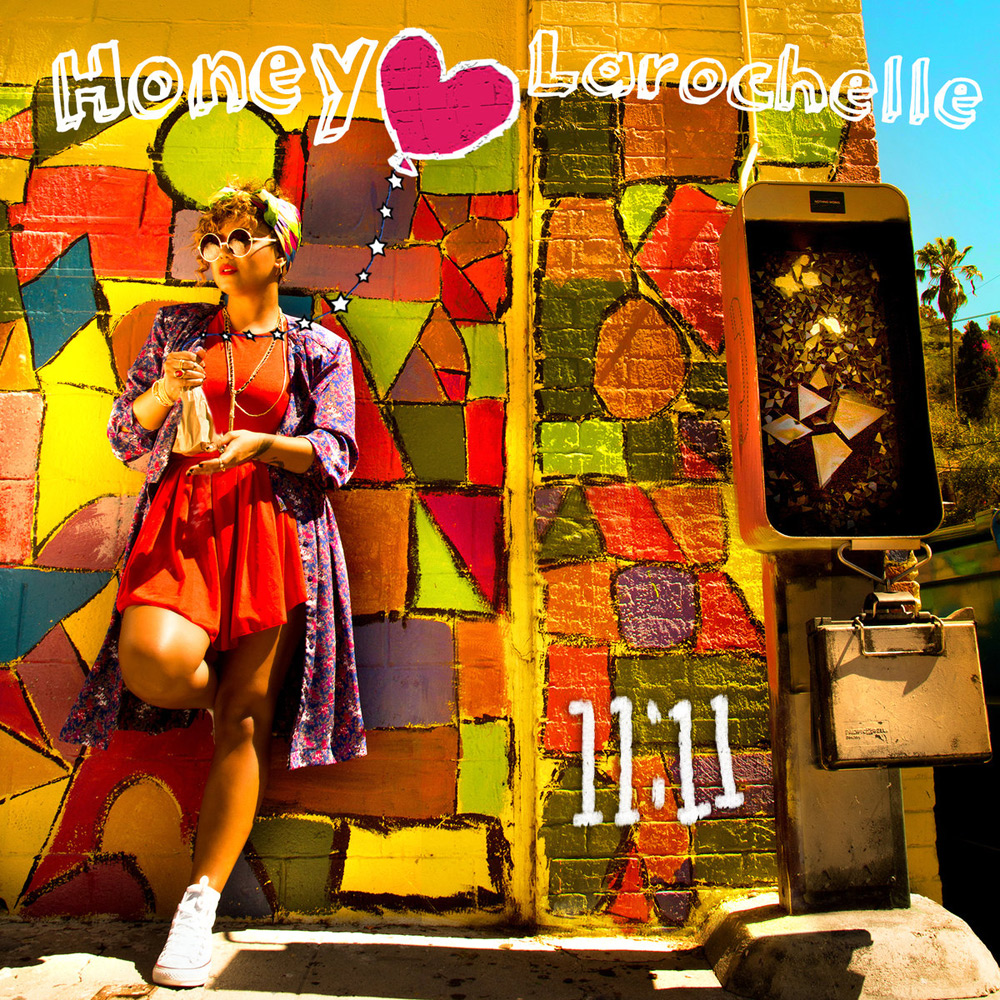 11:11 is not just titled like this in reference to the eleven tracks created for this album in eleven days. In numerology, these numbers have always been associated with mystical powers evoking synchronicity, higher vibrations, and a special spirit presence. The type of spiritual elevation in feel-good music served by Honey Larochelle in her sophomoric return with a sweet as honey lover's rock sound with soulful pop inflections. For those familiar with Honey Larochelle, she was introduced in her debut record, The Yes Feeling, as more of a soul artist who went on to prove herself in that genre as a force to be reckoned with by writing and vocal arranging for other soul singers, along with touring as the lead singer for The Brand New Heavies, and collaborating with artists like Roberta Flack, Macy Gray, Omar, and Joss Stone. Larochelle's voice is a beautiful soul sessions type of throwback to classic Motown, shining in songs like "Heaven" and "Be Your Baby" on her debut record.
11:11 has Honey Larochelle teaming up with Danish musician and producer Pharfar, known for his reggae dancehall productions as a veteran in Denmark's music scene. A Canadian-born artist collaborating with a Danish producer to create a soulful reggae record truly shows that music is a vibe, a universal language, and a state of mind without borders or limitations. Larochelle's reggae remakes of Sia's "Chandelier" and Sade's "By Your Side" are reminiscent of the 1990s to early 2000s era in music when reggae artists would remake popular songs in familiarity and relatability, which, at times was an upgrade to the song, and other times just a lack of creativity. However, with a singer, songwriter, and vocal composer like Honey Larochelle, creativity shouldn't be an issue. While the remakes are not an upgrade in this case, they are definitely well done in homage to the originals.
11:11 is reflective of a woman baring her soul in love: from love lost that continues to haunt her in "Streetlights", to giving and finding love in hopeless places in the love for a felon expressed in "Sunshine", while trying to maintain her independence and respect as a woman in "Boss". Songs like "California Love", "Jamaica Love", and "Hold On" celebrate everlasting feel-good love of time, man, and place that makes you feel like you are wrapped in the satiation of the kiss of sunshine. Lead single "Freedom" featuring Chuck Fenda, and follow-up song "Precious" speak to society in reflecting the times, as conscious reggae has always done. With current debates on internet sovereignty, neutrality, and privacy, along with a global shift in misdirected patriotism rearing the ugly head of racism and xenophobia, "Freedom" challenges the definition of freedom and patriotism in a lyrical one-two-punch calling out our global leaders. "Hey Mr. President. How much you charge for privacy? Do you really need to know how long I'm asleep and how much I eat? Tell me when does it end? Oil wars and global warming lies. How can you stand, call yourself a man, and hide behind your disguise?"
At a time when sexual abuse and sexual predators are making international headlines while the entertainment industry is still bombarding young girls and women with the most celebrated artists telling and showing them to find their power in overtly sexualized images and lyrics, Larochelle brings the sweetness back into feminine power with a reminder that we are enough and have already won in holding our precious tight. "Precious" is the girl-empowered anthem in the other side of the game of representation of women artists and lyrical content. "Baby girl you hold the key, the key to the door to your body. There's no rush to give it up… And if he's worthy enough you'll know, for he'll feel more like a friend. So keep one eye open. Know just what you're holding. With a body like yours, you gone meet so many predators."
As a songwriter, Larochelle knows how to capture a story, and as a singer, regardless of the many genres she dabbles in in bringing out what she calls "authenticity before conformity", she never loses her soulful voice. A few years ago, when Honey Larochelle and Pharfar first met in Copenhagen, they created 11 tracks in 11 days, and now the finished record was released on 11.11.2017. Yet the published album contains 14 tracks. They should have stayed authentic to the 11:11 theme by eliminating three tracks, which would have made the record just right. As a believer in numbers, Larochelle should have stuck to her faith and fate in the numbers because the extra tracks end up taking away from a great record rather than enhancing it. More often than not, less is more in telling a completed story.

Written by Amma Sarfo-Kantanka
Amma Sarfo-Kantanka is a writer and entrepreneur who lives by the motto "Eat Well, Travel Often and Always Let the Music Play! Her love, for travel, global cuisine, storytelling, culture, history and her Black Star Nation led her to create Global Fusion Productions Inc., a global branding company specializing in bringing Africa to the world and the world to Africa through the many commonalities that define #OurGlobalFusion from the root to its fruits!

Author's rating for 11:11


Pop Magazine's official rating for 11:11


Rating key


MASTERPIECE a must-have


SUPERB for heavy rotation


EXCELLENT a great achievement


VERY GOOD a respectable result


GOOD worth checking out


FAIR an average outcome


WEAK not convincing stuff


BAD an underwhelming effort


VERY BAD quite a waste


FAIL a total failure