Review: Pink – Beautiful Trauma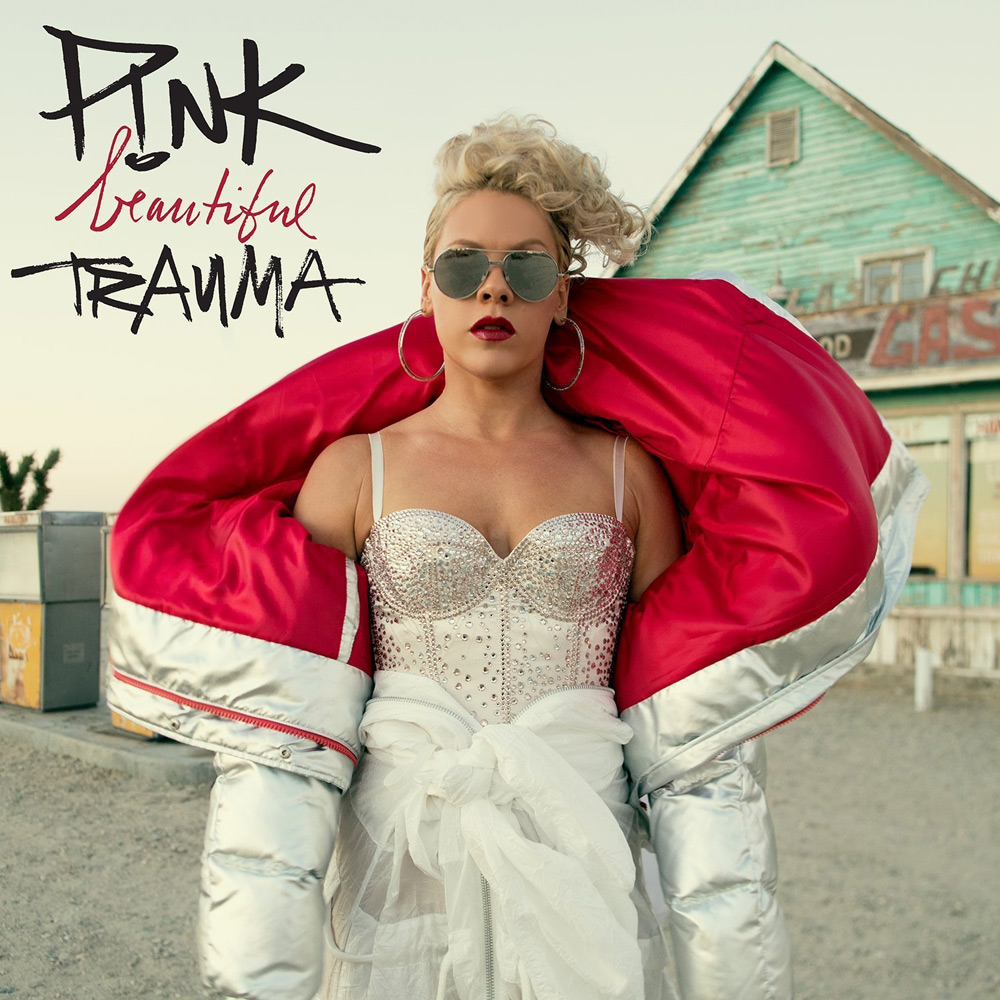 Going for a pimped-up-spacesuit look, Pink snatches the microphone and mauls her way through new album, Beautiful Trauma. Effortlessly caustic and feral, the "toughest gal in pop" sounds like she hasn't eaten in a month, and savages the 13 tracks. Pink doesn't sing. She sacrifices. And given the five-year hiatus to lock down this LP, there's a lot of blood at her altar. The record's title cut kicks things off in the balls. She blasts: "We were on fire, I slashed your tires. It's like we burn so bright, we burn out". The power-chord electropop soars over the verse, and the listener is repeatedly slapped with: "My love, my love, my drug". Maybe not as challenging as a Leonard Cohen song, Pink does, however, deserve credit for this socio-ironic line: "You punched a hole in the wall, and I framed it. I wish I could feel things like you". The lead single, "What About Us", highlights her political contempt: "We are billions of beautiful hearts, and you sold us down the river too far". The delicate electric pianos and guitars, swelling strings and choir, showcase her powerful vocals which invite the listener into a revolution: "Are you ready? It's the start of us waking up. Come on. Are you ready? I'll be ready".
The themes of empowerment, vulnerability and community, are honed well on Beautiful Trauma. And tracks "Barbies" and "Secrets" are also very honest. You sense that aged 38, Alecia Beth Moore wants to challenge her alter ego, and delve further into the concept of shared personality. She is the mother of two young children, and of course Pink will advance past teen angst and tattoos. The problem is though, the artiste also knows her sound, audience, and the industry. She knows she can't waiver too far from her brand for fear of disconnection. Therefore, for all the professional aesthetic and potent emotion, it is the same jello being molded. Even her manager, Roger Davies, calls this seventh studio album a "continuation of the previous records". Thus, the sound of Pink-2017 hasn't been revolutionized since previous album The Truth About Love. It is cupped in the steady hands of several top producers, including Steve Mac, Max Martin, and frequent Taylor Swift collaborator, Jack Antonoff. The vibe is good with thumping beats, sweeping melodies, and harmonized textures galvanizing the gutsy vocal. It is a fun and super-catchy album. But Pink's effort to shock by spattering curse words does feel a little strained, and "Whatever You Want" is also too simplistic for a naturally gifted musician. Because talented, Pink mostly certainly is. Having written or co-written every song on the album, and with a string of hits to her name – including "Fuckin' Perfect", "There You Go", and "So What" – the megastar from Pennsylvania is surviving an industry that is especially tough on women. 17 years on from debut album Can't Take Me Home, Pink deserves huge credit for changing the scope of pop and clearing the way for artistes such as Katy Perry and Lady Gaga.
This carefully curated and slick record takes the listener on a whirlwind ride through riotous pop screamers, emotive ballads, and R&B dancefloor fillers. The flamenco-infused "Where We Go" could be a Shakira hit. And the poignant "But We Lost It" and "You Get My Love" strip Pink to her most vulnerable. Laid bare, no female pop artist reaches the beauty of Pink's trauma. Taking a queasy swipe at relationships, this is a vitriol break-up album written during an ongoing eleven-year marriage. And the only track which shatters this truth is the very forgettable duet with Eminem, "Revenge". Pink's failed attempt to rap is matched only by Eminem's failed attempt at singing. But Beautiful Trauma is well-measured, and for all the doubt and regret, there is also hope sprinkled across the tracks. It is a journey which reflects the five years of living taken to complete it. And while we owe her a debt of gratitude for this honesty, the music industry owes her tenfold. A young Alecia Moore may very well have been nicknamed after the character Mr. Pink from Reservoir Dogs. But not this shade. Not this album. Look upwards: all newborn and forming stars in the universe burn pink. And here on Earth, many of our superstars were created within a blinding explosion of the same color.

Written by Tecwyn Hill
Full-blooded journalist turned freelance editor flying in the face of Brexit by quitting the UK for Berlin. If it can be sung, hummed, whistled, played or streamed (disclaimer – legally!) then I'm in: like my stance on the EU. Let's crank up the volume and climb that wonderwall.

Author's rating for Beautiful Trauma


Pop Magazine's official rating for Beautiful Trauma


Rating key


MASTERPIECE a must-have


SUPERB for heavy rotation


EXCELLENT a great achievement


VERY GOOD a respectable result


GOOD worth checking out


FAIR an average outcome


WEAK not convincing stuff


BAD an underwhelming effort


VERY BAD quite a waste


FAIL a total failure