Review: Macklemore – Gemini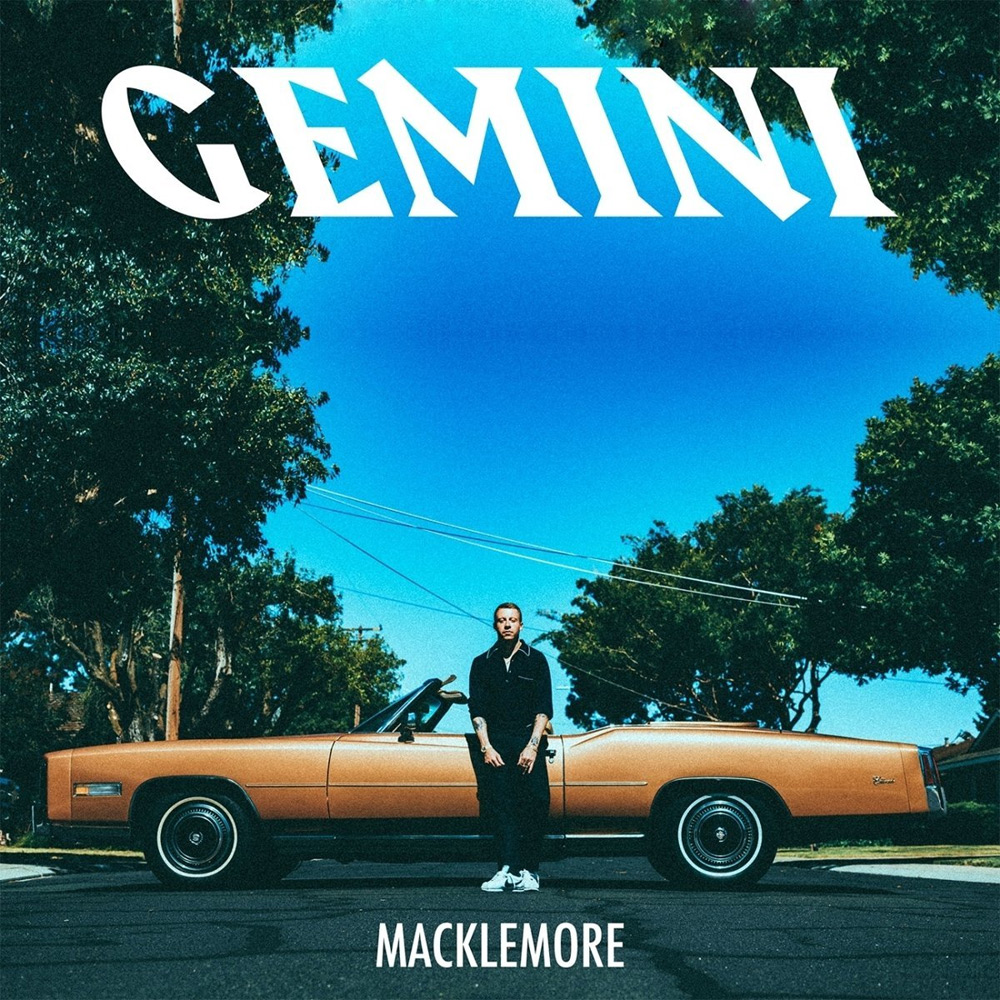 A year before he would meet longtime collaborator Ryan Lewis, Macklemore released his first solo album, The Language Of My World, while building a name for himself around Seattle. He and Lewis would go on to become the four-time Grammy Award winning hip-hop duo, Macklemore & Ryan Lewis, known for hits like "Thrift Shop" and "Downtown" from their albums The Heist in 2012 and This Unruly Mess I've Made in 2016. Their sound was soulful commercial success, with Macklemore's spitfire upbeat lyricism and Lewis's captivating instrumentals. There have been massive gains, including Billboard chart debuts at #2 and #4 respectively for their first and second albums, plus going double-platinum with The Heist, though failing to sell enough units to go gold on their sophomore effort despite its positive reception. All seemed to be going well between the duo until they announced that Macklemore & Ryan Lewis would be taking an indefinite hiatus. Macklemore confirmed: "Ryan Lewis is my brother forever. We have been working together damn near every day for nine years and it felt like the right time. This decision came from a place of love for one another." Though the split appears to be amicable, Macklemore is forthcoming about the intense space the two engaged in while creating and recording This Unruly Mess I've Made.
With the release of Gemini, Macklemore's second solo LP, the Seattle-based MC is speaking to the duality of his nature and the truths behind the polarizing forces of his notorious zodiac sign. He's both conscious and he knows how to turn up when the situations call for it. This is pretty evident in the contrast between "Ain't Gonna Die Tonight" with Eric Nally and trap cut "Willy Wonka" featuring Offset from Migos. He's more confident in this duality and aware of the contradictions of life that he exists in.  For this project he didn't want to make the type of music that the world is expecting to hear from him, but rather what he felt in his heart to make, so he gives us "Firebreather" where he flosses his status and pops his collar over an edgy rock track. However, some of the songs are inspirational and reach a level of humanity that touches people's lives. The first single "Glorious" featuring Skylar Grey is a thematic anthem that's taken on a life of its own with refreshing, hopeful lyrics about what is to come. Likewise his trademark comes through on "Good Old Days" with Kesha that reflects aging through the trials of life. "Marmalade" featuring Lil Yachty was recorded election night with CNN airing the results in the background while the two were still optimistic that Hillary Clinton would win, as dictated in the sunny track and friendly chorus. Macklemore engages his spiritual side on "Miracles" which questions unanswered prayers and the deeper nature of faith on "Church".
Gemini has an overall celebratory factor because of the appreciation and gratitude Macklemore has for this stage of life with his wife and daughter, and the opportunity to record it in the comfort of his in-home studio. Most of the songs have features excluding "Ten Million", which would have featured Travis Scott if scheduling had worked out, because Macklemore truly loves collaborating in the studio with a diverse group of artists. The favorite part of his job, however, is being on tour and connecting with his audience. Despite where he is as a solo artist, to be able to get in front of the people and give one hundred percent every time is the ultimate gift.

Written by Mai Perkins
Originally from Los Angeles, Mai Perkins is living a genuine bona fide love affair with NYC and the music that keeps its spirit moving. While spending the majority of the last decade in Brooklyn, many of her adventures around the globe are documented on her blog: Mai On The Move! www.MaiOnTheMove.com

Author's rating for Gemini


Pop Magazine's official rating for Gemini


Rating key


MASTERPIECE a must-have


SUPERB for heavy rotation


EXCELLENT a great achievement


VERY GOOD a respectable result


GOOD worth checking out


FAIR an average outcome


WEAK not convincing stuff


BAD an underwhelming effort


VERY BAD quite a waste


FAIL a total failure