Review: Lana Del Rey – Lust For Life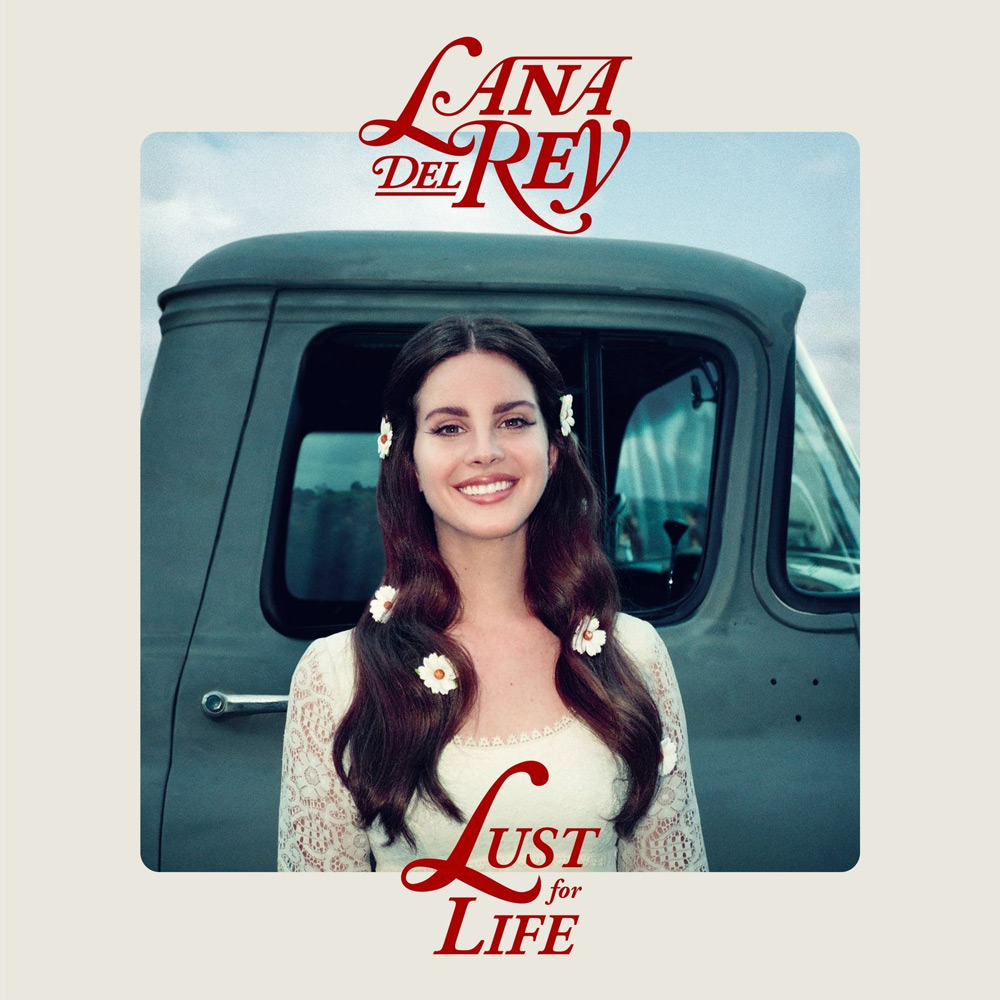 Writers take a beating as Lana Del Rey's Lust For Life album cover delivers more than a thousand words with one simple gesture: she is smiling. Her loyalty to pained poise, seductive pouts, and wounded glares has faltered and the joyful precision on her face ushers in a new artistic chapter. The iciness of her previous records has melted to a softer frost and over the 16 tracks new emotions are budding, saving the listener from more crappy-men-doing-shitty-things and producing an LP of purposeful pop. Something Katy Perry attempted, but here, Lana Del Rey has accomplished.
The world has changed considerably since the American artiste's 2015 album, Honeymoon, and her political approach is borne from escapism. "When The World Was At War We Kept Dancing" carries hope in the Trump era, whilst standout track "God Bless America – And All The Beautiful Women In It" is a response to the Republicans' attack on women's rights. Interestingly the song was written before the country demonstrated and is a fine example of political foresight. The track features two gunshots after the main lyric which reeks of irony, too. Del Rey is also a lot more self-assured and calls out a former lover on "In My Feelings": "Could it be that I fell for another loser?" before taunting: "Who's tougher than this bitch? Who's freer than me?" Her quips and disdain carry well but Del Rey's pleasure at innocence on "Coachella – Woodstock In My Mind", where she observes and prays for the safety of an audience of young girls, is equally arresting. The lyrics here are some of her best to date: "Maybe my contribution could be as small as hoping that words could turn to birds, and birds would send my thoughts your way".
Yet, whilst the artiste learns to remove herself from the habit of romanticizing toxic relationships – Del Rey recently admitted to no longer singing the lyric "He hit me and it felt like a kiss" from her 2014 album, Ultraviolence, – she still hints at an obsession with the sleazier side of fame on "White Mustang" and "Groupie Love". The brooding synth on the latter layers the track and caresses the honey-soaked vocal, and it also includes one of two solid appearances by A$AP Rocky, in an album that is loaded with guest features. She further duets with Sean Ono Lennon on "Tomorrow Never Came", which flirts with the sound of The Beatles' beautiful "Something" and "Here Comes The Sun", which were both actually penned by George Harrison rather than Sean's father. Maybe Dhani Harrison wasn't available. Still, Lust For Life never loses its character with an overkill of guest cameos – the contributions work and this is testament to the skill of producers Benny Blanco and Max Martin. The title track features Canadian singer The Weeknd with his personal brand of dark R&B perfectly marrying the hip-hop beats and breathy vocal delivery. Indeed, Del Rey sounds as if she's enjoyed the whole experience with a sense of pleasure washing over socio-political piano ballad "Beautiful People Beautiful Problems" which she shares with Stevie Nicks. "Summer Bummer" featuring A$AP Rocky and Playboi Carti is the most explicit cut but again isn't beyond a wry wink: "You can't escape my affection, wrap you up in my daisy chains".
Impressively, Del Rey manages to develop her persona whilst staying true to its music aesthetic: transporting us all to Hollyweird in her twisted universe of cinematic tragedy, glamor, nostalgia and symbolism. The track "Heroin" comments on the bohemian community of Topanga, the deadly Californian heatwaves, and the threat of Charles Manson in the late 60s. Even the album cover – smile included – looks like a victim photograph which would be found by police in 70s horror flick The Texas Chain Saw Massacre. Still, the musicianship has always been more about the sound and vibe than the lyrical message, as "13 Beaches" attests. Hoping for deeper meaning to the words, "It took 13 beaches to find one empty but finally it's mine with dripping peaches", there are benign moments and clumsy stereotypical references that are plain predictable. Final cut, "Get Free", also steals way too much from Radiohead's "Creep". But there is an undeniable quality to this album which stems from Del Rey's admirable narrative and evolution of music style. She seems happy in her universe and has matured into the role of being its architect and protector. Yes, there may be many symbolic reasons why she is smiling on Lust For Life – I just like to think a Rey of sunshine finally came to Hollyweird.

Written by Tecwyn Hill
Full-blooded journalist turned freelance editor flying in the face of Brexit by quitting the UK for Berlin. If it can be sung, hummed, whistled, played or streamed (disclaimer – legally!) then I'm in: like my stance on the EU. Let's crank up the volume and climb that wonderwall.

Author's rating for Lust For Life


Pop Magazine's official rating for Lust For Life


Rating key


MASTERPIECE a must-have


SUPERB for heavy rotation


EXCELLENT a great achievement


VERY GOOD a respectable result


GOOD worth checking out


FAIR an average outcome


WEAK not convincing stuff


BAD an underwhelming effort


VERY BAD quite a waste


FAIL a total failure