Review: London Grammar – Truth Is A Beautiful Thing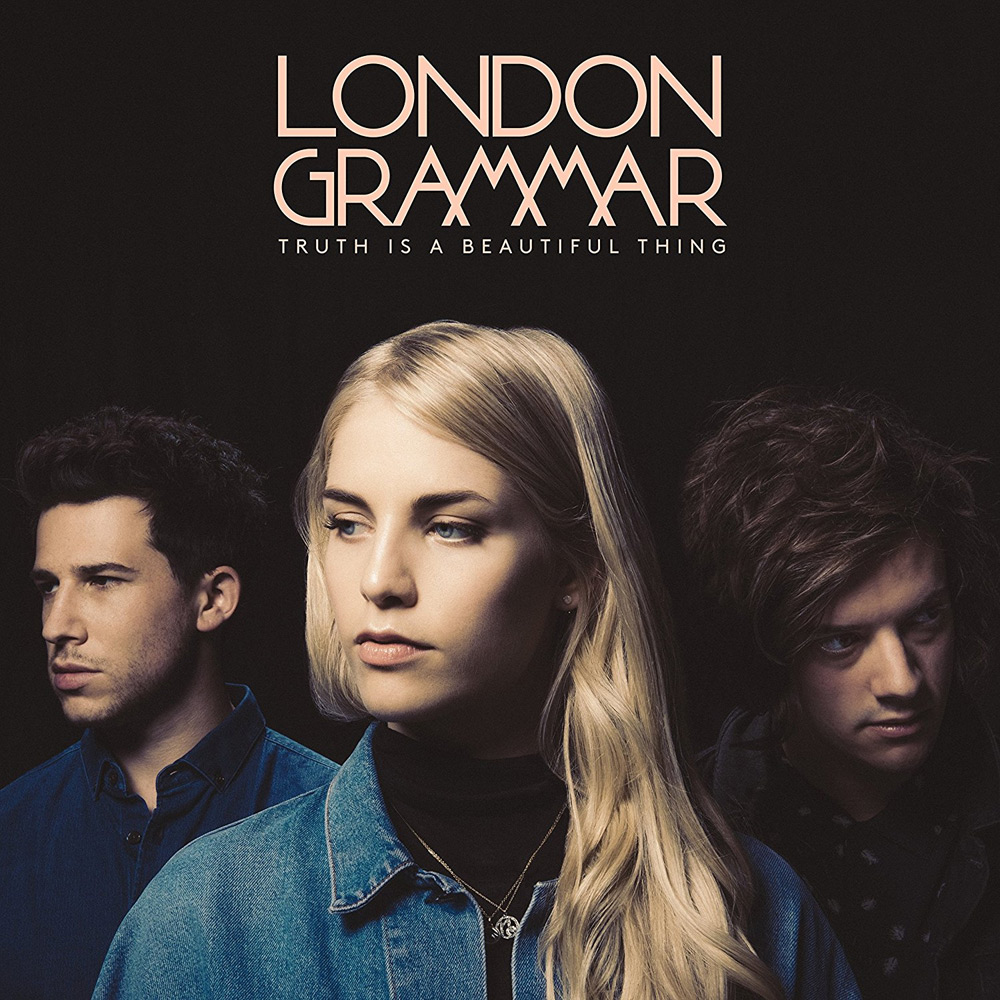 If three really is the magic number then recording artists better run for cover as trio London Grammar work their British voodoo on new album Truth Is A Beautiful Thing. Pulled from the hat following 2013's acclaimed debut LP If You Wait, their new release flirts with evolution more than revolution as the Nottingham-formed minimalists decide to tweak their style rather than risk a gung-ho reinvention. Second-album-syndrome has brought down many a star and London Grammar have added only a few new delicate shades of indie-electro-pop to their artist palette. After all, "smoldering grace" is a color hard to find in a spray paint can, so why risk the graffiti.
The album has been worked by Paul Epworth and Greg Kurstin – producers for Adele – and stand-out song "Big Picture" is a symphonic ballad co-produced with electronic musician Jon Hopkins. Frontwoman Hannah Reid's voice floats throughout and dances to the lyrics: "Only now do I see the big picture but I swear that these scars are fine". Indeed, Reid's vocals impress the entire album with beautifully subtle interplay between Dan Rothman's guitar and Dominic "Dot" Major's drums and keyboards. The track "Leave The War With Me" is another minimalist yet ambitious arrangement that revels in giving Reid the space to soar – adding that London Grammar gloss which on this record is buffed to a blinding sheen.
There is also a lot of hope and solidarity underpinning the album with the opening line of first track "Rooting For You" inviting us into a brighter world: "Let winter break, let it burn 'til I see you again" and this buoyancy sits well in the current world climate. Especially poignant in wake of the UK terror attacks is a line from the title song: "To hold your heart, to hold your hand, would be to me the greatest thing. To hold your heart, to hold your hand, would be to me the bravest thing". "Hell To The Liars" is another good cut with brooding strings adding extra depth and sincerity to their vibe. Used to highlight and define the track rather than merely scribbled over it, the result never feels disingenuous nor just an added effect. Yet, the track "Non Believer" doesn't quite work as the powerful chorus intimidates the soft verse and Reid has a voice that bends gravity, so the use of vocoders seems a little unnecessary. The song "Everyone Else" feels a bit repetitive, especially as it nestles mid-album when the listener could do with a jolt, and the lyrics are the record's weakest: "And you won't find me here, you won't find me there, you won't find me anywhere".
However, the biggest problem with these songs is that they don't reach past the ups-downs-and-arounds of relationships and love. It is all safe. It is a polite album that doesn't live up to their first. There is an element of escapism in tracks such as "Wild Eyed" but for a group so musically articulate and expansive, finding something to say is vitally important, or you are left drifting. I mean, you can't really have good grammar without words and no song here carries their message like debut hit "Strong". As the nation cringed when David Cameron proclaimed himself a fan in 2014 – despite the band being pro-Labour – it seems London Grammar are not yet willing to veer from the safety of their GPS. We can't expect a Morrissey-esque political and social smackdown, but there is something to be said for opening that spray paint and giving the status quo a blast. Just ask Banksy. Just ask Jeremy Corbyn.

Written by Tecwyn Hill
Full-blooded journalist turned freelance editor flying in the face of Brexit by quitting the UK for Berlin. If it can be sung, hummed, whistled, played or streamed (disclaimer – legally!) then I'm in: like my stance on the EU. Let's crank up the volume and climb that wonderwall.

Author's rating for Truth Is A Beautiful Thing


Pop Magazine's official rating for Truth Is A Beautiful Thing


Rating key


MASTERPIECE a must-have


SUPERB for heavy rotation


EXCELLENT a great achievement


VERY GOOD a respectable result


GOOD worth checking out


FAIR an average outcome


WEAK not convincing stuff


BAD an underwhelming effort


VERY BAD quite a waste


FAIL a total failure