Review: Faith Evans & The Notorious B.I.G. – The King & I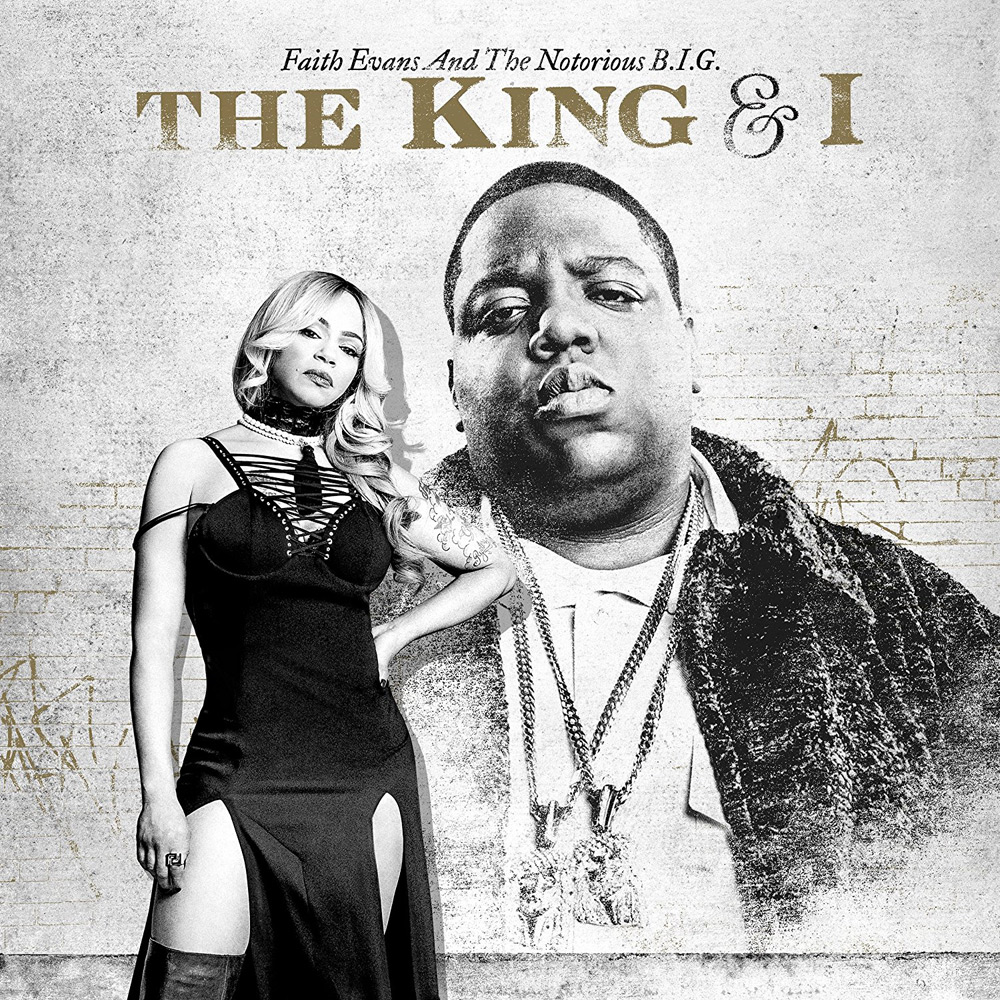 Days before the untimely demise of Biggie Smalls, being gunned down in Cali, he sat down with Rap City host, Joe Clair, to give what would become his final televised interview to promote his second album, Life After Death. That was twenty years ago, yet the wounds of his unsolved murder are still hard to grapple with for those who knew and loved him most. Namely his widow, Faith Evans, his mother, Voletta Wallace, and of course his crew, including Puff Daddy and Junior M.A.F.I.A. Not to mention the impact his death had on the entire hip-hop community, especially with it occurring six months after Tupac Shakur's murder. The Notorious B.I.G. would have turned 45 years old today. What better way to celebrate his life than the release of The King & I, the new collaboration between Faith and Biggie that recontextualizes many of Big's lyrics to create duets with her soulful vocals. Inspired by Natalie Cole's posthumous collaboration LP, Unforgettable, with Nat King Cole, Faith got access to Biggie's masters and was able to envision and create the project that she's always wanted to make with him. Using many of Biggie's timeless verses, The King & I, which also includes two previously unreleased B.I.G. vocals, quite honestly goes somewhere creatively that you don't entirely expect, but ultimately extends his legacy and honors his name.
This certainly feels more like a Faith Evans than a Notorious B.I.G. album, with her spin and repurposing of his braggadocious swag. Production-wise Faith works with producers that have been with her since the start of her career in R&B, like Chucky Thompson, as well as with hip-hop all-stars like DJ Premier, Just Blaze, Salaam Remi and Stevie J. What emerges are songs where Faith splits and rearranges verse after verse, singing throughout and rapping back and forth with Big. There are charming memories of the beginning of their relationship as told by Mama Wallace and Jamal Woolard, who played Biggie in the movie Notorious. The project begins and ends with Faith's strong vocals setting the tone for her ode to the memory of her late husband, his irreplaceable presence, the unfinished business between them, and the apologies that were never made. "Legacy" features an audio snippet from the Joe Clair interview before a grown and sexy piano composition makes way for Biggie's lyrics to emerge. Songs that are more Notorious B.I.G. than Faith Evans include "NYC" featuring Jadakiss, "The Reason", and "Take Me There" featuring Sheek Louch and Styles P. With a cameo from Snoop Dogg, "When We Party" is a straight West Coast banger for any summer cookout.
Then there are the album's more sentimental songs. "Fool For You" is a gospel-styled love letter where Faith pours out how she would not change a thing with how their story unfolds, though other songs like "Got Me Twisted" even out the reality of their tumultuous love affair. "Somebody Knows" features a heartfelt verse from Busta Rhymes on how Big's passing is still hard to address. "Lovin' You For Life", on the other hand, finally brings Lil' Kim and Faith Evans together after Faith asked her to be involved on a song during the Bad Boy Reunion Tour, to which she agreed right away. While doing press for the album's release Faith tells the story of how she felt like Biggie's spirit was with her during the entire process of recording. It wasn't an emotional experience, she says, until the very last song was recorded and she broke down in tears feeling that he had tapped her on her shoulder to let her know how proud he is with her. And finally releasing The King & I at this particular moment in history is certainly something to be proud of.

Written by Mai Perkins
Originally from Los Angeles, Mai Perkins is living a genuine bona fide love affair with NYC and the music that keeps its spirit moving. While spending the majority of the last decade in Brooklyn, many of her adventures around the globe are documented on her blog: Mai On The Move! www.MaiOnTheMove.com

Author's rating for The King & I


Pop Magazine's official rating for The King & I


Rating key


MASTERPIECE a must-have


SUPERB for heavy rotation


EXCELLENT a great achievement


VERY GOOD a respectable result


GOOD worth checking out


FAIR an average outcome


WEAK not convincing stuff


BAD an underwhelming effort


VERY BAD quite a waste


FAIL a total failure