Review: Brian Owens & The Deacons Of Soul – Soul Of Ferguson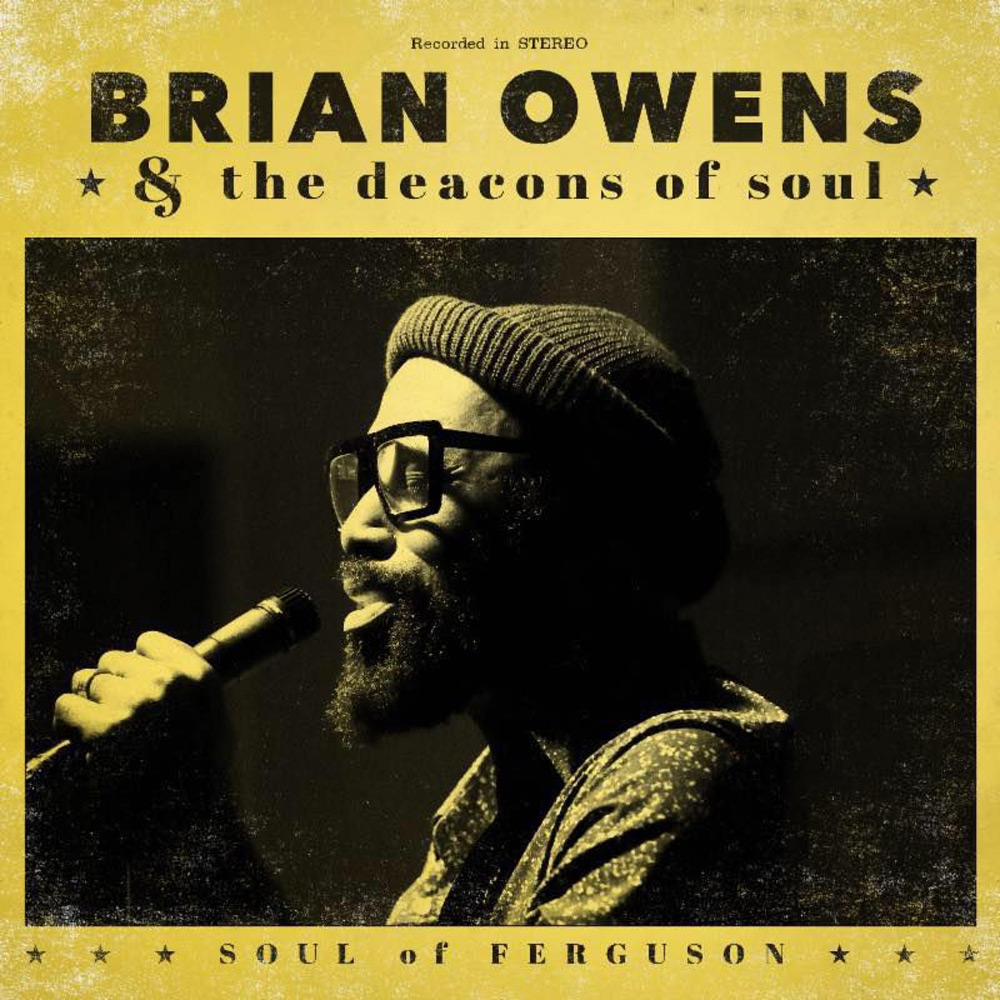 If Instant Vintage or Gospeldelic are legitimate genres of music, as coined by Raphael Saadiq, then Brian Owens & The Deacons Of Soul certainly fit the bill. Returning with his third album, Soul Of Ferguson, Brian Owens continues on his mission of creating spirit-stirring and invigorating music in the glorious style of the Stax and Motown era. In keeping with the vibe of the late Sharon Jones and her band The Dap-Kings, and soul funkateer Charles Bradley, or even Alice Smith and Anthony Hamilton and The Hamiltones, it's hard not to make comparisons between all of the new era soulsters. Especially when their sounds are usually compared to the originators of the 50s, 60s, and 70s. But what sets Brian Owens & The Deacons Of Soul apart is how their gospel roots directly inform the inspirational message of each and every song. As a solo artist, Brian Owens released two albums, Moods & Messages, and Preach! The Soundtrack, both equally riveting in the balance of gospel-like inspiration and throwback soul authenticity.
These days, Owens is a soul music virtuoso with great influence. His life, like his music, is an example of joy and service, especially in his hometown of Ferguson, Missouri, suburb of St. Louis from where Miles Davis, Ike & Tina Turner, and Chuck Berry hail. He's quoted as pointing out, "People always talk of Philadelphia soul, Motown, Memphis soul, Alabama soul, what they were doing in Muscle Shoals, but St. Louis has an awesome soul sound. The epitome of St. Louis soul is Donny Hathaway." Brian Owens' father sang in an acappella quintet, and church quartet music was the norm growing up. The 45 records of Sam Cooke and The Soul Stirrers rest in his DNA, which is why you get such an exceptional reenvision of new gospel, blues and jazz from the artist. In the aftermath of the tragedy of Mike Brown, Owens wanted to represent another vantage point of Ferguson. One that encapsulates the phoenix rising from the ashes phenomenon as the city rebuilds into a stronger and more civically engaged community. He and other artists continue to do the work of service and charity to empower and give platform to the strong voices of his hometown. His vision is to equip Ferguson to remain committed and motivated to building the city up, despite how it is portrayed in the media. This is why his music is largely message-driven.
The album's debut single "For You" is a duet with five-time Grammy Award winner and fellow Ferguson native Michael McDonald. The epitome of love and devotion is explored in a way that praises humanity and God's grace. McDonald first heard the song while he and Owens were on tour in 2015 and immediately thought it was an old Motown track. This is pretty standard for songs written and produced by Owens. He emulates the styles of so many soul music giants while allowing his true voice and style to take precedence. "So High", a horn-rich piano-tinged opener ushers in The Temptations vibe. "Pretty Fine Thing" is a delightful Jackson Five-like tune with a bright guitar riff and a heavy, driven beat, dedicated to the love of his life, presumably his wife of eleven years. "She's Mine (Part 1 & 2)" fades in with a slow drag outro before beginning the uptempo doo-wop chorus of "She's mine, all mine…". Sharply executed, however, the song segues back into the slow drag ending from the top of the song. "Beautiful Day" begins with Owens' five children having fun at the playground, and plays out as one of the most inspirational and Sesame Street-worthy songs of the album. "Prayers For My Children" presents itself as a lost track of Marvin Gaye's What's Going On album in tone and lyrical content. Then there's "When A Grown Man Cries" which, while not a reggae song, reinterprets Bob Marley's "No Woman No Cry". The "Benediction", as it were, simply features a saxophone solo accompanied by the band and the glorious harmony of the vocal quartet. Finally, with a reprise of "For You", the entire horn section signals the end of the session with a powerful and emotion-filled majesty.

Written by Mai Perkins
Originally from Los Angeles, Mai Perkins is living a genuine bona fide love affair with NYC and the music that keeps its spirit moving. While spending the majority of the last decade in Brooklyn, many of her adventures around the globe are documented on her blog: Mai On The Move! www.MaiOnTheMove.com

Author's rating for Soul Of Ferguson


Pop Magazine's official rating for Soul Of Ferguson


Rating key


MASTERPIECE a must-have


SUPERB for heavy rotation


EXCELLENT a great achievement


VERY GOOD a respectable result


GOOD worth checking out


FAIR an average outcome


WEAK not convincing stuff


BAD an underwhelming effort


VERY BAD quite a waste


FAIL a total failure