Review: Blitz The Ambassador – Diasporadical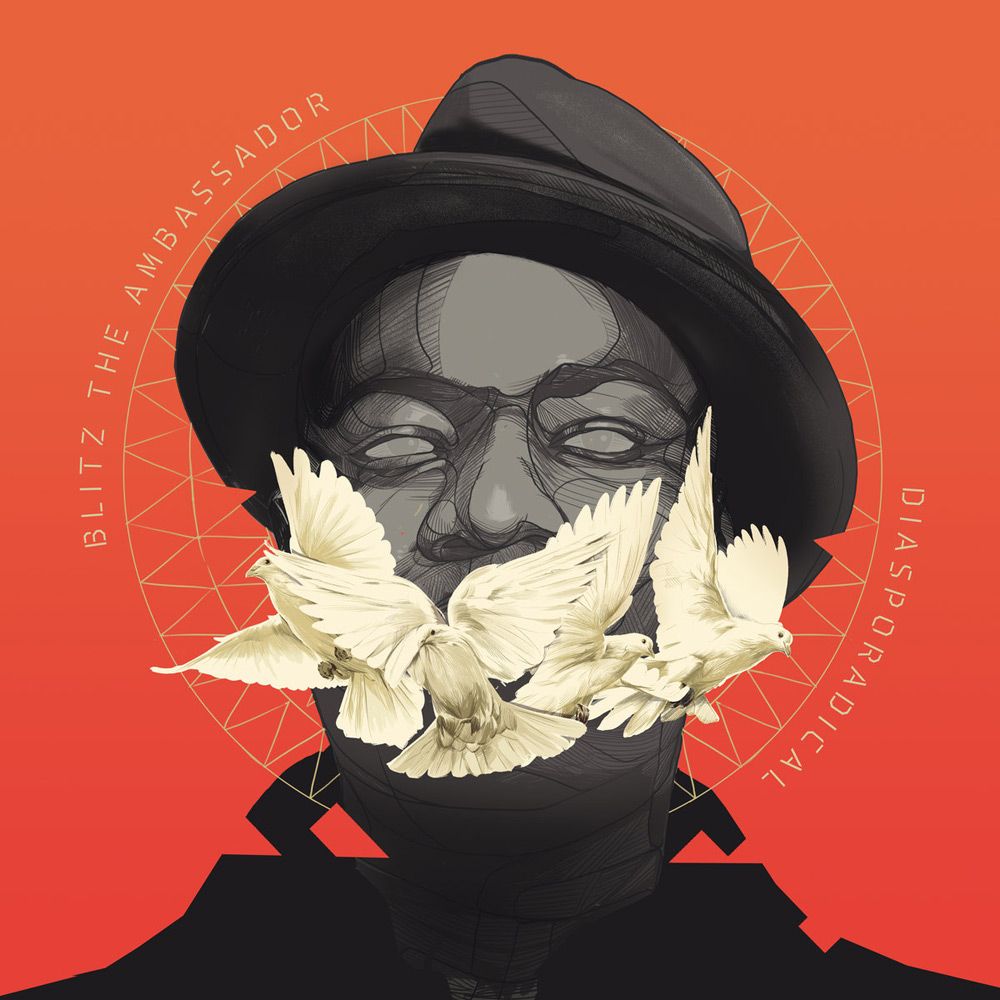 Diasporadical, fourth studio album by Blitz The Ambassador, joins the canon of African narratives by the continent's own storytellers, creative content makers and trendsetters. Packed into three inspired acts, the collection of songs further establishes the emcee and bandleader's trademark Afropolitan hip-hop fusion. Throughout the project you hear a now familiar sonic mashup steeped in magical realism, spirituality, cultural identity, Pan-Africanism, and the agency Blitz consistently channels as a global citizen. The title, Diasporadical, comes from "the radical notion that no matter how fragmented the African Diaspora is, the influence of rhythm and spirituality remains largely the same". All of Blitz The Ambassador's previous albums have been very relevant conversations on the immigrant experience, as seen through his eyes arriving in the USA as a college student from Ghana over a decade ago. His first album, Stereotype, addressed having to deal with the notions and assumptions of everyone else in what it meant to be "African", while Native Sun explored the evolution that took place while becoming well-versed in Pan-Africanism and developing self-love, acceptance and confidence. 2014's Afropolitan Dreams came from a transformative place where Blitz was able to represent as a legitimate voice and reflection from the world's stage, and finally this new project sees the artist facing a new set of challenges in his return to Africa, more globally-minded and influenced by his movement throughout the world.
As a musical storyteller, he cites Bob Marley, Fela Kuti, 2Pac, and Public Enemy as monumental influences. Like them, the magnitude of the position he's in as an artist is not lost on Blitz The Ambassador. He is very particular about the messages that he puts out about Africa as a whole, and the positive, flourishing paths of opportunity that continue to open up as a result of artists like him who are pushing back on the outdated narrative of Africa in need of an interventionist savior. In several interviews over the last few years, Blitz focuses on his ideological views as an artist and activist: "I'm very specific about that message because I know that it affects billions of people if Africa is able to get itself up, pick itself up. Figure out how to exist as a continent of brotherly love versus all the things that we ourselves sometimes perpetuate on a very consistent level. Artistically, that lies at the very core of my work because I am not here to satisfy people who already have it. They're not my priority. I'm here to speak to people who don't have it, whether it's self-confidence, or vision." He's long since understood the inclusiveness of hip-hop as an artform that crosses countless boundaries, and unites rather than divides as religion and politics do. No matter where he is in the world, as a hip-hop head and premier lyricist, the doors of inclusiveness have opened up more opportunity than he could have imagined because of the common appreciation for the culture. Even in times when he's thought about calling it quits, he pushes forward and continues to do the work owing his grind to the reality that many artists don't own the production and publishing of their work, and how that puts them at an unacceptable disadvantage. "We have to be very conscious about guarding this storytelling and create lineage so that new artists can come and follow through so that there will never again be this wide gap that we're trying to bridge now."
As an appetizer to his newest project, Blitz debuted the Diasporadical Trilogia, comprised of three music videos directed by and starring the artist who worked with brilliant film crews in Brooklyn, Accra and Salvador de Bahia. The album itself picks up where Afropolitan Dreams left off with its discourse on the global African experience, particularly in this time of struggle and resistance in America with #BlackLivesMatter as well as recent protests in Brazil. Act 1 consists of three songs, two of which appear in the Trilogia video adding a visual element to the sonic composition. "Hello Africa" is a roll call of the many modern cities and communities throughout the continent and sees the artist checking in with his people across state lines to get a sense of how things are going. In listening to the tone of what's going on in Accra, Kinshasa, Marrakech, Nairobi, Addis Ababa and beyond with other worldwide Africans, the conversations of building towards wealth and wellness can continue in a sustainable way. "Shine" features a self-reinforcing mantra to shine your light with classic Blitz horns and an East African rhythm, while "Juju Girl" emerges with an energetic highlife groove where Blitz smoothly croons a throwback ode to the black girl magic of Africa's beautiful women. Act 2 features a musical and thematic shift with references to Yoruba Orisha, talks of freedom, and multilingual rapid-fire lyrical flows with "Heaven", "Ogya", and "If Dem No Know", all featuring special guest artists. Act 3 of Diasporadical slows down with the roots reggae "Long Time Coming" featuring Patrice, though it's the track called "A(Wake)" that is notably most radical in its call for action and organizing against social injustices against Black bodies. The final song is a movement of six-eight rhythm layered with vocals and horns that perfectly complement Blitz The Ambassador's international flow. The tune segues into a more traditional Yoruba chant before finally morphing into more storytelling with the message, "You're running but you can't hide". The album ends with an admonishment of the Rastaman and Nyahbinghi, and listening to the message it's most apparent that Blitz is the voice of the disenfranchised. The key, for him, was in leaving yet returning home to Ghana to become a part of the society, which has given him a larger perspective on our universal struggles as people of color: that we are more similar than not, and that all of the solutions we seek are tied within the Diaspora.

Written by Mai Perkins
Originally from Los Angeles, Mai Perkins is living a genuine bona fide love affair with NYC and the music that keeps its spirit moving. While spending the majority of the last decade in Brooklyn, many of her adventures around the globe are documented on her blog: Mai On The Move! www.MaiOnTheMove.com

Author's rating for Diasporadical


Pop Magazine's official rating for Diasporadical


Rating key


MASTERPIECE a must-have


SUPERB for heavy rotation


EXCELLENT a great achievement


VERY GOOD a respectable result


GOOD worth checking out


FAIR an average outcome


WEAK not convincing stuff


BAD an underwhelming effort


VERY BAD quite a waste


FAIL a total failure