Review: Beneficence – Basement Chemistry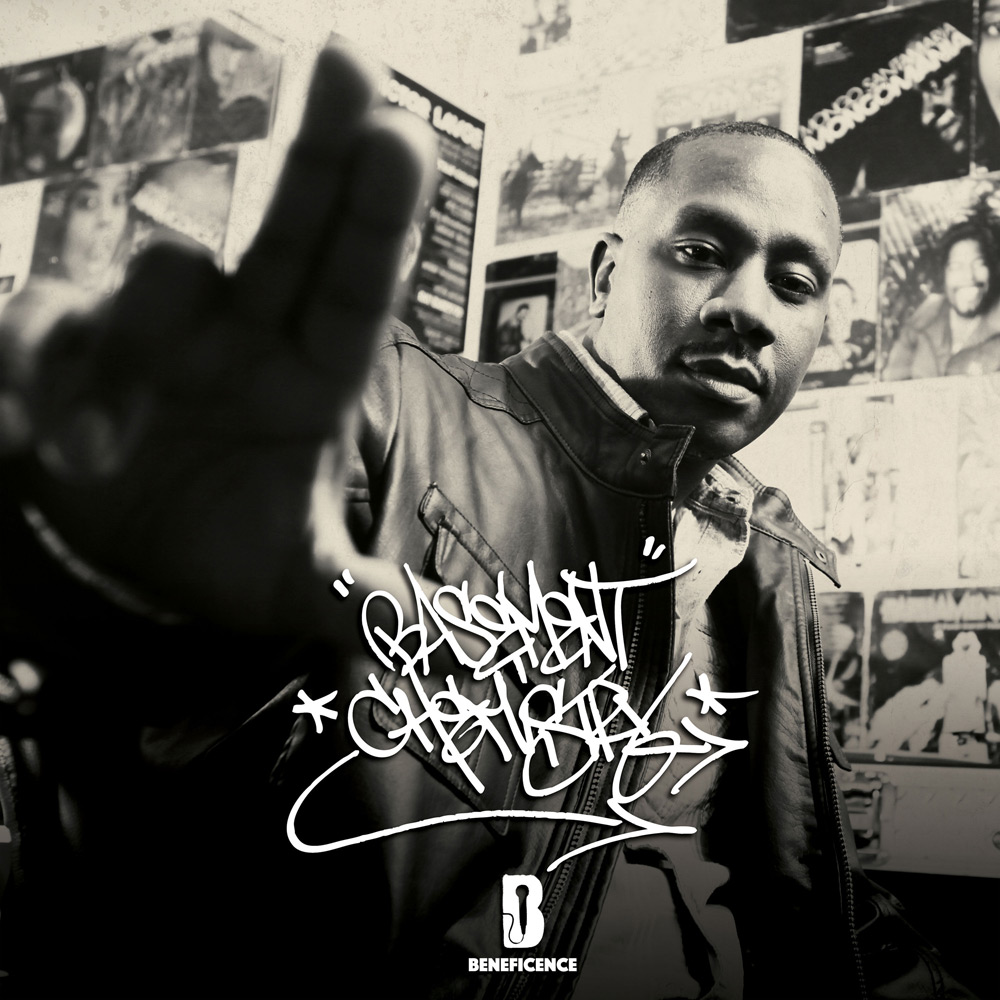 In the absence of published interviews, you can learn a lot about an artist like Brick City veteran emcee Beneficence by perusing his social media presence. The inspirational words of wisdom he leaves for his fans and supporters. Which book he's reading for intellectual and spiritual development. Creative inspiration from other artists of his time. The milestones and accomplishments after independently releasing project after project. The gratitude expressed for support worldwide. In November of 2012, he sent out a message of encouragement to his friends via Facebook: "Whatever you decide to excel in, make sure you ride it out until the wheels fall off. You will be successful on a respectable level, trust." Given his two decades long career in hip hop, which has largely been outside the mainstream of popular music, I would imagine that these words were just as much a self-encouragement as they were intended to reach his Ill Adrenaline soldiers.
At the top of the year, the "Reality vs. Fiction" emcee is keeping it as real as ever with his authentic brand of concrete soul, now available in the form of his sixth studio album, Basement Chemistry. True to form, Beneficence brings that golden era to the digital with politically and socially conscious lyrics and the kind of universal hip hop that will appeal to hip hop heads from Brooklyn to Bangladesh. Featuring cameos from Inspectah Deck, MC Eiht, El Da Sensei, Dres, and Chubb Rock, among other notable emcees, the album is released on his own Ill Adrenaline record label. Keeping with his standard, Basement Chemistry is a return to 90s hip hop with its authentic scratching over classic samples and movie soundbites, and positive streams of consciousness coming from the heart of an OG. "When The Sun Comes" featuring Masta Ace is a beautiful and empowering tribute to the love and light found in embracing community, melanin and self love. "Digital Warfare" featuring Inspectah Deck is certifiable with its hard rhymes over an ill sample, while Beneficence and MC Eiht get that East meets West collaboration popping on "Anyway It Goes".
Basement Chemistry offers 19 tracks on this family affair, and every track has something for the listening audience. There are the lessons of "Maui Vacation", with its complex narrative and plot development, as well as "Each One Teach One" featuring Estee Nack that champions requisite self mastery and inner vision. "Manuscripts" featuring MindsOne has one of the most distinct samples of the entire album, but the radio friendly "Make It Hot (Jingle Jangle 2.0)" featuring The Legion & Dres definitely has the most widely recognized and beloved sample on the album, Jackson 5's "Never Can Say Goodbye". More than a throwback LP, Beneficence's Basement Chemistry is a body of work that builds on the foundation of what hip hop truly represents. And when you think about all of the dope artists that join him on the album, I imagine that the chemistry in the studio was off the charts!

Written by Mai Perkins
Originally from Los Angeles, Mai Perkins is living a genuine bona fide love affair with NYC and the music that keeps its spirit moving. While spending the majority of the last decade in Brooklyn, many of her adventures around the globe are documented on her blog: Mai On The Move! www.MaiOnTheMove.com

Author's rating for Basement Chemistry


Pop Magazine's official rating for Basement Chemistry


Rating key


MASTERPIECE a must-have


SUPERB for heavy rotation


EXCELLENT a great achievement


VERY GOOD a respectable result


GOOD worth checking out


FAIR an average outcome


WEAK not convincing stuff


BAD an underwhelming effort


VERY BAD quite a waste


FAIL a total failure