Review: Robyn Cage – Born In The Desert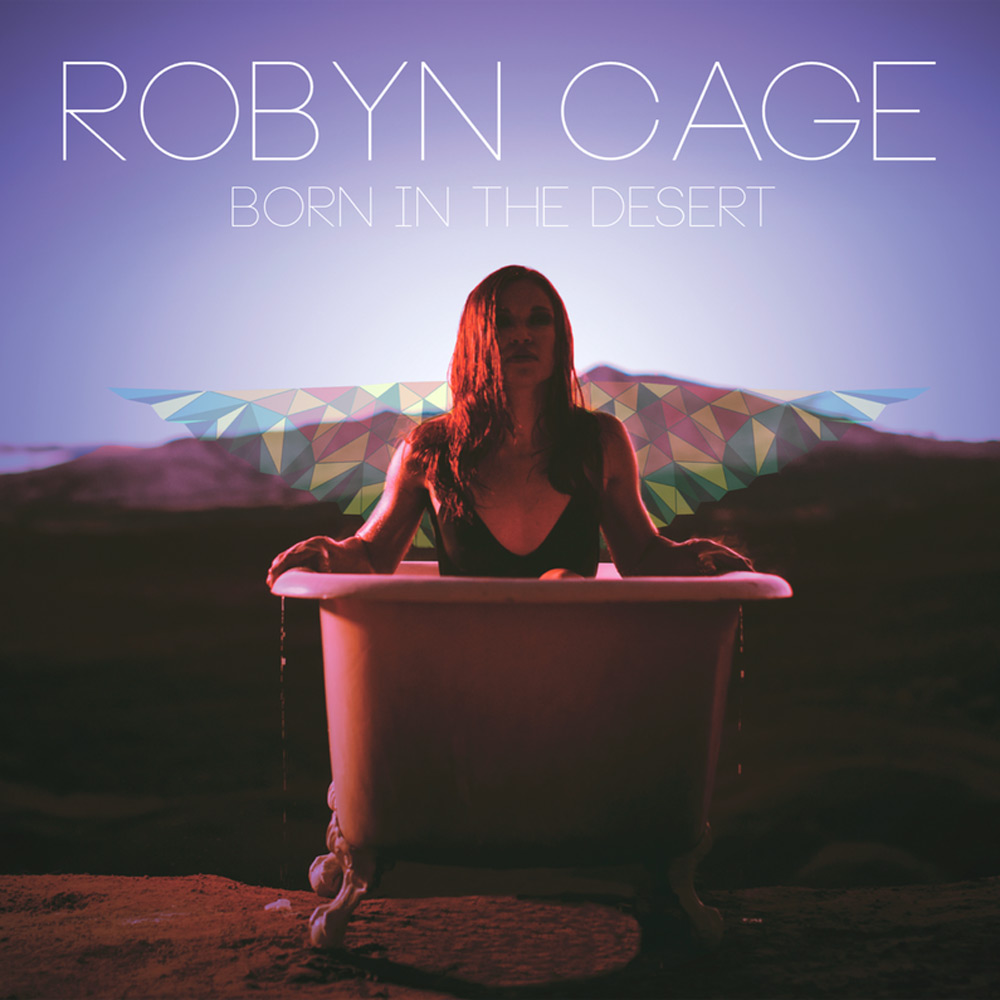 Singer and songwriter Robyn Cage, born under the name Robyn Kemp, was raised in the Utah desert. She trained in classical piano at The Boston Conservatory, performed at Boston Symphony Hall and soloed with the Boston Pops and Mormon Tabernacle Choir. After moving to New York City to pursue an acting career, Kemp was regularly cast as a commercial actress. During a visit home, Robyn guest-performed with a friend and realized she'd been following the wrong dream all along. Frustrated by the cycle of an actor's day – audition, rejection, self-doubt – she had fallen out of love with the lifestyle and the city she had been calling home. It took a visit back to her roots for the epiphany to occur, but once realized, the transformation was swift and complete. Kemp cancelled her return flight, dropped acting for singing and changed her name to Robyn Cage. "I just couldn't shake this feeling that I was in the wrong place, doing the wrong thing with my life."
Six years ago, Cage began her songwriting journey. The first song she wrote was "Burning Now" but it did not appear on her debut EP Raining Sideways, released in 2010. The public had to wait four years, for the release of her second EP, Tales Of A Thief, to hear it. Now, after a successful crowdfunding campaign, Cage's debut album, Born In The Desert, is here. Though more than half of the songs come from her second EP, there are five new titles for fans to enjoy.
Born In The Desert is end-capped with two songs that bring to mind clear visions of a Hollywood-inspired Wild West. "The Arsonist & The Thief", the first cut off the album, leaves you with a single thought before you get to the chorus: this woman is a storyteller. Channeling the likes of Red Sovine and Leonard Cohen, Cage is a self-proclaimed story lover. She says: "I love stories. I love music that makes you feel like you're being transported to another place and time." The storytelling motif, combined with the visual it conjures, easily places the listener in the heart of an old saloon waiting for a showdown to begin all while endearing the audience to the plight of the outlaw. If gypsies and freaks are more your game then it is "Theatre Noir" that will speak to your soul.
While the album, overall, deals with the rebirth of self from the growth process involved when relationships end, the storytelling manages to keep the album from becoming melancholy, despite a number of slow-tempo songs. Though Cage claims "you may never hear my music on a top 40 radio station", fans of Foster The People and Milky Chance will find "If You Don't Try" to be an old familiar tune. The standout songs on this album, "Capacity" and "Theatre Noir", were both co-written with Stuart Maxfield. This is a writing partnership we hope to see flourish in her sophomore effort.
Born In The Desert is an excellent first effort. It is possible that the tempo of the album, listened to in full, could leave some listeners hoping for a change and this is where Cage has room to grow the musicality of her work. "Letting Go", vocally reminiscent of Irish singer Orla Gartland, is an example of the right combination of difficult message wrapped in a musical tune strong enough to keep your attention. To accomplish a song whose message is capable of transforming life's most difficult experiences, like this one, is an important talent to nurture.
In a recent interview, Cage said she changed her name, in part, to create an alter-ego that would help her amplify her darker side, with a character that feels a bit otherworldly. This idea seems to flow through many of Cages blog postings as well. In an entry about "Theatre Noir" she speaks about feeling awkward in her own skin and hiding her inner child. In discussing and working through these ideas, Cage has begun the transformation. Still, the line from talking about it, to become it, needs to be crossed. When she can focus less on 'acting' a part for her music and embraces her true self – the self that encompasses these parts of her personality – then she will be unstoppable.

Written by Sam Gilman
Sam I. Gilman is a music journalist who has been involved with the industry as a DJ, voice-over talent and on-air host for radio and TV stations around the globe. www.samigilman.com

Author's rating for Born In The Desert


Pop Magazine's official rating for Born In The Desert


Rating key


MASTERPIECE a must-have


SUPERB for heavy rotation


EXCELLENT a great achievement


VERY GOOD a respectable result


GOOD worth checking out


FAIR an average outcome


WEAK not convincing stuff


BAD an underwhelming effort


VERY BAD quite a waste


FAIL a total failure