Review: Kwabs – Love + War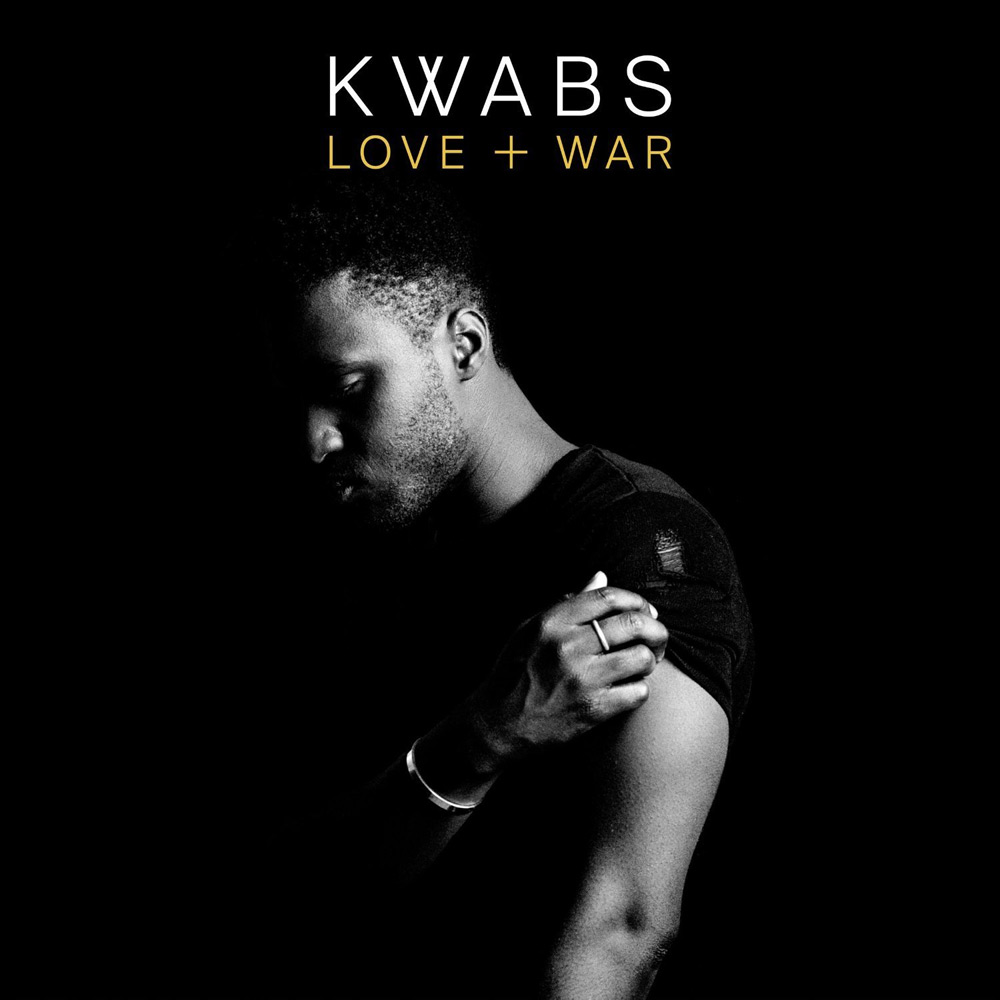 There's a certain yearning that emotes through Kwabs' soulful baritone which punctuates the painful experiences of his formative years that he sings about. The well-documented under-privileged upbringing has yielded a yin-yang synergy within his songwriting: glimmers of light and shadows of darkness, a negativity of circumstance complemented by the positivity of the will, all represented in his original lyrics. He calls his music 'soul food' which comes to life as a result of his formal training in jazz vocal performance. As a young student, a teacher introduced him to the National Youth Jazz Orchestra, an ensemble that also nurtured Amy Winehouse, where he sang lead for three years before studying jazz at the Royal Academy of Music. Yet even on the seemingly disadvantaged road he's taken and the pain he's experienced throughout his early life, having grown up in the UK's foster care system, he's always had willful ambition. That ambition spurred Kwabs' involvement in the 2011 BBC program Goldie's Band: By Royal Appointment, with drum'n'bass innovator Goldie, where he was one of twelve chosen teenagers to create musical pieces for a special performance in front of Prince Harry at Buckingham Palace. The following year, he released cover versions of songs by both Corinne Bailey Rae and James Blake which went viral, and Kwabs was subsequently signed to a major label.
With three critically acclaimed EP releases over the course of 2014, the artist of Ghanaian heritage born Kwabena Adjepong, has worked hard to bring together his debut studio album Love + War. The twelve tracks can be described as synth'n'b meets pop richness. The album opens with the title track "Love + War" a haunting electronically layered tune that encourages the listener to "save yourself while you can" and ends with a full choir of vocals, a popular element almost expected within this genre. Songs like "Fight For Love" and "Perfect Ruin" are indicative of his lyrics that quintessentially describe feelings of abandonment and a craving for love, while other songs like "Make You Mine" and "Layback" offer the spectrum of romance between two beings. "Forgiven" gives variety to the lineup of songs with its deeply complex, heavy lyrics being framed in a track of vocals stripped down to the 'Ooos' reminiscent of Adele's "Rumor Has It".
Two songs appear on the Love + War album that were title tracks on previous EPs, "Walk" and "Wrong Or Right". The former, a radio-friendly pop hit, was Kwabs' debut single in September 2014, topping the charts in Germany and reaching top ten positions in many European countries. The latter offers an easily palatable take on the pressures of moral responsibility and societal judgment, which is less often explored in popular R&B music. The most heart-wrenching lyrics are found on the ballad "Father Figure" and speak to the need for unconditional love and the type of yearning that a fatherless child expresses in the absence of parental guidance. Of Kwabs' using his life experiences to inspire his artistic talent, he's quoted as saying "I like to write from the perspective of someone who has had unusual circumstances, so I pick themes like love and relationships that might not be expressed in the traditional sense but which I can identify with because of the things that have happened to me. I think they can also be translated to a wider audience. I want it to be music that means something to people."

Written by Mai Perkins
Originally from Los Angeles, Mai Perkins is living a genuine bona fide love affair with NYC and the music that keeps its spirit moving. While spending the majority of the last decade in Brooklyn, many of her adventures around the globe are documented on her blog: Mai On The Move! www.MaiOnTheMove.com

Author's rating for Love + War


Pop Magazine's official rating for Love + War


Rating key


MASTERPIECE a must-have


SUPERB for heavy rotation


EXCELLENT a great achievement


VERY GOOD a respectable result


GOOD worth checking out


FAIR an average outcome


WEAK not convincing stuff


BAD an underwhelming effort


VERY BAD quite a waste


FAIL a total failure