Review: Dilated Peoples – Directors Of Photography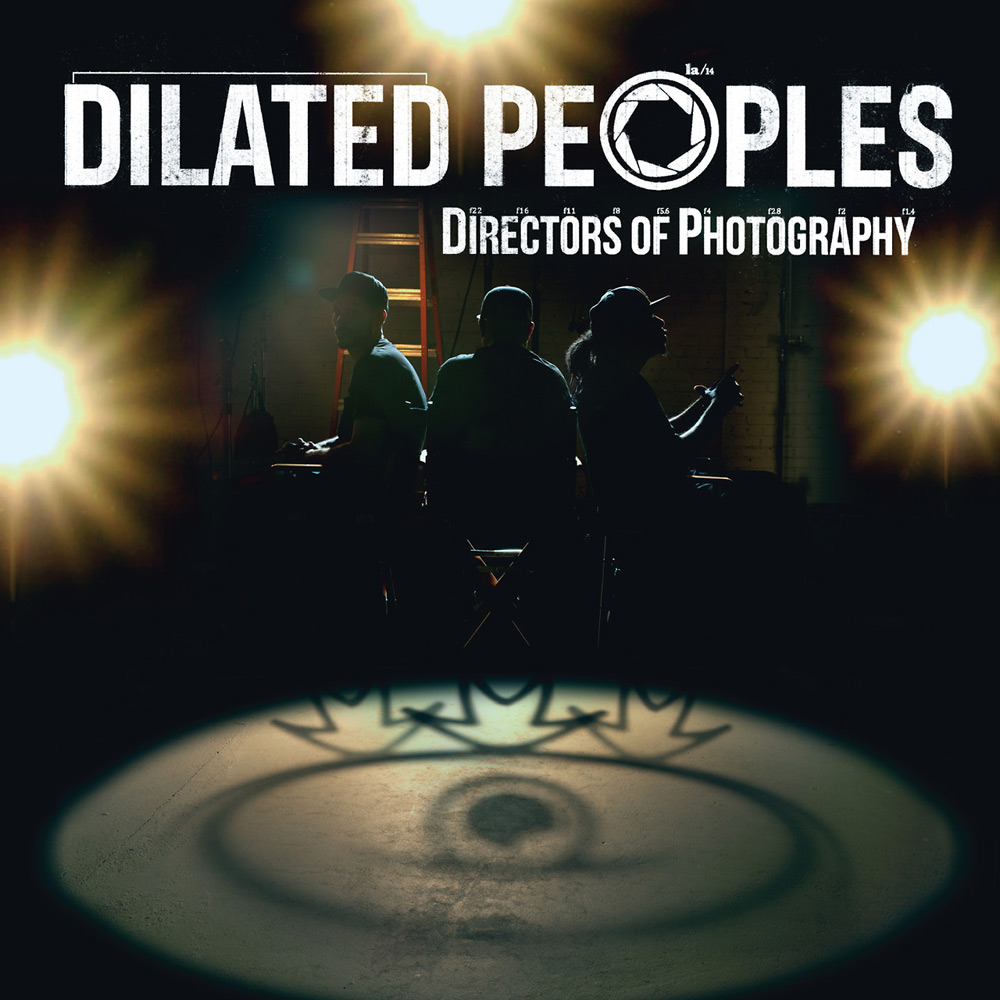 Directors Of Photography, the fifth full-length album of OG west coast artists Dilated Peoples, has a sharp albeit kaleidoscopic focus. Eight years after the release of their last album, 2006's 20/20, and branching out to explore the success of solo careers, the trio consisting of Evidence, DJ Babu and Rakaa Iriscience, is staying true to their brand. This newest project reflects a sound they've maintained since the mid-90s, and while the rap maestros have a level of respect for their fellow artists, many who remain relevant by making "lowest common denominator" music, there is a certain pride associated with the freedom to build on what they've done best for years without the pressures to show up brand new in 2014. On Directors Of Photography the group welcomed a cadre of trusted producers including DJ Premier, Jake One, Diamond D, 9th Wonder, and The Alchemist, but true to DP form, Evidence and DJ Babu shaped the majority of the album's sound and energy.
Directors Of Photography thematically explores all things associated with filmmaking and the role of the director of photography (DP). The "Intro" literally gives you the sound of photography while "Directors" is the first song to establish the fact that Evidence and Rakaa Iriscience are veritable wordsmiths of great precision while DJ Babu sets their stage with mixing. As the song comes to a close, the filmmaking interlude solidifies the whole director-in-charge theme. Throughout the album Dilated Peoples establish West Coast Southern Cali living with unlimited references to neighborhoods and districts that even a non-native Angeleno would find places like Venice Beach or Inglewood familiar upon visit. Collaborations with Vince Staples, Aloe Blacc, and a host of other artists on songs like "The Dark Room", "Show Me The Way" and "Opinions May Vary" give the album a throwback hip-hop feel. With each track you get the weaving together of scenes from stories that you want to hear, and from "L.A. River Drive" to "Times Squared" you get a project as vast as the space between Los Angeles and New York City.
When it comes to this album, DP see themselves as actual directors of photography where behind the scenes the three really made this whole artistic production come together. After supporting one another through solo albums and careers they knew that another DP album would be in the works, it was only a matter of time. The value of the last eight years for the group is that they each learned from those experiences which were used when going back into the studio to record and it is a victory for DP that Directors Of Photography is out representing their best work. Whether people are in tune with the intricacies of their catalogue or only hipped to certain chart-hitting songs, they have been really active with projects throughout Europe and Asia, but as a group they continue to hit stages across the US promoting Directors Of Photography and doing what they do at their highest level.

Written by Mai Perkins
Originally from Los Angeles, Mai Perkins is currently living a decade long bona fide love affair with NYC and the music that keeps its spirit moving. Many of her adventures around the globe are documented on her blog: Mai On The Move! www.MaiOnTheMove.com

Author's rating for Directors Of Photography


Pop Magazine's official rating for Directors Of Photography


Rating key


MASTERPIECE a must-have


SUPERB for heavy rotation


EXCELLENT a great achievement


VERY GOOD a respectable result


GOOD worth checking out


FAIR an average outcome


WEAK not convincing stuff


BAD an underwhelming effort


VERY BAD quite a waste


FAIL a total failure