Review: First Aid Kit – Stay Gold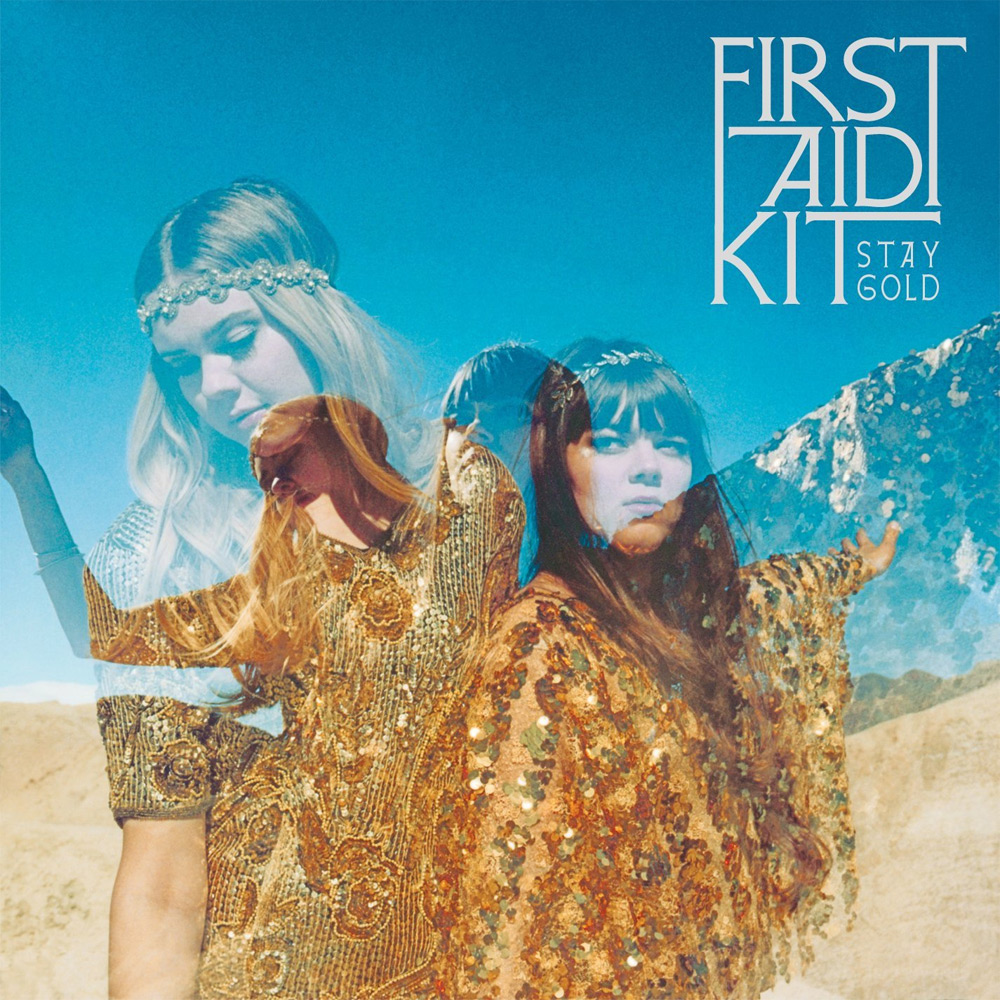 First Aid Kit's music appears to come from a generation past, or one that never quite existed in Stockholm as we know it, considering Sweden's international pop acts like ABBA or Little Dragon. Possessing a synergy similar to American country siblings whose close harmonies are part of their vocal identity, sisters Johanna and Klara Söderberg of First Aid Kit release their anticipated third album, Stay Gold. With a title taken from the classic Frost poem, 'Nothing Gold Can Stay', the album is a follow-up to 2012′s The Lion's Roar, and is poised to surpass Gold status with its vintage Americana and folksy, emotionally wrought lyrics. It's widely known that Emmylou Harris is the musical role model for the duo, yet as songwriters they take cues from Joni Mitchell and Leonard Cohen by penning narratives that yearn and radiate. Their music haunts and touches, bringing both Patti Smith and Paul Simon to tears with their live renditions of the songwriters' pieces. For their last album, the sisters spent a month in Omaha, Nebraska recording with producer Mike Mogis of Bright Eyes, forging a family like connection in the studio and on stage that led to his return as the producer of Stay Gold. Their sound is very hippie with a 1970's Laurel Canyon edge updated into folk-pop. As bandmates, older sister Johanna plays keys while younger sister Klara plays guitar, though she often takes a short vocal lead before the two embrace a near constant harmonic blend on all songs, signifying their reliance on one another. The magic of First Aid Kit is that, whether vocally or in the songwriting process, the group does not exist one without the other.
Stay Gold is a melancholy if not dark album, drawing on the realities of the tough world in which we live, though the sisters are anything but downhearted at this point in their career. The title track, however, acknowledges that in all things and for reasons completely unforeseen, the tides turn due to the 'what ifs' of life and wishes, for once, that opportunity could stay golden. Silver Lining, a strong opener for the album, complements this reality in a heartening refrain: 'I just keep on keepin' on… I won't take the easy road'. Master Pretender has a sound as open as the Midwestern sky, embodying summertime road trips in pickup trucks, while The Bell continues that trip with a waltzy tempo that ebbs and flows with emotional momentum.
Keeping with the theme of being on the road, Waitress Song empathizes with the dark twisted road on which we journey. Whether as a waitress or someone willing to run away and join the circus, we could be close to death while never feeling more alive. Heaven Knows is a gutsy, empowering Bluegrass number with a fiery chorus: 'Heaven knows that you're lying, as far as heaven goes, I've just stopped trying'. I imagine the Coen brothers would have a ball developing this song into a film about a scorned Southern dame in a follow up to O Brother, Where Art Thou? Ultimately, First Aid Kit's Stay Gold is endearing and fanciful, adding to the canon of traditional and folk music.

Written by Mai Perkins
Originally from Los Angeles, Mai Perkins is currently living a decade long bona fide love affair with NYC and the music that keeps its spirit moving. Many of her adventures around the globe are documented on her blog: Mai On The Move! www.MaiOnTheMove.com

Author's rating for Stay Gold


Pop Magazine's official rating for Stay Gold


Rating key


MASTERPIECE a must-have


SUPERB for heavy rotation


EXCELLENT a great achievement


VERY GOOD a respectable result


GOOD worth checking out


FAIR an average outcome


WEAK not convincing stuff


BAD an underwhelming effort


VERY BAD quite a waste


FAIL a total failure