Review: Santana – Corazón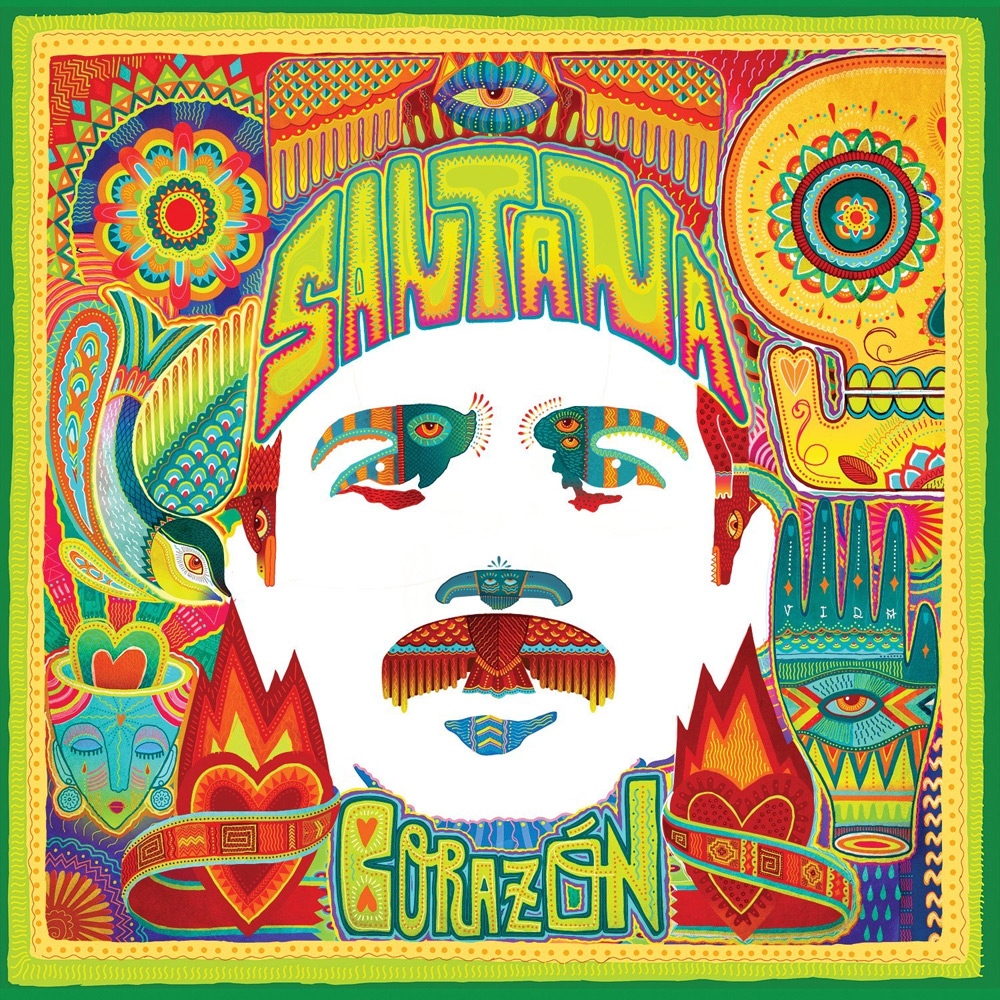 Legendary virtuoso Carlos Santana and his band have released their next major album, Corazón, a fifteen-track joint labor of love featuring collaborations with some of the biggest Latin music icons in the world. Almost 15 years ago, Santana's Supernatural went multi-platinum and won nine Grammys, including Album of the Year. In the same vein, Corazón purposely invokes Supernatural's vibe with soulful guest artists rounding out the first predominantly Spanish-language record by Santana. International pop star Gloria Estefan performs passionate renditions of 'Bejos de Lejos / Beijo de Longe' in Spanish and in Portuguese with Carlos Santana's guitar solo complementing the tune's sultry Samba-inspired bass rhythm. Jazz elder statesman Wayne Shorter and jazz/rock drummer Cindy Blackman, Santana's wife, weave together a meditational Love Supreme-esque movement with 'Yo Soy La Luz (I am the light)'. Higher octane tracks on the album are entertaining remakes like Jarabe de Palo's 1996 hit 'La Flaca', featuring Colombian sensation Juanes, a rendition poised to be a multiplatinum single similar to 1999's 'Smooth' featuring Rob Thomas. A club mix remake of Santana's own 'Oye Como Va' with Miami-based rapper Pitbull, and the Bob Marley classic 'Iron Lion Zion' featuring reggae superstar Ziggy Marley with hip-hop group ChocQuibTown are well-preserved and favorable mashup moments on the album produced by Lester Mendez.
The concept and design of Corazón's artwork is created by Madrid-based art collective Boa Mistura and illustrates a fiery psychedelic image of Carlos Santana detailed with a vivid layering of birds, flowers, ubiquitous eyes and colorful hearts. The album's guest artists hail from Mexico, Argentina, Venezuela, Spain, Brazil, and the U.S. adding to the love of all things historically and culturally Latin represented on the record. With Corazón being Santana's first Spanish-language, distinctively Latin album, there is a certain completeness and circle of energy with the artists that will make this project most memorable for fans around the world. Another great thing to note is that Santana's Corazón Tour is currently taking place throughout the US and Canada, but for fans who won't make it, be sure to watch the airing of the recent concert in Guadalajara, 'Corazón, Live from Mexico: Live It To Believe It'.

Written by Mai Perkins
Originally from Los Angeles, Mai Perkins is currently living a decade long bona fide love affair with NYC and the music that keeps its spirit moving. Many of her adventures around the globe are documented on her blog: Mai On The Move! www.MaiOnTheMove.com

Author's rating for Corazón


Pop Magazine's official rating for Corazón


Rating key


MASTERPIECE a must-have


SUPERB for heavy rotation


EXCELLENT a great achievement


VERY GOOD a respectable result


GOOD worth checking out


FAIR an average outcome


WEAK not convincing stuff


BAD an underwhelming effort


VERY BAD quite a waste


FAIL a total failure